A knife attack on a pro-Beijing lawmaker has ignited a debate over security during Hong Kong's coming district council elections, with speculation the polling day could be postponed.
Video footage circulated online showed the moment Junius Ho Kwan-yiu was stabbed during a campaign event in Tuen Mun on Wednesday morning.
His allies condemned the attack and complained the city's unrest had put them in an unfair position ahead of the elections.
But the opposition camp countered it would be unfair if the government chose the "nuclear option" of cancelling the elections, to be held on November 24.
Ho has become a hate figure for the pro-democracy movement in the city after he was filmed shaking hands with men believed to have been involved in a vicious attack on protesters and passengers at Yuen Long MTR station on July 21.
His offices in two districts were subsequently vandalised and his parents graves were desecrated.
Even when the victim, Ho managed to attract further controversy when it emerged he leapfrogged more than a dozen others on the waiting list for surgery.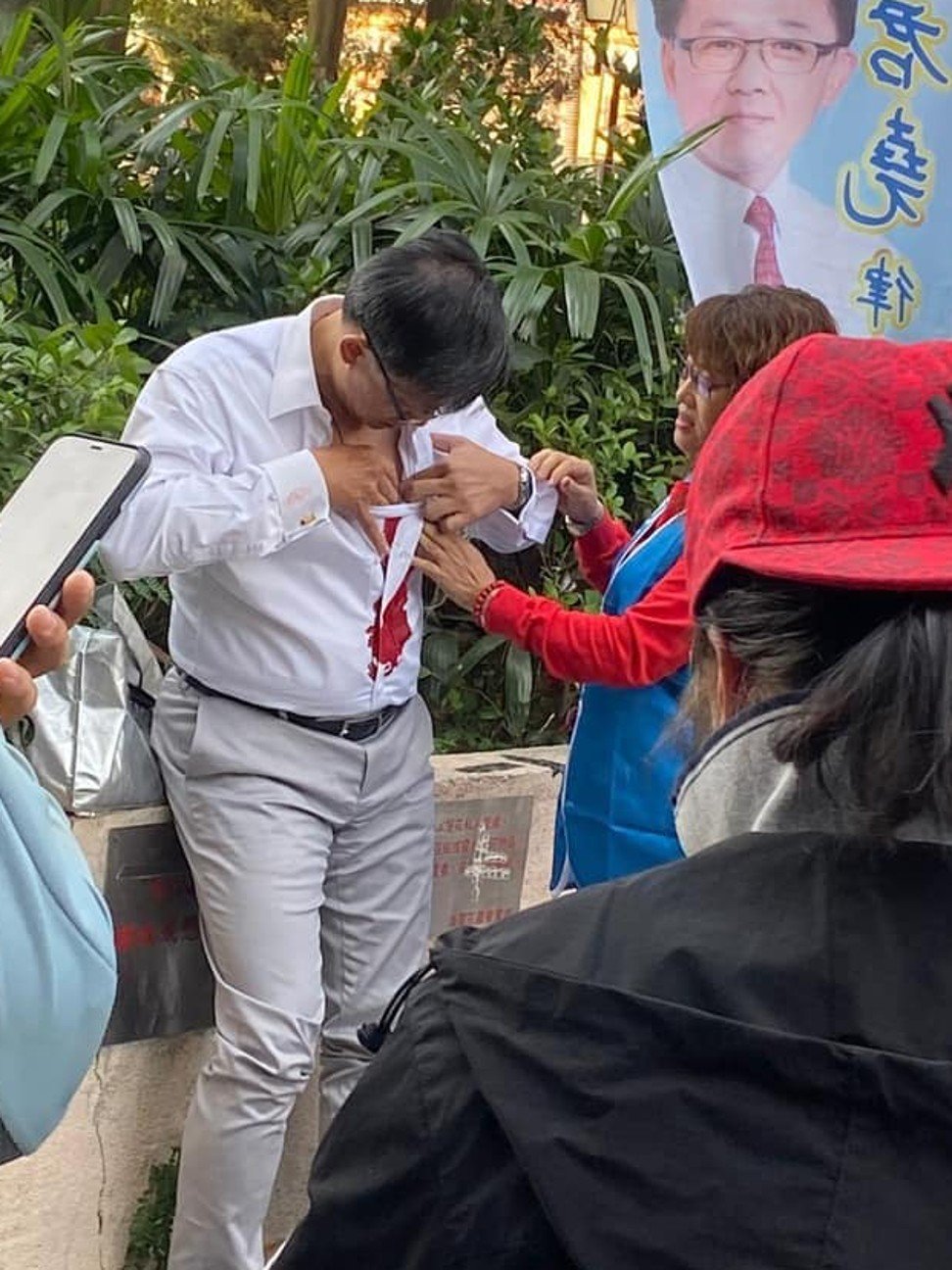 Junius Ho was out campaigning at the time of the incident. PHOTO: South China Morning Post 
He was originally 21st on the list at a public hospital but was upgraded to fourth.
"He has jumped over others with the same level of urgency," said a medical source with knowledge of the situation. "Generally for the same level of injury, we operate on a first come, first served basis. In Ho's case, his rib cage was injured but no organs, which suggests it's just preferential treatment."
It included at least two operations booked a day before Ho's incident.
Tuen Mun Hospital said an injury to the chest or heart would often be arranged more swiftly.
A 30-year-old man was arrested over the attack, with a police source saying they believed he had been bullied online by pro-democracy activists.
Police were investigating the possibility the man thought the attack "could be glorified and make him a hero".
The man was being guarded by officers at the same hospital and had not been charged on Wednesday night.
Ho said the assault proved order had been lost ahead of the elections and called it a "dark day" for the city.
He posted a video in the afternoon, saying he suffered a wound near his heart, and that his doctor had said he was lucky it had not been more serious.
Pro-Beijing newspaper Ta Kung Pao shared the video on Facebook, but the timestamp sparked intrigue as it suggested the clip had been posted before the incident took place, prompting speculation over whether the whole thing had been staged.
But Francis Fong Po-kiu, honorary chairman of the Hong Kong Information Technology Federation, said the irregularity happened because the post had been backdated.
The paper issued a statement on Wednesday night, saying it suspected its Facebook page had been hacked and the publish time was edited.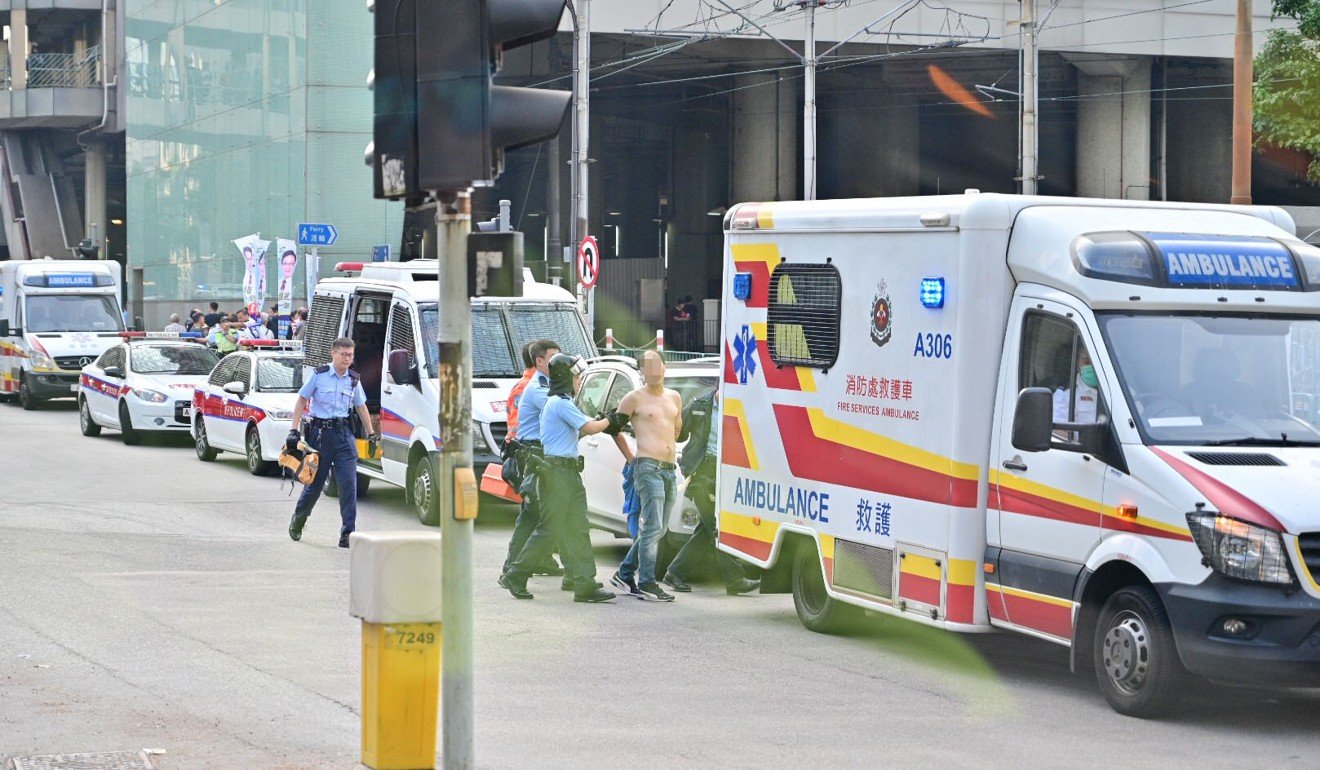 A suspect is held by police in connection with Wednesday morning's attack. PHOTO: South China Morning Post
"I have received death threats since July and I asked colleagues to take care of my personal safety," Ho said.
"This morning is a dark day in Hong Kong's district council elections. A candidate was intentionally assaulted. There is no order left in the elections.
"Although the election atmosphere is already unfair … I will remain courageous and fearless."
A video taken by one of Ho's volunteers showed a man dressed in blue greet the lawmaker and hand him a bouquet, while saying: "Everyone has noticed your efforts."
As Ho took the flowers, the man asked if he could take a photo, before pulling an object from his bag and lunging at Ho. Three men, including Ho, subdued the attacker, who continued to shout abuse.
Chief Executive Carrie Lam Cheng Yuet-ngor, speaking in Beijing, strongly condemned the attack and expressed concerns that violent acts had become contagious, following an earlier statement from the government.
Convenor of the pro-government bloc Martin Liao Cheung-kong tabled an adjournment debate on district council election-related violence, urging the government to implement immediate measures to "uphold the fairness of the polls".
But the Legislative Council president Andrew Leung Kwan-yuen rejected his bid to suspend the meeting and said there were other ways to address the matter.
The pro-establishment lawmaker is treated at the scene before being taken to Tuen Mun Hospital. PHOTO: South China Morning Post
Starry Lee Wai-king, chairwoman of the largest pro-establishment party, the Democratic Alliance for the Betterment and Progress of Hong Kong, met with acting chief executive Matthew Cheung Kin-chung on Wednesday to call on the government to ensure the elections were carried out safely.
The party said 150 incidents of their candidates being harassed and vandalism targeting their offices had been reported in the last month.
"We demand the government strengthen security measures at every polling station on November 24," Lee said.
She said they did not discuss the need to postpone the election.
Lee's fellow party member Ip Kwok-him, an adviser to Lam, said the government could decide whether to proceed with the election one week beforehand.
"If on November 17 there is still massive unrest as we saw on October 1, then the government should really consider whether the election should go ahead," Ip said. "We'd need an objective criteria that everyone agrees on."
Tanya Chan, the convenor of the pan-democratic camp, said at least seven of their candidates had been attacked since July and urged police to investigate the cases.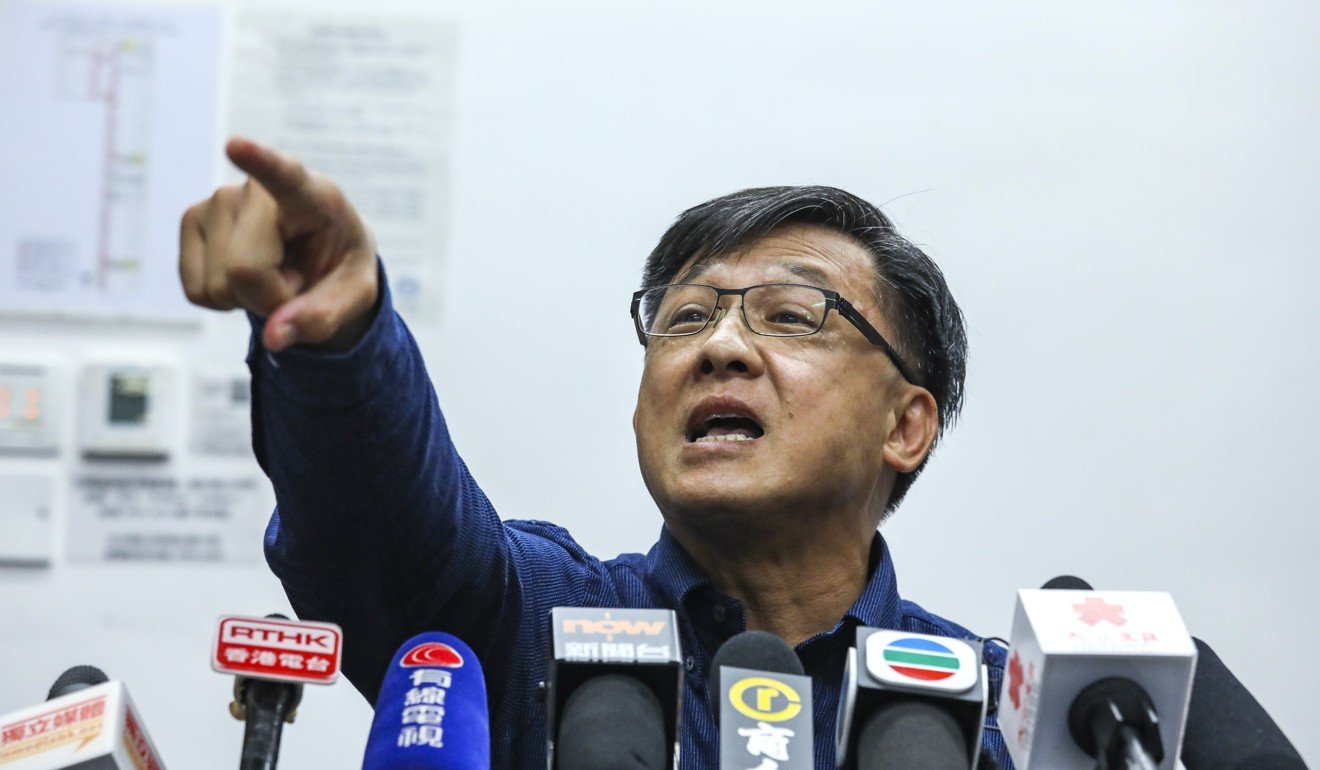 Junius Ho, the pro-Beijing politician vying for election to Tuen Mun District Council this month, is a divisive figure in Hong Kong. PHOTO: South China Morning Post
But Chan said the attack on Ho had little effect on the elections and most residents were against postponing the polling day.
Democratic Party lawmaker Lam Cheuk ting, who said he had also received threatening letters, urged police to carry out assessments and protect candidates at a higher risk of being attacked.
"It's a tense environment, but no one should be intimidated because of their political beliefs," Lam said.
This article was first published in South China Morning Post.