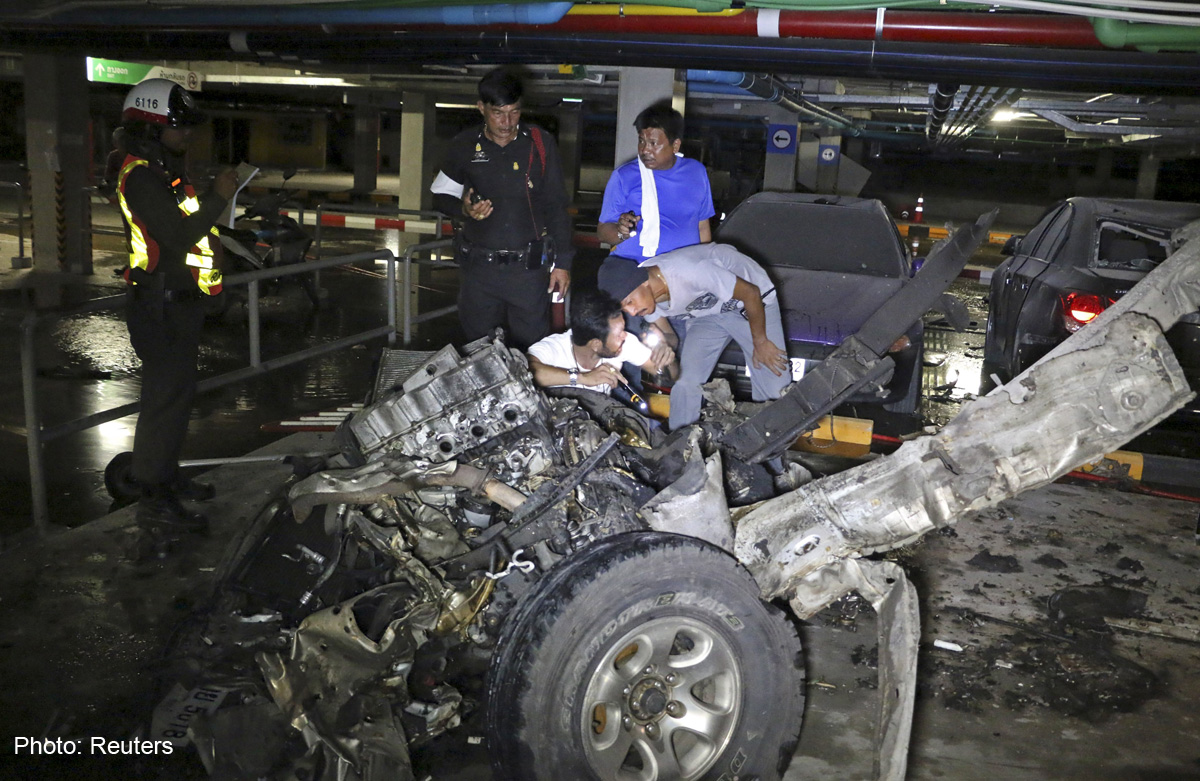 The car bomb in Koh Samui was masterminded by people who have lost power and want to destroy the Songkran atmosphere, along with the country's image and economy, Defence Ministry spokesman Maj General Kongsheep Tantrawanit said yesterday.
Asked to respond to the comment by former People's Democratic Reform Committee chief Suthep Thaugsuban that a person who lives abroad funded the bomb, Kongsheep said he believed that - as he did not think Thais would hurt one another because of different ideologies. "The bomb is about losing interests.''
National police chief Pol General Somyos Pumpanmuang said police analysed the Samui car bomb and believed the motive of the perpetrators was to instigate turmoil.
Masterminds hired assailants to carry out the attack. The Samui blast and motivation was similar to the blast in Ramkhamhaeng in Bangkok in 2013.
Six people suspected of being involved in the Samui car bomb are being held at Vibhavadi Rangsit camp, pending interrogation by military officials from Surat Thani.
But police said they had cleared a man in blue shirt - seen on surveillance cameras and suspected of having driven the pickup laden with explosives last Friday morning.
The man was identified as Weera Pancharoen, 39, a resident of Samui. He had no link to the bomb, they said.
To restore confidence in business and tourism on Samui, police strictly checked visitors on all ferry piers to Samui and scanned every person and car entering and exiting the island.
Samui Provincial Police commander Pol Maj General Apichart Bunsriroj said sniffer dogs and Explosive Ordnance Disposal officials were on standby to carry out checks at all piers to Samui.
Sources said police had made "80 per cent progress" before they issued warrants for people linked to the bomb.
Police are also continuing to look into the fire that broke out at Surat Thani Cooperative about the same time when the Samui bombing took place on Friday night.
The investigation had been suspended after it rained heavily and because of a staff shortage due to the Songkran break.
Police said they have not ruled out arson but gave weight to the possibility of it being a short circuit, as the building was over 20 years old.
Meanwhile, Noppadon led five police and EOD officials, plus sniffer dogs from Chumphon to search for bombs at Surat Thani train station - to boost confidence among visitors and local revelers. No suspicious items were found.
The same team checked for bombs in department stores in Surat Thani, such as Central Plaza.