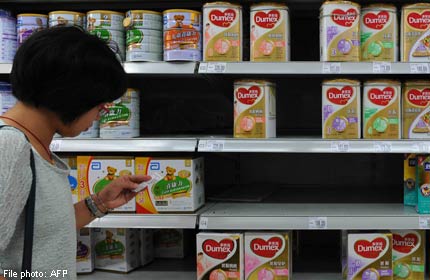 SEOUL - Concerns are growing over further spread of antibiotic-resistant bacteria and viruses recently reported here, despite health authorities' efforts to reassure the public.
The Ministry of Food and Drug Safety on Thursday denied reports of Korean food makers selling infant formula products imported from New Zealand that could contain a potentially fatal bug.
New Zealand's dairy giant Fonterra recently urged importers to immediately remove tainted baby formula from shelves worldwide, saying tests turned up a type of bacteria that could cause botulism. Botulism is a fatal paralytic illness caused by a nerve toxin.
The Korean regulator said up to 100 tons of Fonterra's products were imported this year so far. But the imported products were not manufactured by the Fonterra factory that was exposed to the bacteria. Therefore, the imported Fonterra products in Korea are not contaminated, it said.
Industry insiders countered with the claim that most local food makers have been importing products from Fonterra because it is one of the largest dairy suppliers.
"The chances are high that Korean customers are buying products that used the substance containing the bacteria," said an insider who declined to be named. There are also customers who purchased the products online, which of course, didn't go through the inspection process, he added.
To placate the public, the ministry said it will run tests on Fonterra's products and toughen inspections of all dairy products imported from New Zealand.
But an increasing number of customers have been urging authorities to conduct thorough inspections on all dairy products that have gained a reputation as "green and clean" for a long time.
"I am worried because I have been feeding my child with powdered milk that is said to have an added substance imported from New Zealand. The government should inspect every food maker to ensure public health, particularly for little ones," said a housewife surnamed Kim.
In addition to the milk scare, concerns are also growing over the spread of a deadly antibiotic-resistant strain of bacteria.
The Korea Centers for Disease Control and Prevention on Sunday confirmed that a total of 63 patients have been infected with OXA-232-type carbapenemase-producing enterobacteriaceae, or CPE, which is known to resist even strong antibiotics.
The Ministry of Health and Welfare, however, said on Monday that the bacteria was not as "lethal" as similar strains, and was treatable with the proper drugs. A senior official said it was "not appropriate to categorize CPE as a non-treatable super bacteria" and "not necessary to feel terrified," according to reports.
In response, doctors warned that the health authorities were not fully aware of the consequences of the deadly bacteria.
Healthy adults may not have a problem if infected with the bacteria. But those who have a weaker immune system such as the elderly, pregnant women, children and patients with chronic diseases could have a higher risk of developing pneumonia and sepsis. Such critical infectious diseases can be treated by using various types of antibiotics. But with the drug-resistant bacteria, doctors may have no options, said Choi Seong-ho, professor in the division of infectious diseases at ChungAng University Medical Center.
The good news is that there have been no reports of patients infected with CPE in critical condition. Doctors, however, warned that authorities should take it as an "alarming sign" and better prepare for a possible massive contagion.
Most general hospitals in Korea run infection quarantine areas with medical professionals on hand who specialise in infection diseases. However, none of these preventive control measures are available at small hospitals and clinics.
"Health authorities are also taking (recent cases) seriously but they are not taking any effective measures because of a lack of budget and manpower," said Kim Woo-ju, professor at Korea University Medical Center, in a recent radio interview. The infectious diseases expert added that currently there is neither a government office nor officials in charge of monitoring super bacteria.
Even though the H1N1 virus killed more than 100 people when it hit Korea, the government has not focused on expanding the monitoring system or establishing a nationwide network to exchange information on patients infected with a serious virus or bacteria.
"Cases involving super bacteria may not be a problem right now, but will become a bigger problem in the future. The government should come up with effective countermeasures now before it gets in real trouble," Kim said.