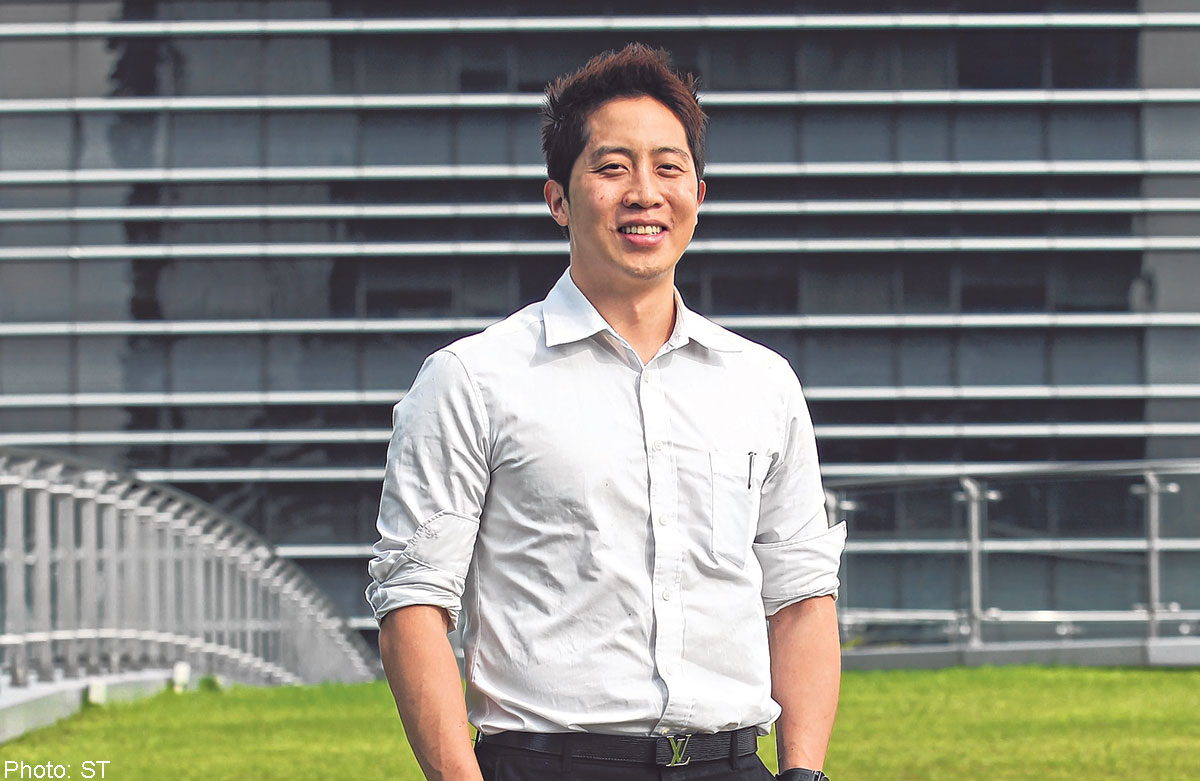 SINGAPORE- When Mr Chang Jae Min opens his mouth and begins gushing about local food in Singlish-laced English, it is easy to forget his nationality.
"Nasi lemak, bak chor mee (minced pork noodles), satay," reels off the 32-year-old native of South Korea. "It's all so good, lah."
In fact, he eats "cai fan" (economical rice) for most of his meals - "out of 10 meals, only one or less than one meal involves me eating Korean food" - and dispenses eatery recommendations to his Singaporean friends.
Born in Seoul to a plastic surgeon father and a housewife mother, Mr Chang has been living in Singapore since 2010. He was posted here for his job as a product marketeer for Samsung Electronics.
He says he has always wanted to study and work overseas because the education system in South Korea is highly pressurising.
"Many of those born in the 1980s and 1990s want to get out of the system. It's horrible. If you think studying in Singapore is bad, studying in Korea is like, 'welcome to hell'," he says matter-of-factly.
At the age of 15, his parents paid an agency, which helped him get a place in a high school in Chicago in the United States.
After that, he read business and economics at the University of Wisconsin-Madison and completed that degree at the University of British Columbia in Canada, in 2007.
Post-graduation, he sought an internship with Samsung in Singapore. He started his three-month stint in September 2007.
He explains: "I knew I wanted to work in an English-speaking ASEAN country, so Singapore was it. Furthermore, Samsung is a Korean brand and I'm proud of it. I felt it was a good company to start with."
Before coming here, he confesses that his impression of Singapore was not a positive one. "I had heard it was a very restrictive place, where people get caned and cannot chew gum," he says.
While he was prepared to give up his gum-chewing habit, which was part of his daily routine overseas, he did not expect to come to enjoy local food.
"There are so many things that are beyond what you are told and which cannot be experienced until you come here," he says.
He was introduced to roti prata and immediately developed a taste for it.
"Every single day for the three months that I was here for my first stint, I ate roti prata with curry for dinner, in addition to my main meal," he says with a laugh.
He gained 6kg as a result.
After the internship, the then 24-year- old returned to Canada and studied for another degree, this time in accounting.
Upon graduation in 2009, he ran a tuition business in Vancouver with a friend for two years before getting tired of it.
He decided it was time to go back to working for someone, but working in his home country was not an option.
"The working culture in Korea is terrible. It's very stressful. Most people work at least 12 hours a day and there's no such thing as an MC - you have to use your annual leave for that," he says.
"In any case, you can expect to forfeit all your annual leave. It's seen as a bad thing in Korea to take leave."
He adds thoughtfully: "There is more to Korea than all that K-pop stuff. That's not everything."
As he thought through his options, his positive internship with Samsung in Singapore came to mind. "It was my first choice. I applied and was hired," he says.
Since arriving in Singapore again in 2010, he says he has made many Singaporean friends and has explored many neighbourhoods.
"I would take the MRT, go to a location and walk around. I've gone for a house party in Sembawang, hung out with friends in Punggol, gone cycling in Pulau Ubin," he lists. "I feel very welcomed by Singaporeans."
Mr Chang, who is on an Employment Pass, currently shares a four-room rental apartment in the Bugis area and laments like a typical Singaporean about the high housing costs and car prices here.
He pays $2,000 a month for rent and takes the MRT to work. He changes three train lines daily to get to his office at Mapletree Business City, which is located along Pasir Panjang Road.
The bachelor is keen to stay here for a few more years as he enjoys the working culture, the friendships and, most importantly, the food.
Besides roti prata, he also has a weakness for bak kwa (barbecued pork slices), which he says he is trying to stay away from to keep himself in shape.
He says enthusiastically: "I was introduced to bak kwa during Chinese New Year in 2011. It was incredible, I was like, 'What in the world is this delicious thing?' I've tried it with rice and even with McDonald's chilli sauce. It tastes good with anything.
"I don't know if I've fallen in love with Singapore, but I'm definitely in love with the food here."

Get a copy of The Straits Times or go to straitstimes.com for more stories.