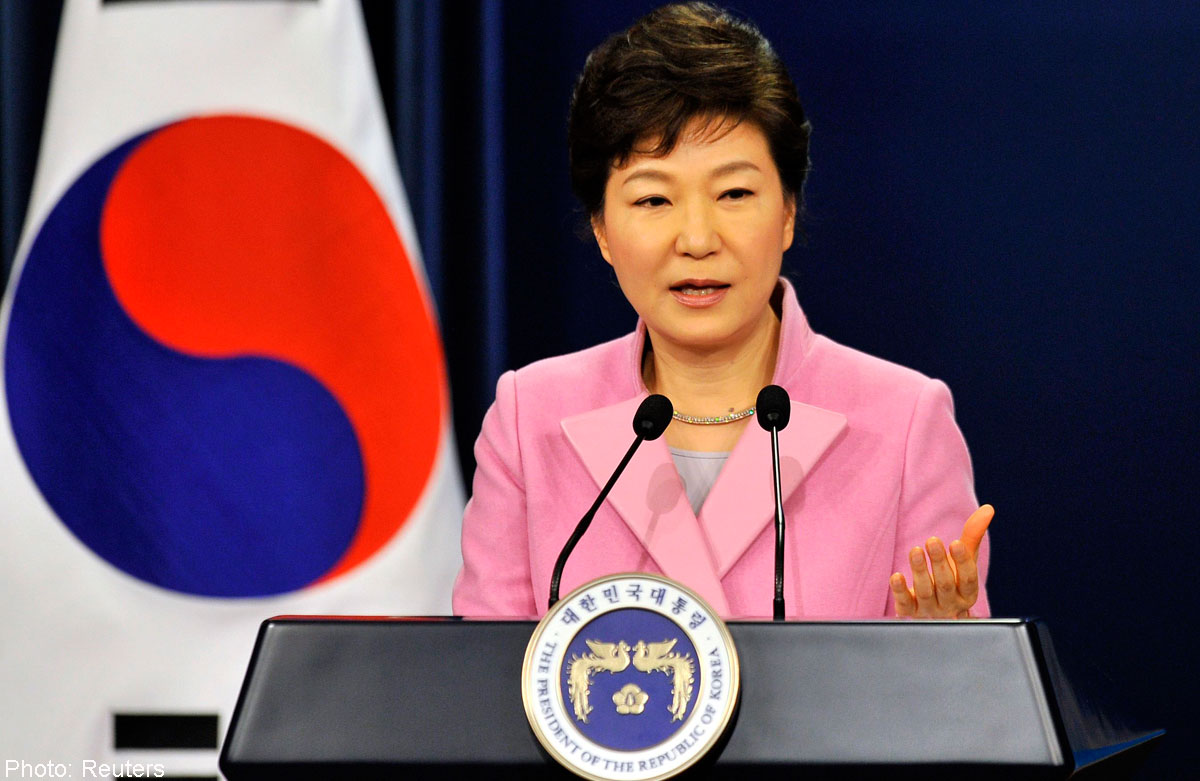 President Park Geun-hye said Monday that she won't tolerate any labour resistance to her drive to reform the public sector, castigating debt-ridden institutions' morals, excessive welfare benefits and lack of efforts to improve their management.
"(I'm) extremely worried about resistance moves by labour unions at public institutions against the reform plan to normalize (the public sector), and the people won't tolerate this either," she said during a weekly meeting with senior secretaries.
"The people are tightening their belts due to (economic) difficulties. But if the public companies keep (their) lax management (practices), we should let people know the realities of (public institutions) and let the public institutions take voluntary steps for change," she said.
The president's warning came after unionized workers in the public sector refused to participate in labour-management negotiations by holding the government responsible for state-run firms' growing debt.
They said the practice of well-connected politicians or former government officials being parachuted into the top post of public bodies or the government's policy failures have put public firms heavily in debt.
Reform of the public sector is part of Park's major state agenda.
Park, during a New Year's press conference, said she would push ahead with a three-year economic renovation plan to stimulate growth and raise the level of per capita income.
To accomplish the goal, the president has vowed to carry out a high level of reform in both the public and private sectors as well as to encourage creative economy and expand domestic demand.
Under her vision of "normalizing the abnormal," the president said she would make public entities more efficient, accountable and transparent, implying sweeping reform in the sector.
State-owned enterprises and other public organisations have been at the centre of criticism due to their rapidly growing debt and lax management practices.
Park said that lax management at public institutions is so serious that the people would not believe it.
As of 2013, the cumulative debt of the 12 most heavily indebted public corporations reached 412 trillion won, surpassing the central government's annual budget of 355 trillion won set for this year, Park said quoting recent data.
Despite the staggering debt, many public corporations have kept on giving generous performance allowances, excessive bonuses and benefits to their employees, she said.
The president pointed out that the 12 public firms spent more than 300 billion won in welfare benefits for employees over the last five years. Park addressed some cases in detail, saying that some institutions even paid the high tuitions for children of workers dispatched overseas as well as dental treatment costs of up to 1 million won.
She urged the government to end such "abnormal" practices.
"It will be difficult for the people to believe that public companies have continued with lax management like this for a long time despite that they are expected to fulfil management roles for national interest," Park said.
"These practices that have continued should never be allowed under this government," she added.