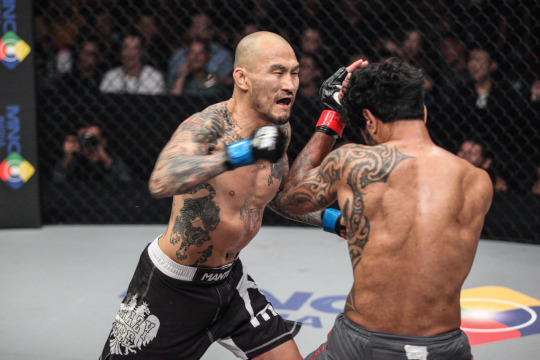 Do not tell Kotetsu "No Face" Boku (25-11-2) that he has limitations.
While most elite athletes are thinking about hanging up the gloves at age 40, the Tokyo, Japan resident is giving it no such thought. He is still as active as other competitors half his age.
The veteran returns to the cage on Saturday, 5 August, to clash with Eric "The Natural" Kelly (12-3) at ONE: KINGS AND CONQUERORS from the Cotai Arena in Macao.
"This match will turn out to be exciting, for sure. I will do my best to finish him in any circumstance," Boku states. "I am training hard with the Krazy Bee crew. I am taking more time to maintain my body so I can train harder everyday."
The Philippines' Kelly started his professional career on a high note, dominating local competition and eventually becoming a national featherweight champion. His first bump in the road came courtesy of Honorio Banario in a battle to crown the first ONE Featherweight World Champion in 2013 at ONE: RETURN OF WARRIORS.
Since then, Kelly has been on a rollercoaster of sorts. He defeated Rob Lisita and Hiroshige Tanaka in 2014 and 2015, respectively. The following year was anything but kind, as he was felled by Ev Ting at ONE: CLASH OF HEROES, and knocked out at ONE: DYNASTY OF CHAMPIONS (HEFEI).
Fighters looking to get back in the win column are often the most dangerous. While Boku respects his opponent, the Japanese veteran believes he is the superior athlete, and is ready to own the bout on the feet.
"His strength is a strong heart and excellent grappling techniques," Boku acknowledges. "But my advantage is when it is a stand-up fight."
That assertion is grounded in reality. The Krazy Bee standout has 12 finishes by way of strikes. One of those victories came in his ONE debut back October 2012 against Zorobabel Moreira, where he became the first ONE Lightweight World Champion.
After rising to the highest heights of the division, it all came crashing down in a losing effort against Shinya Aoki at ONE: KINGS AND CHAMPIONS in April 2013. He had mixed results in the year to follow.
Needing a change, Boku dropped down to featherweight in 2015, and rededicated himself to the martial arts that made him a household name. The move proved fruitful, as he notched four wins in five outings, including a pair over the likes of Timofey Nastyukhin and Vincent Latoel.
"I think that I have been on the way up lately, because I am seriously working on fighting. I am always looking forward to the battles I am going to face, without doubt in my mind. Of course, I am aiming to dominate two weight classes," he states.
With the lightweight division firmly in the rear-view mirror, Boku looks to keep solidifying his credentials at featherweight. To do that, "No Face" will need a dominant win over Kelly in Macao.
Becoming a two-division champion would be a huge feather in Boku's cap, and that day may very well come. But for now, "No Face" is focused on something he considers even greater: a love of competition.
"My motivation is that I want to know my limit," he admits. "I have already come a long way, so I would like to fight until I am 100 per cent satisfied."