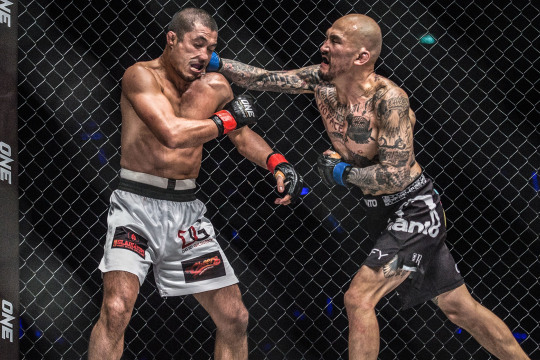 Former ONE Lightweight World Champion Kotetsu "No Face" Boku says he's ready for a shot at the ONE Featherweight World Title, but knows he has to turn back the challenge of one more young contender to move closer to it.
Boku takes on Singapore's Christian "The Warrior" Lee in a pivotal bout for both men at ONE: WARRIORS OF THE WORLD. The blockbuster happens in Bangkok on 9 December, and the 40-year-old says he'll be perfectly placed to call for a shot at the belt if he's successful.
"I think if I win I might be in a pretty good place to get a title shot."
He faces a tough test in the form of 19-year-old Lee, who has looked like a superstar in the making, racking up seven wins, all by stoppage, since his debut back in December 2015.
However, for all of Lee's fireworks inside the cage, he can't call upon the experience that Boku has picked up during his 39-bout career. That, Boku believes, will prove decisive when the pair meet inside the ONE Championship cage.
Boku also has the opportunity to tie Lee's Evolve MMA teammate Amir Khan for the most knockouts in ONE Championship history. "No Face" already has six KO finishes to his name so far in his ONE Championship career. One more will see him match Khan's tally of seven.
"I am older now, and it is interesting to test myself against the younger guys like Christian," said Boku.
"He has got a lot of spirit, and he is pretty aggressive. But he is not as experienced as I am, so I feel like I will have the advantage there.
"The thing about the cage is there is a lot to it, and a lot to learn. You cannot get by on spirit alone. I think my experience helps a bit, because he still has a way to go to get to where I am."
Boku's career has seen him capture a lightweight championship in the Japanese Shooto promotion, as well as the ONE Lightweight World Title. After he lost his belt, he made the decision to drop to featherweight, in a bid to win a world title in a second weight class.
Boku's last appearance saw him claim a thrilling come-from-behind TKO win over the Philippines' Eric "The Natural" Kelly at ONE: KINGS & CONQUERORS in August. Kelly twice dropped the Japanese veteran, only for "No Face" to call upon his experience and spirit to turn the bout on its head, and claim a remarkable stoppage victory.
"To be honest, I was a little surprised," he admitted.
"He came out hard and got me good once. It was not like a flash knockout or anything, but it knocked me down.
"I always train hard in the gym to be able to overcome situations like that. It took some time, but I was able to get him in the end. My stamina is never an issue, so it was just a matter of time.
"Every match is important, and so is every victory. I have been in some tough bouts before, and I would say that one was pretty standard."
He'll be equally well-prepared this time around, as he gets set to face Lee on 9 December, score another stoppage win, and push his claims for a shot at the ONE Featherweight World Title currently held by Martin "The SituAsian" Nguyen.
Above all, Boku plans on entertaining the crowd in Bangkok, as he brings his own brand of martial arts charisma to the ONE Championship cage once again.
"There is something special about martial arts competition that you do not get with movies, music, other sports," he said.
"They are all great in their own right, of course. But martial arts competition just has a feel like no other.
"I think of the cage as the ultimate entertainment. So, I do it for the fans' sake. Everyone wants to see finishes, so I want to finish my opponent whenever I can. In this matchup, I will seek the KO as I always do."