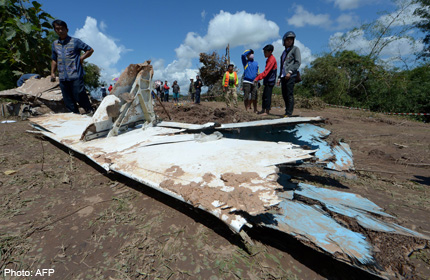 The Lao government has expressed its condolence to the families and friends of those who died in the plane crash in Champassak province on Wednesday afternoon.
Government representatives held a press conference in Vientiane on Friday morning to report on the progress of recovery operations at the crash site in Phonthong district, Champassak province.
The government will organise a minute's silence nationwide in mourning for those who perished in the plane crash, although the search efforts are yet to be concluded. The date for the national mourning has yet to be determined too.
It has also announced that all boat racing festival activities will be cancelled in a mark of respect for those who died in the plane crash.
Authorities have confirmed that the remains of 14 of the victims have so far been recovered, and further identification efforts are underway.
Experts from the ATR company in France arrived in Laos today to assist with investigations into the cause of the crash and attempt to recover the black box which contains the flight data.