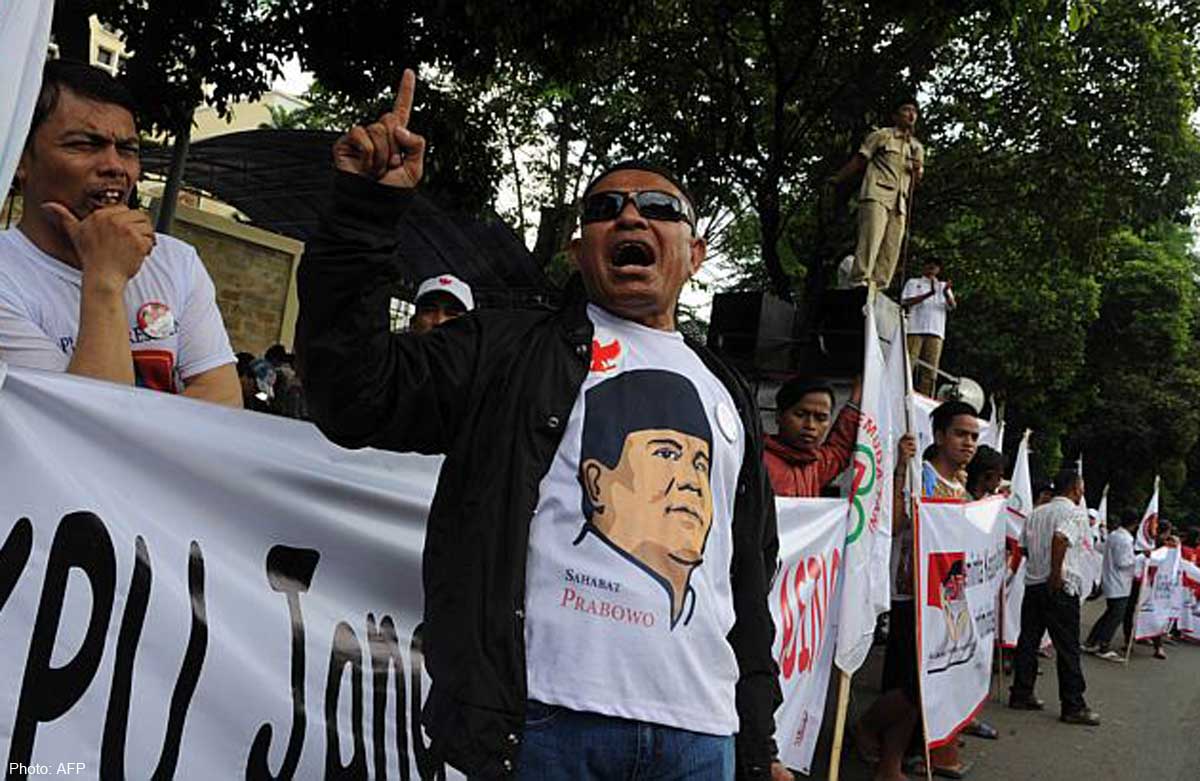 Celebrations for President- elect Joko Widodo went ahead yesterday, even as lawyers for former general Prabowo Subianto said he might file a challenge to the election result in the Constitutional Court after all.
Mr Mahendradatta, a member of Mr Prabowo's legal team, told reporters that they were building up a case and would submit it to the court by the deadline tomorrow.
The Election Commission on Tuesday concluded a two-week vote tally and declared Mr Joko the winner with 71 million votes, or 53.15 per cent of the ballots cast, against Mr Prabowo's 62.6 million votes or 46.85 per cent.
Early fears that a Prabowo court challenge might extend political uncertainty to Aug 21, the date by which the court has to make its ruling, have largely dissipated, given the large 8.4 million vote margin of Mr Joko's victory.
A reversal of this magnitude is highly improbable, observers say.
OCBC Bank economist Wellian Wiranto said the prospect of a challenge "would increasingly become more of a background noise rather than a major risk factor for the market".
Mr Joko is already clearly looking ahead, telling reporters at City Hall yesterday that he and his Vice-President-elect Jusuf Kalla would start work soon on preparing a Cabinet team for when they take charge of South-east Asia's largest economy on Oct 20.
"We are preparing a 'transitional office' to map out priorities and people considered capable of handling them during the next 21/2 months, until Oct 20, so that after that we can immediately start working," he said.
Mr Joko, who has been Jakarta governor since 2012, added that he would tender his resignation as governor after Hari Raya Puasa, which falls on Monday.
A flurry of congratulatory messages have come his way following the announcement of the final vote count on Tuesday, from leaders including President Susilo Bambang Yudhoyono, Vice-President Boediono, United States President Barack Obama, Singapore President Tony Tan Keng Yam and Prime Minister Lee Hsien Loong, and Australian Prime Minister Tony Abbott.
Even so, the Prabowo campaign yesterday called on world leaders to withhold their congratulations until Mr Prabowo had resolved his allegations of fraud in court.
"We respectfully request the international community to withhold any congratulatory statements until due process is complete," campaign spokesman Tantowi Yahya said.
In the evening, Mr Joko joined hundreds of volunteers gathered at a central Jakarta park for thanksgiving prayers and a ceremonial cutting of a tumpeng, or traditional Javanese rice cone, atop a 7m structure that was decked with local produce to mark his election as Indonesia's seventh President.
He repeated a key message in his victory speech on Tuesday night, and appealed to Indonesians to put aside their political differences and reconcile with their family members, neighbours and friends with whom bonds may have been frayed after a heated election.
"We are one nation, one country, we speak one language," he said.
Political reconciliation is also on the cards, but may take a while longer.
Key figures from Mr Prabowo's election ally Golkar have called for the party to cross to Mr Joko's side, but say this may require a party congress to replace resistant chairman Aburizal Bakrie.
Dr Yudhoyono's Democratic Party may also cross over, with honour council head and law minister Amir Syamsudin saying: "The Democrats are always ready to adapt to something that is beneficial, if invited to contribute their ideas and energy."
zakirh@sph.com.sg

This article was first published on July 24, 2014.
Get a copy of The Straits Times or go to straitstimes.com for more stories.