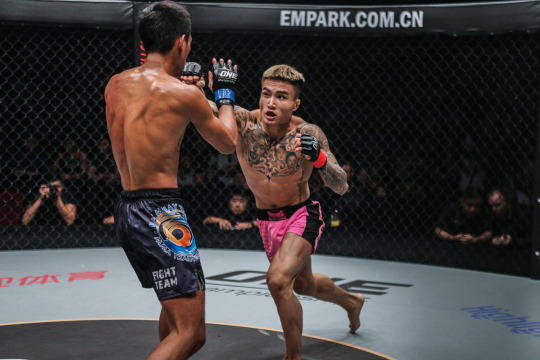 Chinese top talent Li Kai Wen is ready to return to the ONE Championship cage after almost a year and a half away - and he's ready to make a statement.
The 6-3 featherweight, known as "Black Horse," will take on Pakistan's Ahmed 'Wolverine' Mujtaba (8-1) at ONE: IMMORTAL PURSUIT at the Singapore Indoor Stadium on 24 November.
Li has competed six times under the ONE Championship banner so far, with his only loss during that time coming against two-weight ONE World Champion Martin Nguyen.
Now, he plans on making a run at the ONE Featherweight World Title currently held by Nguyen, starting with victory against Mujtaba.
Li started off competitive life as a wrestler at the Hunan Sports Vocational College. But, despite his successes on the mat, he suffered bullying from his older teammates.
"I was bullied by older team members, and got into fights constantly," he recalled.
"There is a tradition of hazing at my school, which instigated many fights and arguments among teammates.
"I stayed and trained at my school until I turned 18. My entire childhood and adolescent years were spent there, so instead of having a 'normal childhood' living at home with my family, I lived among teammates. I followed the regulations of the school, and the coaches were my guardians."
When he turned 18, he sought other horizons, and set his sights on competing in the cage. He found a home at Tianjin Top Team, and fell in love with other martial arts almost instantly.
"I started training when I turned 18, out of the sheer love for the sport and the competitiveness of it," he remembered.
"It is a complete sport, which allows me to demonstrate and showcase all aspects of being a well-rounded athlete."
After just three professional bouts, Li was handed a huge opportunity with a spot in the ONE Featherweight Beijing Tournament 2014. He took that chance with both hands, winning back-to-back matches in a single night to win the tournament.
He followed up his championship success with two more wins before his momentum was derailed by Nguyen, who was a rising featherweight contender at the time.
Undeterred, Li bounced back with victory over Keanu Subba, before stepping away to work on his game in the United States at renowned gyms such as Team Alpha Male and Kings MMA.
Now, Li says he's ready to step back into the ONE Championship cage and show how far he's evolved as a martial artist.
"I would like to use this opportunity to demonstrate to the fans that I have kept training, and still pursued my dream of the [featherweight world title] belt," he said.
The 22-year-old knows that his best years are still ahead of him, but feels his training has now blessed him with not just the physical skills, but the mental tools needed to be a success.
"Martial arts taught me the importance of discipline, respect, and determination, among many other spiritual principles which I try my best to adhere to in my everyday life, such as honesty, punctuality, persistence, and courage," he said.
As he continues to mature outside the cage, Li intends on making a major statement about his progression inside it when he faces off with Mujtaba on 24 November.
"There is no way this bout will go to the judges," he confidently predicted.
"I believe that I am more athletically gifted than Ahmed, and I believe that my team of coaches are more diverse. I am prepared for whatever Ahmed brings.
"With that said, I will enter the cage, implement my skills, and impose my will."