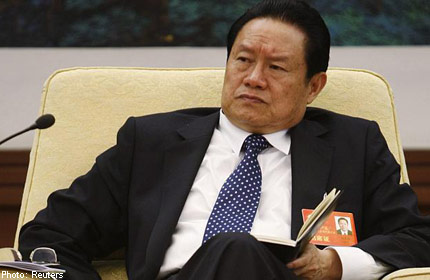 CHINA - Even though the men around him have been falling, it is still unclear whether the axe will eventually fall on former security czar Zhou Yongkang himself.
The latest among his proteges to face the music is Mr Jiang Jiemin, head of the important State-owned Assets Supervision and Administration Commission that controls key state-owned firms. Mr Jiang, former chairman of China National Petroleum Corporation (CNPC), is under investigation for "serious discipline violations", a government statement said on Sunday. The probe will focus on the oil giant, state media said on Monday.
Last week, four senior CNPC executives, believed to be Mr Zhou's proteges, came under probe for alleged wrongdoing. They are Mr Wang Yongchun and Mr Li Hualin, both deputy general managers of CNPC, and Mr Ren Xinquan and Mr Wang Daofu of PetroChina, a CNPC subsidiary.
Fuelling talk that the noose is tightening on Mr Zhou, once the ninth most powerful man in China, was a report in Hong Kong's South China Morning Post last week that the top Chinese leadership had agreed to a probe on him for economic crimes.
But there is no official word yet that this will happen, although his links to the now disgraced former Chongqing party boss Bo Xilai and their shenanigans together make him a likely candidate.
Before Mr Zhou stepped down last November, he was a member of the elite Politburo Standing Committee (PSC). He also headed the Politics and Law Commission (PLC) of the Chinese Communist Party (CCP).
This position gave him control of what in China is called the "second military", comprising the regular police force and the military police. He also had control over the ministries of justice, public security and national security, as well as the country's prosecutorial and judicial apparatus. These are collectively known as the tools of proletariat dictatorship in CCP jargon. For one who controls a second military as well as the tools of dictatorship, his absolute loyalty to the party should be undoubted.
Yet Mr Zhou was heavily implicated in an alleged coup attempt said to be masterminded by Bo to unseat Chinese President Xi Jinping by next year.
The idea was to have Bo becoming a member of the PSC taking over Mr Zhou's portfolio, who was due to retire by end-2012. By 2014, Bo would seek to unseat Mr Xi, making use of the inglorious confidential information of senior leaders amassed by Mr Zhou.
This scheme was said to be divulged by former Chongqing security chief Wang Lijun, who defected to the US consulate in Chengdu on Feb6 last year.
Bo has been tried for corruption, embezzlement and abuse of power and is awaiting a verdict.
As for Mr Zhou, for the sake of containing the damage and to maintain a facade of intra-party stability, he was allowed to retire as scheduled.
Yet, Mr Xi took meticulous efforts to eradicate Mr Zhou's remaining influences. Over the last 30 years, Mr Zhou had built his power base, first in the petroleum sector (1985-1998), then in Sichuan province (1999-2002) and finally in the PLC (2002-2012).
The erasure took place in reverse order, beginning with the PLC, which saw the downgrading of the body and a complete reshuffling of the police system. This was completed early this year. All the provincial police chiefs were asked to make open pledges of allegiance to Mr Xi.
Next to be dealt with was Sichuan province. Early this year, the province's deputy party boss, Mr Li Chuncheng, seen to be taking care of Mr Zhou's interests in Sichuan, was ousted. This was followed by visits by three separate teams from the party's Central Disciplinary Commission, according to the Guangzhou-based Southern Daily newspaper.
The probes resulted in the downfall of former Sichuan vice-governor Guo Yongxiang, known as Mr Zhou's most trusted confidant for more than 18 years.
Other dominoes that fell included big business leaders connected to Mr Zhou's son, Mr Zhou Bin.
Now, it is the turn of the petroleum sector, where Mr Zhou held power for more than a decade. This is the most obvious signal of imminent action against him.
Meanwhile, a civilian tort case was heard in a United States court in July. Mr Sun Tiangang, former chairman of GeoMaxima Energy Holdings, had filed a writ in the federal court in Los Angeles, accusing China Petroleum & Chemical (Sinopec) of malicious prosecution and illegal conduct. The writ mentioned Mr Zhou's direct involvement in a scheme leading to the confiscation of Mr Sun's property and his being jailed for five years on fabricated charges.
There is no sign that the CCP will come to Mr Zhou's rescue. A source told The Straits Times that Mr Wang Qishan, the CCP's disciplinary chief, decided that the petroleum sector would have to sort out the case by itself, hinting that the central authority is not going to bail Mr Zhou out.
Thus, it would appear that Mr Zhou's days are numbered. But no one knows for sure if he will be arrested. There is a tacit understanding at the top leadership that Politburo members would be exempted from the death penalty and PSC members from criminal conviction. Unless Mr Xi dares break this unspoken rule, Mr Zhou will remain free.
Mr Zhou is the litmus test of Mr Xi's commitment to "fighting tigers", cracking down on corrupt senior officials, as he has vowed to so many times.
chingcheong@gmail.com

Get a copy of The Straits Times or go to straitstimes.com for more stories.