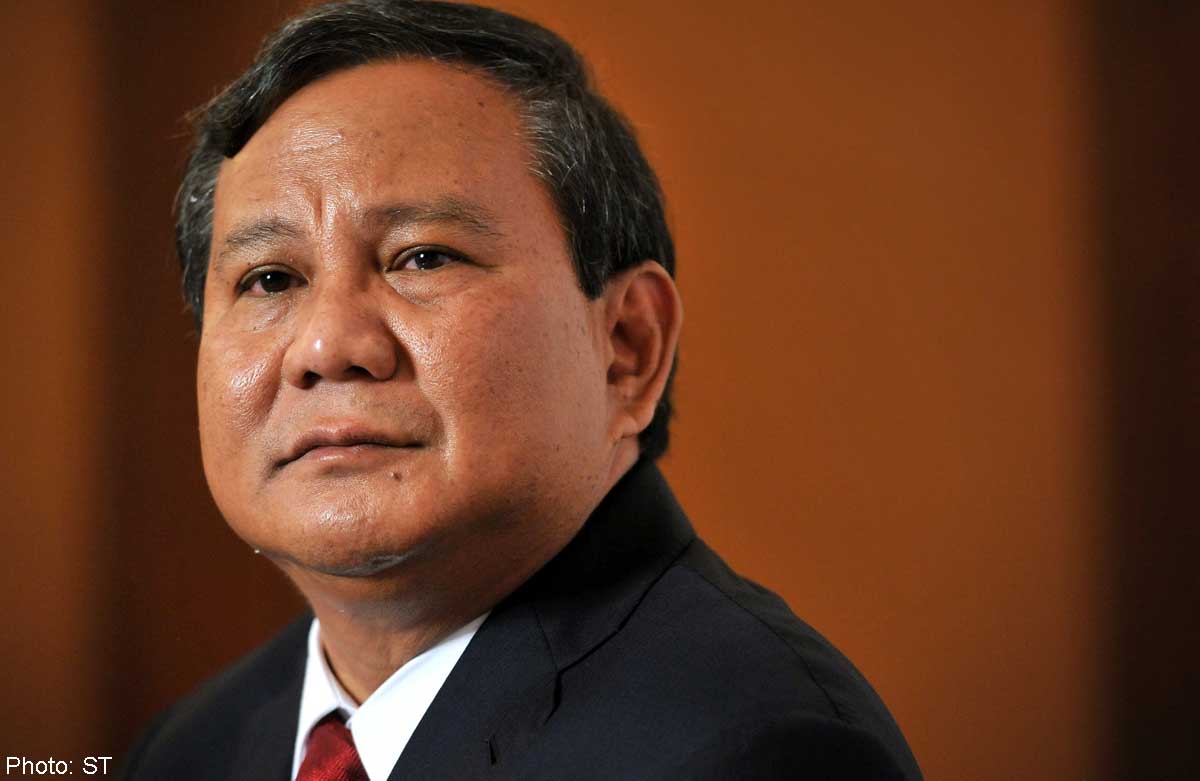 THE official result of the July 9 presidential election is out, but Indonesians and Indonesia-watchers will have to wait another three days to see whether it will hold amid signs of uncertainty within the losing Prabowo team as to its next step.
Friday evening - or 72 hours after the Election Commission's (KPU) official announcement last night - is the deadline for defeated candidate Prabowo Subianto to file a challenge to the Constitutional Court to overturn the election result that saw Jakarta Governor Joko Widodo beat him by 8.3 million votes.
Late last night, Mr Prabowo's lawyer, Mr Mahendradatta, told reporters: "It is not the domain of the Constitutional Court to handle procedural disputes."
That, however, does not entirely preclude an initial legal challenge before a lower court.
If Mr Prabowo does go ahead with his petition to the Constitutional Court, it is expected to begin its hearing the week of Aug 4, and will have 14 working days from the start of the case to reach a decision.
A battle in the Constitutional Court would be his last, legal recourse to challenge the outcome, one that several experts have suggested he has little chance of winning given the task of proving his allegation of massive, structured and systemic fraud and the substantial gap between his share of the votes and that of Mr Joko's.
Among those who counselled against a legal challenge was none other than Dr Mahfud M.D., a former head of the court who led Mr Prabowo's campaign team.
Dr Mahfud indicated yesterday that his job as campaign chief had run its course, and he would not be involved in any attempt to overturn the results.
The Constitutional Court's decision is final and binding. Its bench of nine judges has the authority to order a recount or repeat voting if it finds evidence of fraud.
But many observers such as constitutional law expert Saldi Isra of Andalas University say that even if the Prabowo team could point to specific instances that warranted a recount or repeat voting, it was hard to see how the Gerindra chief could overtake Mr Joko with his winning margin of over eight million votes.
In the past, losing presidential tickets, including the team of Ms Megawati Sukarnoputri and Mr Prabowo in 2009, had appealed to the court against the official result and lost.
Given the uphill challenge facing Mr Prabowo, supporters like Nahdlatul Ulama chairman Said Aqil Siradj are urging him to consider serving the country in other ways.
Meanwhile, members of several parties in Mr Prabowo's coalition have started sending feelers to the Jokowi camp to get on their side when the new Parliament opens in October.
These include Golkar, the United Development Party and even the Democratic Party of Dr Yudhoyono, parties whose support a Jokowi-Kalla administration will likely need if they are to push through reforms they campaigned on last month.
But as not everyone in these parties is enamoured of joining Mr Joko's side, expect much of the heat from the presidential campaign and post-election battle to soon shift to internal tussles for control within these parties.

This article was first published on July 23, 2014.
Get a copy of The Straits Times or go to straitstimes.com for more stories.