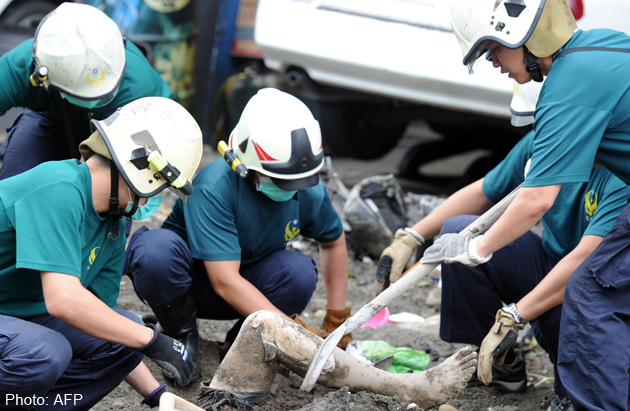 TAIPEI, Taiwan - President Ma Ying-jeou yesterday blasted incumbent Kaohsiung Mayor Chen Chu for her supposed lack of concern for the southern city's previous gas explosions, saying that "if Chen had cared more, perhaps 32 lives could have been saved."
Also acting as the chairman of the ruling Kuomintang (KMT), Ma made the remarks at the party's Central Standing Committee meeting yesterday, lauding KMT Kaohsiung mayoral candidate Yang Chiu-hsing for his speedy arrival at the site of the explosions, supposedly shortly after the streets were torn up.
"While Chen did not show up, Yang did," Ma pointed out.
Yang was invited to the meeting to brief the media on his plans to "revive Kaohsiung," and to campaign for his bid for Kaohsiung mayor.
Yang served as Kaohsiung magistrate for two terms, before the integration of Kaohsiung County and City into Greater Kaohsiung. He likened the integrated Kaohsiung to a leopard in mid-leap, suggesting that Chen had turned the leaping animal into a slumbering one. "Chen is against the free economic pilot zones; the perfect timing for Kaohsiung to flourish went out the window and the leopard has been sleeping for four years now. Kaohsiung's economy and infrastructure are worsening," said Yang, who proposed a "10 arrows with one bow" plan to boost the city's morale.
Ma continued by listing the crises that occurred in Kaohsiung during Chen's terms in office, including the floods caused by typhoons, the Kaohsiung Metro carrying less passengers than estimated, and the multiple gas explosions.
"It takes carefulness and concern to build a safe city and prevent such occurrences," said Ma.
Ma Draws Chen, Yang Comparisons
The president compared his experience in the way the two candidates handled problems caused by typhoons.
"When Typhoon Fanapi from a few years back caused flooding in 84 building basements in Kaohsiung's Gushan District, I asked Chen why the buildings were not built with floodproof gates, as the government was willing to pay half of the fees and the people the other half. Then I discovered that Kaohsiung had refused its portion of the NT$1.5 billion (S$63 million) budget allotted for southern cities in fitting floodproof gates, saying that the people were against the concept," said Ma.
"I talked to Yang when I was in Kaohsiung inspecting the problems caused by Typhoon Morakot, and found that he was friendly and rational, quite unlike the Democratic Progressive Party. The floodproof gates in the industrial areas were 1.2 meters high, but the area flooded anyway. Yang told me that it was no use building them higher, as the water pressure would cause the gates to cave in. I thought the people would criticise the government, but Yang - then a Kaohsiung magistrate - is an expert concerning construction work, and takes care of his people well," Ma concluded.