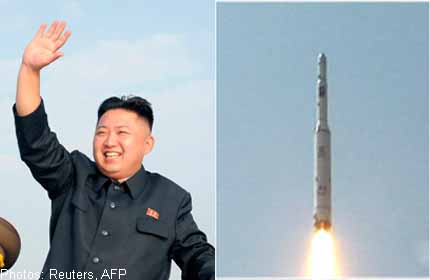 SEOUL - Fresh satellite imagery shows North Korea has embarked on a major new construction programme at the facility where it launched a long-range rocket in December, a US research institute said.
The construction includes what could be a possible new launch pad for testing mobile ballistic missiles, the US-Korea Institute at Johns Hopkins University posted on its 38 North website on Friday.
Work has been under way at the Sohae Satellite Launching Station, commonly referred to as Tongchang-ri, since the middle of the year, it said.
The station near the northwestern coast was the base for the communist state's successful Unha-3 rocket launch in December, which was widely condemned in the West as a disguised long-range ballistic missile test banned under United Nations resolutions.
As well a new road, the rebuilding of a compound for troops and the restart of construction on a permanent radar tracking system, the new imagery appears to show the construction of a new launch pad, the website said.
"While it is too early to identify the exact purpose of this site, one possible explanation is that Pyongyang is building a 'flat launch pad', a large concrete area that would be used to test mobile ballistic missiles fired from a transporter-erecter launcher," it said.
"Alternatively, a modified version of the KN-08 long-range mobile missile could launch small satellites from the pad although this would probably require a more complex arrangement.
"Rockets fired from this location... could travel over 4,000 km before encountering a foreign land mass. This would allow full tests of North Korea's Musudan rocket."
The Musudan is a mid-range rocket suspected to have a range of over 3,000 km, while the KN-08 has a potential intercontinental range and was first displayed on parade in April 2012.
The construction work at Sohae and a halt last year to construction at the Tonghae facility makes it "unlikely that North Korea will test fire an Unha or other space launch vehicles over the next six months", the website said.
Despite international criticism and UN sanctions, North Korea has repeatedly made it clear that it intends to pursue a missile programme which it sees as a key component of an effective nuclear deterrent.
During the recent surge in military tensions on the Korean peninsula that followed the December rocket launch and the North's nuclear test in February, Pyongyang warned it had the ability to deliver nuclear warheads as far as the continental United States.
Most experts say such claims are exaggerated, but Washington announced in March that it was deploying new missile interceptor batteries in Alaska in order to "stay ahead" of the nuclear threat from North Korea.
Pyongyang said the December launch, which successfully placed a satellite in orbit, was a purely scientific mission.