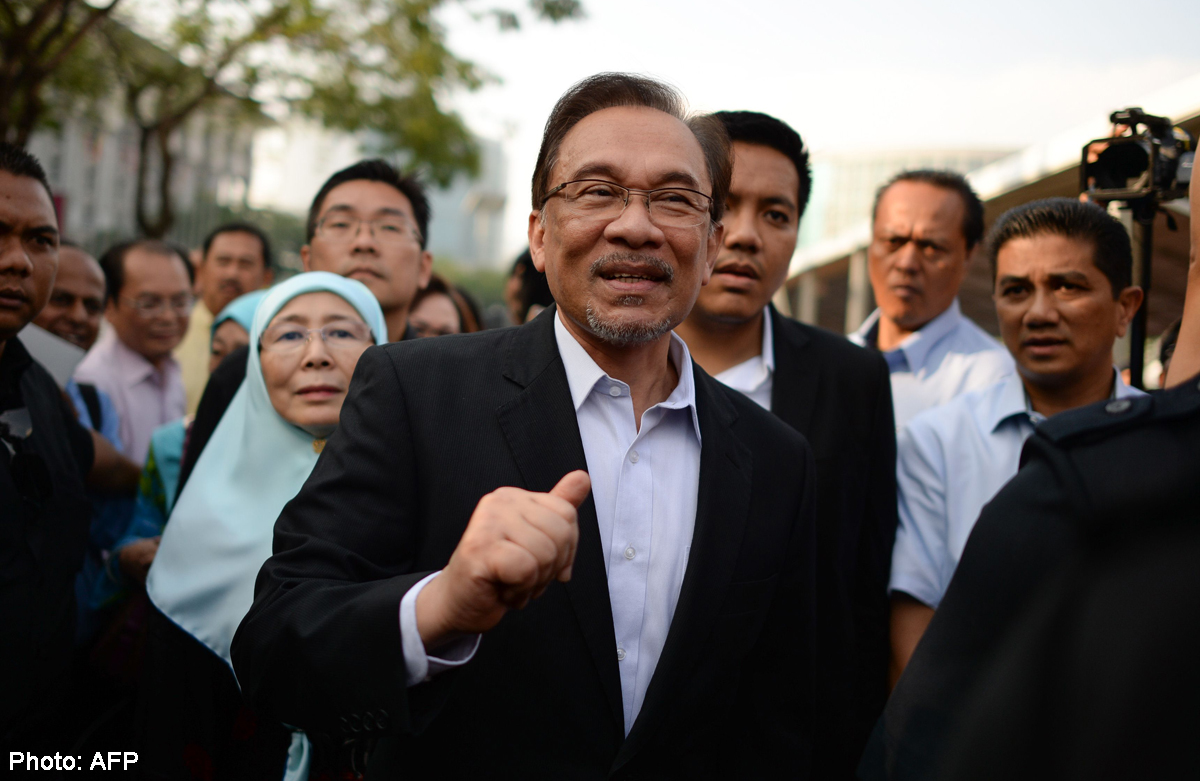 PUTRAJAYA, Malaysia - Opposition leader Anwar Ibrahim vowed on Tuesday to go down "fighting a corrupt government" as Malaysia's top court began hearing his appeal against a sodomy conviction that would send him back to jail and out of active politics.
Anwar was cleared in 2012 of charges he sodomised a young former male aide, but that acquittal was controversially reversed in March by an appeals court which convicted him and handed down a five-year jail sentence.
"I do not want to go jail but if I am forced to, I will go fighting a corrupt government," Anwar, 67, tweeted as the hearings got under way at the Federal Court, which was ringed by about 200 armed police and security barricades.
"If this is my last service to Malaysians, to the young, then this is my small sacrifice." The session had been expected to end Wednesday with a ruling by a panel of judges, but Chief Justice Arifin Zakaria told the packed court it would be extended to Thursday.
If jailed, Anwar also would lose his parliament seat - a blow for an opposition movement that rallied around his star power and now threatens to topple Malaysia's decades-old regime, yet is grappling with divisions in its own ranks.
Anwar calls the case a long-running government conspiracy to destroy his career - and the opposition's momentum - by repeatedly tarring him with false charges of sodomy, which is illegal in Muslim-majority Malaysia.
The International Federation for Human Rights, which groups 178 member organisations, labelled the hearings "a decisive test for Malaysia's judiciary" and called for an unbiased ruling.
A popular former deputy premier, Anwar was sensationally ousted from the ruling United Malays National Organisation (UMNO) in a 1998 power struggle, beaten by police, and jailed on a previous sodomy and corruption conviction widely seen as trumped up.
He was released six years later when the sodomy conviction was overturned.
Anwar's downfall sparked massive anti-government demonstrations, invigorating an opposition that UMNO had long kept in check.
Promising to end corruption, crony capitalism, and UMNO's divisive racial politics, the three-party opposition alliance won the majority of votes in elections last year, but UMNO's coalition retained parliament thanks to decades of gerrymandering.
UMNO has governed racially diverse Malaysia since independence in 1957, bringing decades of stability and rapid economic development under an authoritarian formula that reserves political primacy for the Muslim ethnic-Malay majority.
But a multi-racial new generation of voters has increasingly rebelled.
Large anti-government demonstrations have been held in recent years, some ending in violent police crackdowns, but Anwar has not directly called for protests if jailed.
About 200 pro-Anwar and pro-government demonstrators gathered outside the court Tuesday, but the situation was calm.
Political tensions have soared since last year's elections, with Muslim conservatives ratcheting up rhetoric against a perceived threat posed by the multi-faith opposition to Islam's leading role.
Prime Minister Najib Razak's government also is using Malaysia's sedition law in an ongoing crackdown on the opposition and other critics, drawing criticism from international rights groups, UN human rights experts, and the US embassy.
The Federal Court also will hear a government bid to lengthen Anwar's sentence. Sodomy is punishable by up to 20 years.
The US State Department said in March that Anwar's conviction raised concerns over rule of law and judicial independence.
Najib has admitted meeting Anwar's sodomy accuser, Mohamad Saiful Bukhari Azlan, in 2008 shortly before the charges emerged, but denies the government orchestrated the case.
But Amnesty International on Monday said the case was "clearly politically motivated" and that Anwar would be a "prisoner of conscience" if jailed.