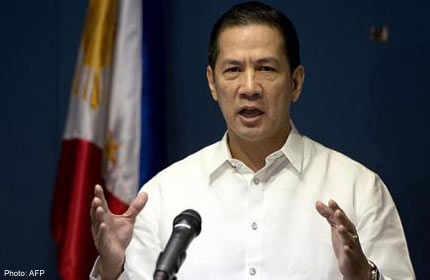 THE Philippines on Tuesday strongly protested against an incident last month when China's coast guard used water cannons to drive away Philippine fishing boats from a disputed rocky outcrop in the South China Sea.
"This action, this incident, surely escalates the tension in the area, and this further threatens the peace and security and stability in the region," Mr Raul Hernandez, spokesman for the Philippines' Department of Foreign Affairs, said at a news conference.
China defended its actions, saying its ships patrolled the region to protect China's sovereignty and ensure "normal order", Agence France-Presse reported.
Mr Hernandez said Manila summoned Beijing's charge d'affaires Sun Xiangyang to "vehemently protest" China's use of law enforcement vessels to drive away Philippine fishing boats seeking shelter from bad weather in "Bajo de Masinloc".
"Bajo de Masinloc" is the Philippines' name for Scarborough Shoal, a rocky outcrop surrounded by a rich fishing area 220km off the main Philippine island of Luzon. It is about 650km from Hainan island, the nearest major Chinese land mass, and claimed by both Beijing and Manila.
The shoal was the site of a tense stand-off between Manila and Beijing in April 2012 after the Philippine navy intercepted eight Chinese fishing vessels carrying a huge hoard of coral, giant clams and live sharks.
On Monday, General Emmanuel Bautista, head of the Armed Forces of the Philippines, disclosed at a media forum that on Jan 27, a Chinese coast guard vessel used water cannon on Filipinos fishing near Scarborough Shoal. He said the Philippines would deploy troops if China ramped up its actions against Philippine fishing boats.
Providing more details about the incident yesterday, Mr Hernandez said the coast guard ship with bow number 3063 "continuously blew its horn" at two fishing boats that ventured 35m to 45m away from the shoal "and thereafter doused the fishing vessels with water cannon for several minutes".
He said the two fishing boats were part of a group of 14 boats that sought shelter in the area because of bad weather, adding that two other Chinese coast guard vessels were also near the area.
"I don't know exactly whether they are there permanently or for a longer time, but they come and go," he said, referring to the coast guard vessels. "At the point of incident, our surveillance was able to see three of them in the area."
He said this was the first time the Philippine government received reports about the use of water cannon, but Manila had tallied nine other "harassment incidents" against Philippine fishermen by China's coast guard last year. These largely involved Chinese ships blowing their horns loudly or creating huge waves to forcibly steer fishing boats away from Scarborough Shoal.
China was defiant on Tuesday.
"For foreign ships in these seas, Chinese ships have been carrying out necessary management appropriately and reasonably," spokesman Hua Chunying told a daily news briefing in Beijing, according to Agence France-Presse.
She urged the Philippines not to "provoke any new incidents".
rdancel@sph.com.sg

Get a copy of The Straits Times or go to straitstimes.com for more stories.