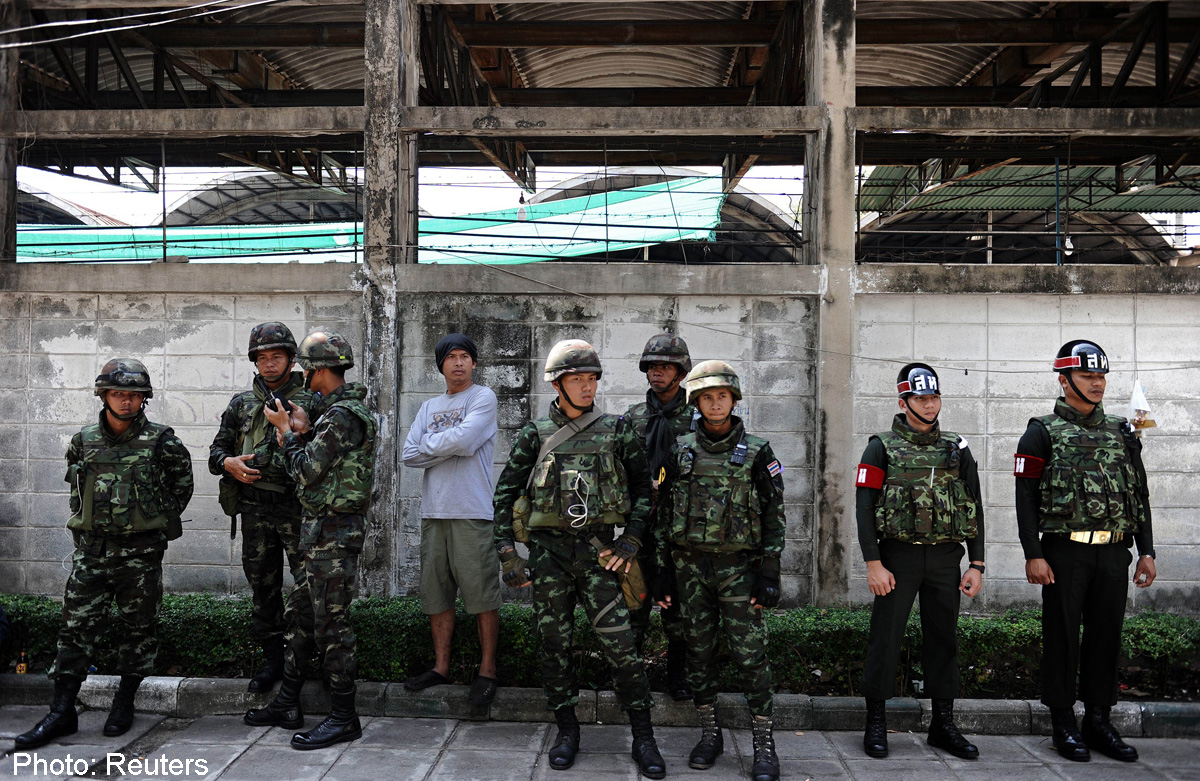 BANGKOK - Thais went to the polls on Sunday not quite knowing what to expect from an election which was unlikely to do much to resolve the fundamentals of the country's political crisis.
The biggest opposition party had boycotted the election, while an increasingly aggressive street political movement was going all out to derail the vote. To add to the trepidation, the newspapers were full of stories about a gun battle in Bangkok's bustling Laksi area last Saturday, between pro- and anti-government groups. More violence was predicted.
But even for voters accustomed to the dramatic twists and turns of Thai politics, there was a new experience on Sunday - that of being prevented from voting.
Ms Penjan Sensuk, 55, was among those stopped from entering a polling station in Din Daeng, in central Bangkok, on Sunday. "Now Thais don't know who to listen to. Both sides are shouting so much it's hard to tell the truth," said the snack food stall owner.
Downtown Bangkok was relatively empty of traffic, and voter turnout seemed low.
At a polling station in the low-income neighbourhood of Klong Toey, in the port district, one voter showed up every five minutes or so. This was pro-government "red shirt" territory; there was almost no security presence, and no protesters. All was peaceful and normal - if slow.
Over at Phya Thai, Ratchathewi and Din Daeng, near a sprawling People's Democratic Reform Committee (PDRC) encampment at the Victory Monument roundabout, it was anything but.
There, PDRC protesters gathered and stopped voters from entering polling stations and ballot boxes from being taken away.
Buses and trucks were parked across the roads, and rudimentary but effective roadblocks set up. Sound systems on trucks belted out music. It was supposed to be a street "picnic" that would paralyse Bangkok and make it impossible to hold a credible election.
When voting was suspended in the area, the protesters celebrated. But many ordinary Thais were unhappy. A brief confrontation in the morning and a mysterious gunshot in the air failed to deter aspiring voters at Din Daeng.
The voters tried again around noon. Shouting that they believed in democracy, denouncing election officials for suspending voting, and feeling emboldened by the large media presence, they held out their Thai citizen identity cards and barged through the locked gates to a polling station.
Inside, they yelled at hapless officials to open the polls, while unarmed soldiers stood around. The officials assured them there would be another attempt at polls in the area within three weeks.
In Ratchathewi district, in central Bangkok, some were so disgusted with the closure of polling stations that they made mock ballot boxes and cast mock votes.
In Bueng Kum district at the edge of Bangkok, Prime Minister Yingluck Shinawatra put a ballot paper into the wrong box, in full glare of a phalanx of television cameras. The party scrambled to clarify that she had just done what the officials had told her to do, and her vote was valid.
On Sukhumvit Road in downtown Bangkok, a woman from the north-east, who identified herself as Gai - and who had not voted because she was far from her hometown, said: "I have to come to Bangkok to work, to be able to feed myself."
She said she worked as a house maid earning 300 baht (S$12) a day. "The protesters have no such worries; they will never understand the lives of people like me."
nirmal@sph.com.sg

Get a copy of The Straits Times or go to straitstimes.com for more stories.