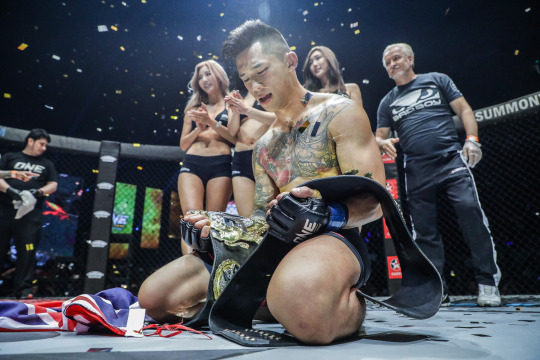 In a shocking performance to become the first two-division world champion in ONE Championship history, Martin "The Situ-Asian" Nguyen of Sydney, Australia rocked the Mall of Asia Arena in Manila, Philippines.
The reigning ONE Featherweight World Champion scored a shocking knockout victory over local favorite, and now former ONE Lightweight World Champion, Eduard "Landslide" Folayang.
Nguyen seized the opportunity of a lifetime against an opponent he considers a friend in Folayang, in front of a massive sold-out crowd on Friday, 10 November in the main event of ONE: LEGENDS OF THE WORLD.
After a tentative first round, which saw both competitors hesitant to put their combinations together, action heated up in the second frame with each man unloading their best offense.
Folayang, operating behind his vaunted Team Lakay wushu stance, showcased his patented spinning kicks and back fists. Nguyen, who was trying to time "Landslide" with his offense, kept largely out of range.
It was an even first round with neither martial artist pulling away on the cards. Folayang would be content with picking his shots from the outside, while Nguyen was intent on laying back and looking for the counter.
In the second round, however, it was a completely different story, as the activity picked up. After Nguyen missed with a wild left hook to start the round, Folayang answered back with a furious combination off the fence.
As the bout wore on, it became clear what Nguyen's game plan was, and that was to time the Filipino with the counter overhand right – the same explosive punch that have felled so many of his opponents before.
Catching Folayang spinning from another wushu side kick, "The Situ-Asian" uncorked a monstrous overhand right that exploded on the Filipino's jaw, turning the lights out on the Filipino warrior instantly. 
Olivier Coste quickly called a halt to the contest at 2:20 minutes of round number two, with the winner by knockout being Martin Nguyen.
The victory marks Nguyen's sixth straight victory overall. All six of the 28-year-old Vietnamese-Australian's most recent victories have come by spectacular finish, with this latest win punctuating an incredible run.
Now the first two-division world champion in the company's history, Nguyen (10-1) has the option to defend either his lightweight or featherweight titles, with loads of challengers lying in wait in both divisions.