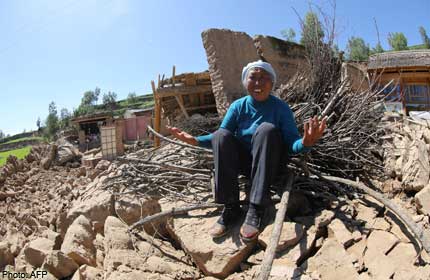 BEIJING - Rescuers rushed to find victims buried by twin shallow earthquakes in north-western Gansu province which killed at least 89 people and injured more than 800 others, state media and local officials said.
The 5.9- and 5.6-magnitude tremors hit Min and Zhang counties in Dingxi city in Gansu early Monday morning. They set off landslides which buried often crudely constructed local houses, state broadcaster CCTV reported.
They were also felt in the provincial capital of Lanzhou, 177km north, and as far away as Xian, 400km to the east.
"More than 21,000 buildings were severely damaged and more than 1,200 have collapsed," said an official at the provincial earthquake bureau, adding that 371 aftershocks had been recorded.
Pictures from the scene showed simple buildings reduced to rubble, with pieces of corrugated metal scattered all over. In one location, 12 people were buried, a witness told CCTV. "The rescue work is tough, because the house has been completely buried," the man said.
President Xi Jinping called for all-out rescue efforts and put "saving lives" as the top priority. Nearly 3,000 firefighters, police officers, soldiers and local government workers had been sent to the area, the official Xinhua news agency said, adding that rescue efforts had been hampered by landslides and roads had been blocked by heavy rain in previous days.
"We are rushing to the scene," Dingxi's vice-mayor told CCTV, which showed an orange-suited rescue worker riding on a tractor.
A red rainstorm alert was issued for the area, which could further obstruct rescue attempts in the mountainous region.
"The damage to houses made from earth bricks has been severe and many are now unusable," the vice-mayor said.
A shallow quake can be more destructive. The United States Geological Survey said the initial 5.9-magnitude quake struck at 7.45am at a depth of just 9.8km. The second 5.6-magnitude tremor hit the same region at 9.12am and was 10.1km deep, it said.
A Min county resident said he was at work at a medicine production plant when the tremor struck, and he saw tower blocks shake "ferociously".
"I felt violent shaking and ran to the yard of the plant immediately," said the man, surnamed Ma.
"Our factory has only one floor. When I came to the yard, I saw an 18-storey building, the tallest in our county, shaking ferociously, especially the 18th floor."
While Gansu is one of China's more sparsely populated provinces, Dingxi city, which includes the worst-hit counties, has a population of about 2.7 million.
Pictures broadcast on state television showed rural villages with rubble-strewn streets. A total of 380 buildings collapsed and thousands were damaged in Zhang county, said an online post by the Dingxi local government.
People posting on China's hugely popular microblogs expressed sympathy for the victims.
"I hope the dead will rest in peace," read one typical remark.
China's worst earthquake in recent years was a 7.9-magnitude temblor that struck south-western Sichuan province in 2008, leaving 90,000 people dead or missing.

Get a copy of The Straits Times or go to straitstimes.com for more stories.