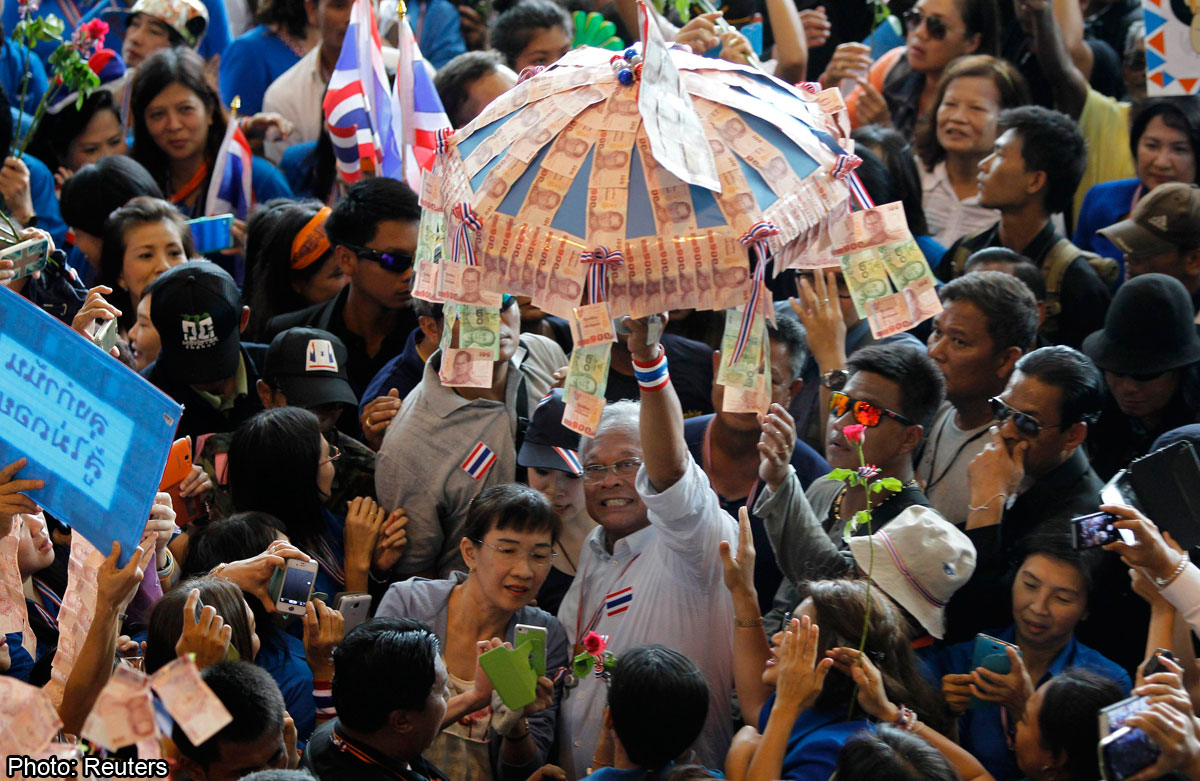 THAILAND - Thai opposition leader Abhisit Vejjajiva has been a curious sight this week, peddling a mediation proposal to key political players worn down by six months of protests and legislative limbo.
He is acting alone, or so says his Democrat Party, which had accelerated the crisis by boycotting the now-annulled Feb 2 general election.
Yesterday, in a bid to show resolve, Abhisit promised not to contest the July 20 election if Thailand's warring parties agree to his plan, details of which have not been made public.
Meanwhile, militant elements on both sides of the political divide are spoiling for a fight, making it unlikely that the coming election will be any smoother than the first.
On Monday, when Thais commemorate the coronation of revered monarch Bhumibol Adulyadej, anti-government protesters from the People's Democratic Reform Committee (PDRC) plan to mass in Bangkok's historical district to pledge allegiance to the King, a first step in their "ultimate uprising" to unseat the caretaker Puea Thai government.
That same day, pro-government camps will hold a mass rally on Bangkok's outskirts.
Leaders say the rally will last for as long as it takes to warn off powerful forces trying to pry Puea Thai from its already tenuous grip on power.
Yesterday, rebellion charges were filed against 58 protest leaders.
Already, July 20 seems almost like a sideshow. No one is hopeful that it will pull Thailand out of its deadlock.
"The election is still a dream. It's almost impossible, if the PDRC... continues fighting," says former human rights commissioner Jaran Ditapichai, a Puea Thai candidate in the Feb 2 election.
PDRC supporters disrupted voting and prevented candidates from registering in 28 out of the 375 constituencies, giving the Constitutional Court enough grounds to annul the poll in March.
The protesters have not ruled out doing the same if their demands for reform before elections are not met. PDRC leader Suthep Thaugsuban gave the surest sign on Wednesday night, declaring that "we refuse to bargain with the devil that is the Thaksin regime".
The crisis is the latest flare-up in an eight-year-old tussle for power between royalist elites and the urban middle class on one side and camps aligned with former premier Thaksin Shinawatra on the other.
Thaksin was ousted in a 2006 coup but is seen to wield inordinate control over the country through Puea Thai and his sister Yingluck Shinawatra, the caretaker prime minister.
A key question is whether the Democrats will rejoin the July 20 polls. The party's deputy secretary-general, Mr Sirichok Sopha, was non-committal when contacted by The Straits Times yesterday.
The party has not even looked at Abhisit's reform proposal in detail, he said, adding: "We will have to look at the road map and see if all parties agree to it."
While, security in Bangkok has improved since protesters rolled back their street blockades, the fragile peace could shatter if Ms Yingluck, facing separate charges, is thrown out of office.
The PDRC will take it as a cue to seize power, triggering a robust response from pro-government supporters. The July 20 election - if it takes place at all - will look anything but normal.
Neutral figure needed to help end Thailand's crisis
A deeply polarised Thailand sorely needs a neutral figure who can negotiate an end to its six-month-long political crisis, but finding a person acceptable to the warring sides has thus far been impossible.
At one end of the political divide is the mass support base of billionaire Thaksin Shinawatra and his sister Yingluck, reduced to a caretaker prime minister.
At the other end is a largely Bangkok-based middle and upper class royalist elite.
Then there is Suthep Thaugsuban, leader of the anti-Thaksin People's Democratic Reform Committee whose street protests since last October have brought the government to its knees.
There are no signs of any attempt to hold talks behind the scenes to find a compromise.
According to a source who met Thaksin in recent months, the former prime minister is willing to talk, but cannot find anyone to hold talks with and who can follow through and deliver on an agreement. Worse, the country's traditional neutral figure - King Bhumibol Adulyadej - is 86 years old, in frail health and more withdrawn from public life than ever.
The latest attempt at consensus-building by opposition leader Abhisit Vejjajiva appears doomed.
Abhisit, whom Thaksin's supporters hold responsible for the army crackdown on "red shirt" protesters in Bangkok in 2010 when he was prime minister, tweeted yesterday: "I admit that I am part of the problem."
The monarchy is supposedly above the political fray and thus theoretically able to mediate.
But public perceptions about the palace's neutrality have changed since 2008 when Queen Sirikit, now 81 and also in poor health, went to the funeral of a woman killed in clashes with police, and hailed her as a heroine for protecting the monarchy.
In a subsequent cable to Washington, then United States ambassador Eric John, after meeting the Queen's close adviser Piya Malakul, wrote her "funeral appearance was a significant blunder, jeopardising the public's perception of the palace's neutrality".
The name of Mr Anand Panyarachun, 81, a former diplomat who was premier twice in the early 1990s and is well-regarded to this day, has been mentioned again as a potential interim premier. But even Mr Anand is not considered neutral. His appointment came after the generals who launched the 1991 coup d'etat put up his name. Like Abhisit, he is seen as cut from royalist cloth.
Similarly, the pro-government camp is hard-pressed to find someone who will not be viewed as tainted by ties to Thaksin.
"There's no one neutral," concludes Mr Fuadi Pitsuwan, a fellow at Harvard University and son of Dr Surin Pitsuwan, a senior Democrat Party figure and former ASEAN secretary-general. "And I don't agree with (having) an appointed prime minister because there is no one who I think is acceptable to both sides of the conflict," he added.
The concept of neutrality in Thailand is also problematic, says political science professor Pitch Pongsawat of Chulalongkorn University.
He cited a folk tale that every Thai knows well, about two good friends who fought over a fish they caught.
A village elder asked to mediate told the man who caught the fish to keep the head and the other to keep the tail.
As the elder helped end the quarrel, he kept the middle and best part of the fish for himself.
"The moral of the story is, don't trust people who try to solve the problem because they want something out of it," said Prof Pitch.
This article was published on May 2 in The Straits Times.


Get a copy of The Straits Times or go to straitstimes.com for more stories.