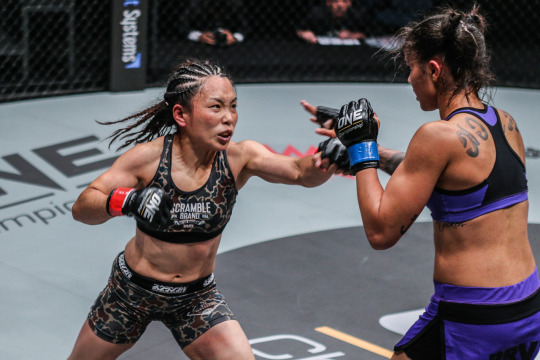 To say that Mei "V.V." Yamaguchi is at a crossroads in her career is an understatement.
The 34-year-old Japanese heroine was once at the pinnacle of martial arts in Asia, even vying for the inaugural ONE Women's Atomweight World Championship. But as of now, she is out of title contention, and is staring at the possibility of the first three-fight losing streak of her career.
Yamaguchi does not want either to happen. In fact, she hopes to kill two birds with one stone on Friday, 30 June, when she clashes with Jenny "Lady Gogo" Huang at ONE: LIGHT OF A NATION. The event broadcasts live from the Thuwunna Indoor Stadium in Yangon, Myanmar.
A victory would snap Yamaguchi's two-fight skid, and inch her closer to another title bout with current division champion, Angela "Unstoppable" Lee. The reigning atomweight queen defeated Yamaguchi in a seesaw five-round Fight of the Year battle at ONE: ASCENT TO POWER in May 2016.
"I need to get a better record, and of course, I want to fight against ONE Women's Atomweight World Champion Angela Lee again. So I really need to win this fight to see that happen," she says.
Yamaguchi's other appearance in the promotion happened three months later, but that did not go as planned either. She dropped a razor-thin split decision to Istela Nunes at ONE: HEROES OF THE WORLD in August 2016. Nunes went on to unsuccessfully challenge Lee in May this year.
Though the Japanese atomweight feels she should have gotten the nod on the judges' scorecards in both bouts, her team has come up with the perfect plan to ensure she is never in that situation again: finish her opponents.
"It was frustrating," she says. "But what I need to do to is finish with a clear submission or knockout, so I just need to work on that."
Since the loss to Nunes, Yamaguchi has honed her skills in martial arts competitions that force her to focus on finishing.
For instance, Yamaguchi's Brazilian jiu-jitsu skills have increased by leaps and bounds. She placed second in the Abu Dhabi Grand Slam: Tokyo 2017 tournament in the women's brown and black belt division. 
She also placed third in the IBJJF 2017 World Jiu-Jitsu Championships in Long Beach California, where she competed in the adult women's brown belt division at the light-feather weight class.
"I have been doing jiu-jitsu a lot, because I really thought I needed to have more skills to finish fights. Jiu-jitsu gives me a lot of technique to do that, so I was into it," she admits. "It has given me a lot of confidence for my ground game."
In addition to jiu-jitsu, Yamaguchi re-discovered her love of karate, the discipline that introduced her to martial arts at the age of seven, when she was living in Los Angeles, California. In May, she competed in a regional tournament in Tokyo, earning a second-place finish with her team.
Being away from martial arts for so long has also given "V.V." additional motivation to stay active.
"I get fat if I do not compete. I need to control my weight, so I will just compete," she explains, jokingly. "But it gives me a lot of confidence in fighting, both my standing and ground games, and it all has been within these past two months. It has been fun."
The fun and games come to an end next week, when Yamaguchi has an opportunity to apply her newly-developed skills against Huang.
Just like Yamaguchi, "Lady Gogo" is looking to rebound from a loss in her last outing, a TKO to common opponent Lee in March. Huang, too, has been sharpening her skills at a gym in Tokyo. She has been steadily perfecting her striking and wrestling alongside many of the country's best female athletes at AACC.  
Despite Huang's improvements, Yamaguchi sees a clear path to victory.
"I know she is a really good grappler. I do not know about her striking, but if she saw my fight against Angela Lee, then I know she is going to get ready for the striking, too," Yamaguchi says. 
"I think she will come really hard at me and she is confident in her grappling, so she will try to come for a submission. But I will be ready for that."