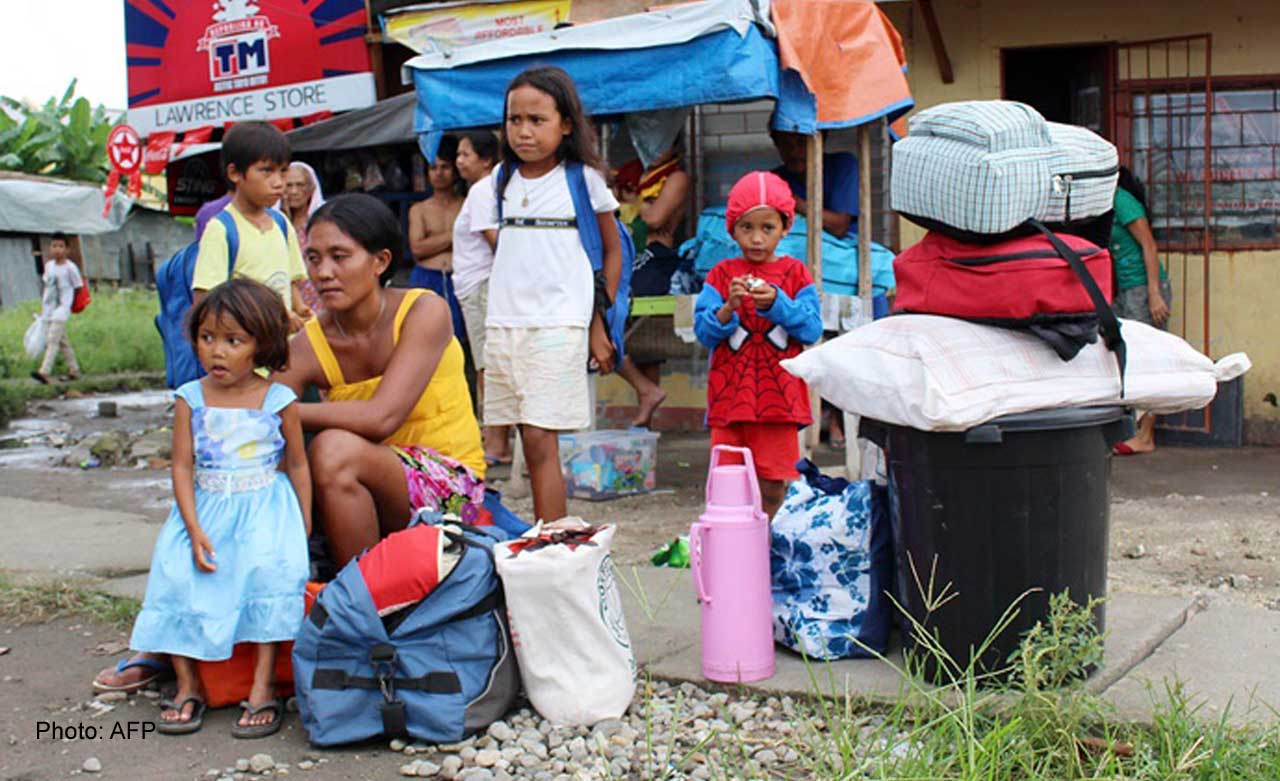 TACLOBAN, Philippines - Millions of people in the Philippines began seeking shelter in churches, schools and other makeshift evacuation centres on Friday as a monster typhoon bore down on the disaster-weary nation.
The storm, which would be the strongest to hit the Southeast Asian archipelago this year, is expected to impact more than half the nation including communities devastated by Super Typhoon Haiyan last year.
Authorities said more than 500,000 families, or about 2.5 million people, in the eastern Philippines would be evacuated ahead of Hagupit's expected landfall on Saturday night or Sunday.
"Everyone here is gripped with fear," Rita Villadolid, 39, told AFP as she sat with her family and hundreds of other people inside a sports stadium in Tacloban, one of the cities still yet to recover from Haiyan.
Elsewhere in Tacloban, a coastal city of 220,000 people on the eastern island of Leyte, people began flooding into churches and schools with little more than bags of clothes.
Haiyan, the strongest storm ever recorded on land with winds of 315 kilometres (195 miles) an hour, killed or left missing more than 7,350 people as it tore across the central Philippines last year.
Hagupit was generating winds of 215 kilometres (133 miles) an hour on Friday as it tracked towards the Philippines from the Pacific Ocean.
The US Navy's Joint Typhoon Warning Center on Friday downgraded Hagupit from the maximum super typhoon category to typhoon status.
Direct hit
But this would still make Hagupit the strongest storm to hit the Philippines this year, and it would also bring storm surges more than one storey high to many coastal areas, according to state weather agency Pagasa.
In the eastern region of Bicol alone, the government was aiming to move 500,000 families, about half the local population, into evacuation centres, regional civil defence director Bernardo Alejandro told AFP.
"All resources are being mobilised," Alejandro said, adding evacuations had begun on Friday.
He said local government and military trucks were being deployed to transport people to the shelters.
Bicol is a farming and fishing region slightly to the north of Leyte and other areas that were the worst hit by Haiyan last year.
However Hagupit's weather band was 700 kilometres wide and would affect 55 of the nation's 85 provinces, including Leyte, according to Pagasa.
Metro Manila, the nation's capital with a population of more than 12 million people, could also suffer a direct hit, according to the US Navy's Joint Typhoon Warning Center.
The local Pagasa monitoring agency, which had a slightly different forecast for Hagupit, said the capital would not be directly in the storm's path.
But the various mayors of the capital held an emergency meeting on Friday to begin preparations for expected torrid weather on Monday.
The Philippines is often the first major landmass hit by typhoons and major tropical storms that are created in the Pacific Ocean. It endures about 20 major storms a year, many of them deadly.
The previous strongest storm this year was Rammasun, which killed more than 100 people when it cut across Manila and other parts of the main island of Luzon in July.
The Philippines, a developing nation of 100 million people, has in recent years faced unusually strong storms that scientists have warned are linked to climate change.
More than 1,900 people were left dead or missing in December 2012 after Typhoon Bopha hit the southern Philippine island of Mindanao, an area that does not normally experience major storms.
In December 2011, 1,268 people were killed when Tropical Storm Washi caused massive flooding in another part of Mindanao.
Haiyan, Bopha and Washi were the world's deadliest storms of the past three years.