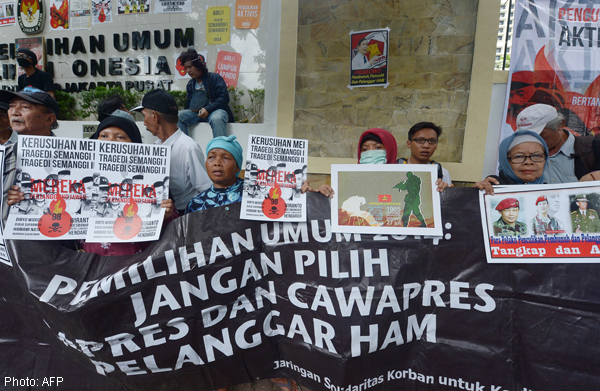 JAKARTA - Families of activists abducted during 1998 political unrest have stepped up their campaign to stop Mr Prabowo Subianto's presidential bid as opinion polls show him gaining on his rival Joko Widodo.
Yesterday, they were joined by other protesters outside a ministry building where they had planned to hold a discussion on the issue. This follows a complaint lodged a day earlier at the Election Supervisory Board against the Election Commission (KPU) for letting the former special forces commander run.
"We have been campaigning for over a decade... it pains me to see Mr Prabowo allowed to run when there has been no closure, no justice for us," said Mr Paian Siahaan, father of Ucok Munandar, one of 13 pro-democracy activists who went missing and were thought to have been abducted during the crisis that brought down then president Suharto.
His son, then an undergraduate, got a call to meet someone in South Jakarta. Two days later, he rang his parents to tell them to remain in their house as he anticipated riots. That was the last time they ever saw him.
Allegations that Mr Prabowo was behind such abductions between 1997 and 1998 are not new but they have threatened his candidacy and remain a major reason for many who do not trust him or are too traumatised to vote for him.
Mr Joko and Mr Prabowo are backed by ex-military men with questionable rights records but Mr Prabowo has been under more scrutiny given his presidential bid. As the former son-in-law of Mr Suharto, he has repeatedly said he was acting on orders.
Last week, former armed forces commander Wiranto, who was Mr Prabowo's superior, told reporters Mr Prabowo had acted on his own in those abductions.
His statement was prompted by leaked findings by the military council that found him guilty of ordering his subordinates in the Mawar (Rose) Task Force to abduct the activists. The council forced Mr Prabowo to retire early.
Mr Prabowo and Mr Wiranto, who supports Mr Joko, remain banned from entering the US, allegedly due to human rights violations during their military stints.
Ms Poengky Indarti, executive director of human rights watchdog Imparsial, says progress in seeking justice stalled in 2009, after Parliament recommended a special court be formed to further investigate and prosecute the perpetrators of the abductions.
In the past three months, Imparsial and 22 other non-governmental organisations joined the Indonesian Association of Families of the Disappeared to launch coordinated campaigns and demonstrations across Indonesia.
In Jakarta, they protested outside the army headquarters, lobbied for political support at Parliament and filed a letter to KPU to petition for Mr Prabowo's candidacy to be overturned. "We are ashamed to have a presidential candidate with human rights abuse. We will press on with demonstrations in the next few days outside KPU," said Ms Poengky.
Fellow rights activist Hendardi of the Setara Institute, a political watchdog, says many of the young do not know Indonesian history well or are easily swayed by politicians.
Indeed, a Pol-Tracking Institute survey showed 48.3 per cent of undergraduates supported Mr Prabowo compared with 40.4 per cent for Mr Joko.
The Prabowo camp has fought back against what it considers political attacks on its candidate.
His team is working on a documentary on the 1998 crisis, to be released before the July 9 election to portray what it saw as facts of the crisis.
To rebut Mr Wiranto's statements, Ms Marwah Daud Ibrahim, a member of the Prabowo campaign team, on Monday showed reporters a copy of a letter signed by then president B. J. Habibie stating Mr Prabowo had been discharged honourably. She also produced a signed letter by State Secretary Muladi who stated that no evidence was found of Mr Prabowo's role in the 1998 crisis.
Meanwhile, analysts say this human rights issue has failed to dent the increasing support for Mr Prabowo. Said political analyst Burhanuddin Muhtadi: "People do not seem to regard this issue as important as, say, corruption."
zubaidah@sph.com.sg

This article was first published on June 25, 2014.
Get a copy of The Straits Times or go to straitstimes.com for more stories.