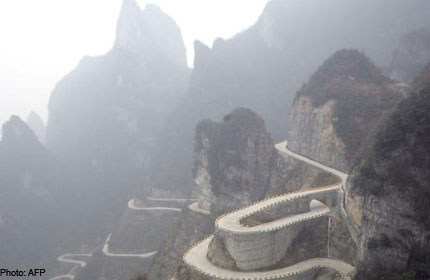 BEIJING - A Hungarian wingsuit flyer who went missing after plunging into a valley in China when his parachute failed to deploy was found dead Wednesday, state media reported.
About 200 police and firefighters were involved in the search for Victor Kovats, who disappeared during a trial flight on Tuesday in Tianmen Mountain National Forest Park in the central province of Hunan.
"Rescuers retrieved Kovats' body at the foot of a cliff that is about 100 metres (330 feet) high on Wednesday morning," the official Xinhua news agency said.
According to the Red Bull World Wingsuit League website, Kovats had completed 700 jumps, as well as 1,250 skydives and 250 base jumps.
"We are deeply saddened by Victor Kovats' passing and our thoughts and prayers go out to his parents and friends during these difficult times," an entry on the site said.
"He will be always be remembered for his deep passion for life and his spirit of adventure."
It said the organisation would "conduct a thorough review of the events that lead into this accident and adopt any appropriate changes".
The sport is highly dangerous, with about 20 people dying annually around the world while jumping.