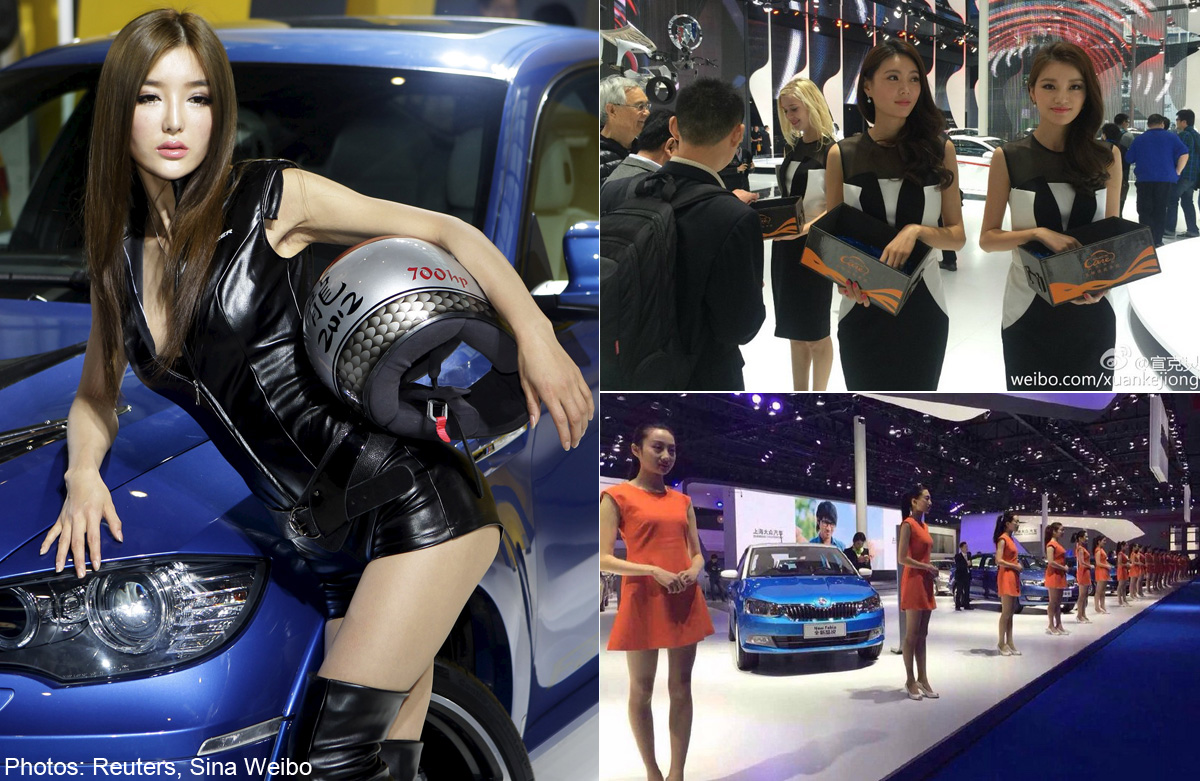 SHANGHAI - Amid the razzmatazz, music and crowds at the Shanghai autoshow on Monday, hundreds of attractive young women, and men, mingled among the stands and company booths, introducing the newest sedans and handing out pamphlets.
For years, often skimpily dressed female models have been a staple at China's big autoshows - as much of a draw as the latest car models themselves. This year is different - the organisers have banned models from the Shanghai show.
Indeed, as China's premier car exposition opened on Monday, the tone was more subdued, though models said many had found ways to get around the crackdown.
"I'm not called a 'model' here because they banned models this year," said Dai Jun, 25, a part-time model working for a luxury European carmaker at the show. Dressed in a smart suit, Dai was standing next to one of the automaker's new car models.
Others now work as "high-end sales consultants" or "tour guides" and are armed with brand information, giveaways and longer skirts. Many stood next to cars and posed for photos despite talk ahead of the show that this would not be allowed.
"I heard they banned models but I think it's just a technicality," said Kate, 20, an Estonian model working for a car company at the show. She declined to give her surname.
"LOW-BROW DELIGHTS"
Models play various roles at China's autoshows. Some carmakers use models as a marketing strategy aimed at their target audience. Others employ them simply to attract crowds.
Hundreds of smaller car expos are held across China, with models at some known to swallow snakes, kiss crocodiles and even pose naked in a not-so-subtle attempt to draw in crowds.
Even as Beijing announced its plans weeks ago to bar models, and children, from autoshows, social media platforms such as Weibo and Wechat carried recruitment advertisements seeking"professional models", "taller than 170 cm" (around 5 ft 6 ins), and with "no pimples".
In emailed comments to Reuters, He Yingrui, a spokeswoman for the autoshow, said models had been banned and the organisers hoped automakers would "resolutely stop evil activities and all kinds of low-brow delights and corrupt public morals."
The ban prompted a backlash from China's influential netizens, similar to a response in January when a TV drama about a Chinese empress was scrubbed of all footage showing actresses' cleavages.
"There are better ways to deal with skimpily dressed women (than banning them), like regulating plunging neck lines," said Johney Zheng, president of Esee model agency. "I think in one or two years, things will return to normal."