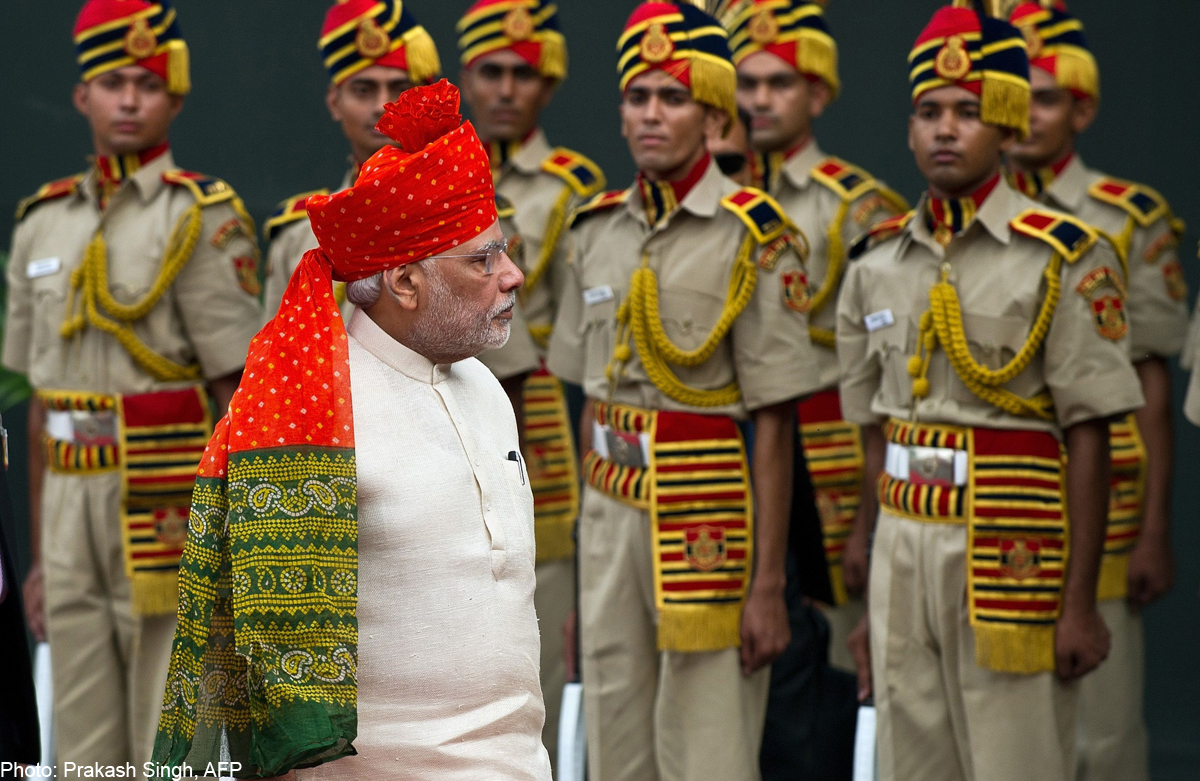 NEW DELHI - Early this month, Prime Minister Narendra Modi took to the stage in the town of Leh in Ladakh region wearing a gold-coloured robe teamed with a maroon waist sash, and a cap with upturned flaps on the side.
Called the goncha, the outfit is worn by locals in the Ladakh region of Jammu and Kashmir state.
"It was a gift and he agreed to wear it… the people were happy he wore traditional clothes and the cap," said Mr Thupstan Chhe- wang, a Bharatiya Janata Party (BJP) MP from the state.
While it is common for politicians to don the local attire - which varies from region to region in India - during visits, none is likely to attract as much attention as does the Prime Minister, known for his trademark "Modi kurta".
"It (wearing traditional clothes) is a way of saying, 'I belong to you,'" said BJP leader Tarun Vijay.
Mr Modi has attracted not just national but also international attention for his colourful wardrobe, which consists of kurtas, vests and Indian-style high-neck suits called bandhgala.
His visit to the United States next month has already sparked speculation, with many wondering what he would be packing and whether he would include a Western suit. All because this is one prime minister who dresses to suit the occasion.
When he visited a famous temple in Nepal early this month, Mr Modi wore a light saffron-coloured kurta and had a shawl with an orange paisley pattern draped over one shoulder.
Saffron is considered a holy and auspicious colour by Hindus.
On his visit to Brazil for the Brics (Brazil, Russia, India, China and South Africa) summit last month, the Indian leader wore a chocolate silk bandhgala with a red pocket square.
On another day, he wore a light pink kurta with a grey vest.
"He knows exactly what he wants and how to mix and match,'' said Mr Bipin Chauhan, Mr Modi's personal tailor for more than two decades.
"Like his work, he is completely focused when it comes to his clothes," said Mr Chauhan, who owns the Jade Blue clothing chain in Gujarat.
He also revealed that Mr Modi prefers camel, light grey and cream colours and has a liking for linen and Matka silk, a rough handloom silk fabric.
Many have noticed a subtle change in Mr Modi's wardrobe as he made the transition from a state-level to a national-level politician and then to Prime Minister in May.
Journalist Nilanjan Mukhopadhyay, the author of Narendra Modi: The Man, The Times, said: "Immediately after he became Prime Minister, he dropped the loud, vibrant colours.
"So no more shocking pink or stark yellow... It is now very earthy and pastel shades.''
He added: "There is a toning down of his political aggressiveness... in his speeches, body language.
"By not using loud colours, I think the message he and his design team are trying to convey is that he is much more pragmatic, much more willing to accommodate the views of others.''
When it comes to showing his patriotism, Mr Modi is not shy to wear it on his sleeve.
During his Independence Day address on Aug 15, Mr Modi made headlines not just for outlining his vision for India, but also for his white kurta and headgear in saffron and green. The ensemble represented the green, white and saffron colours of the Indian flag.
However, Mr Modi's sartorial choices have also put him under the same kind of scrutiny that an actor on the red carpet attracts.
A debate exploded on social media on whether he could carry off the gold-coloured robe in Leh.
His other choices have received comments ranging from "a thumbs up", "impeccable" to "what was he thinking?".
At least one political rival has targeted his wardrobe changes.
If he "changes 500 kurtas a day and wears a new kurta to every meeting", how will he have time for the country, scoffed Mr Mulayam Singh Yadav of the Samajwadi party during election campaigning early this year.
And as Mr Modi prepares for his US visit to meet President Barack Obama, Indian media reports said he will be going for a "designer" wardrobe and has turned to Mumbai-based designer for the stars Troy Costa to create it.
gnirmala@sph.com.sg

This article was first published on August 26, 2014.
Get a copy of The Straits Times or go to straitstimes.com for more stories.