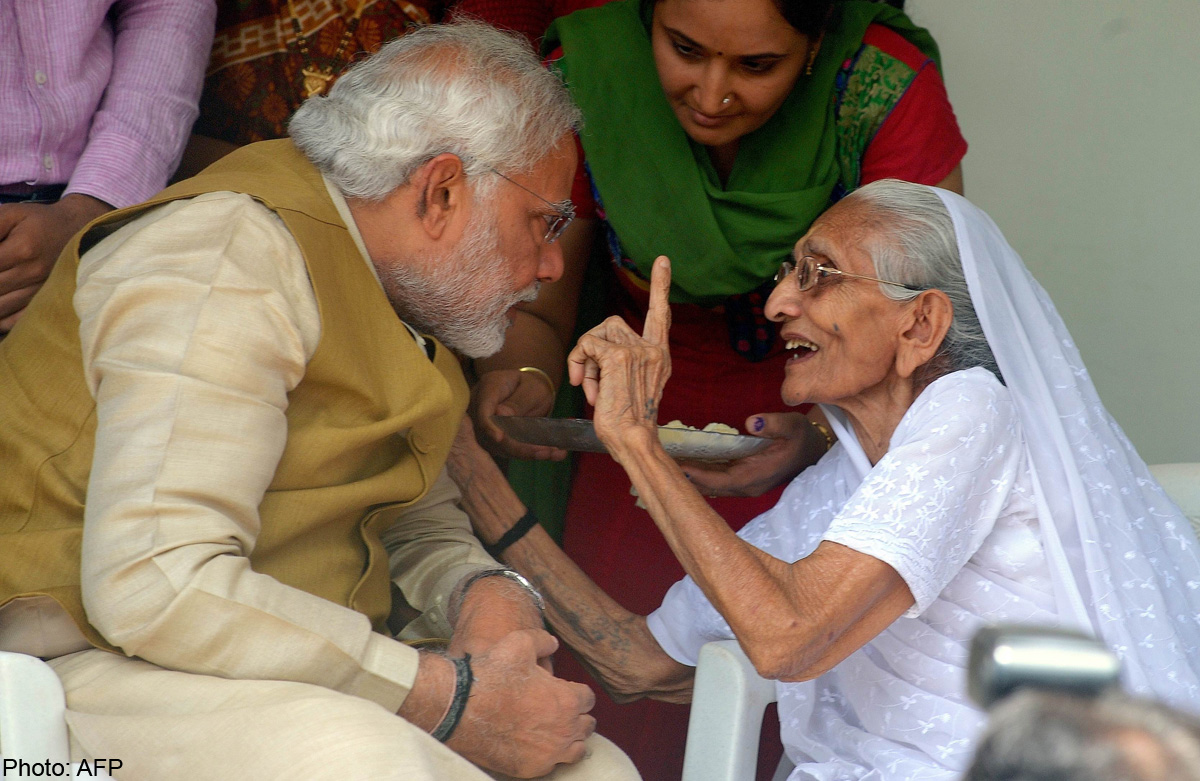 UNJHA, India - As she savoured the prospect of her brother Narendra becoming India's prime minister, Vasantiben Modi chortled at the idea that a one-time tea boy would soon be calling the shots over Delhi's traditional elite.
"They can't believe it, can't believe that someone from such a simple background could beat them," Vasantiben told AFP from her modest two-storey home, close to the town in Gujarat where the siblings grew up.
Results on Friday showed Modi's Hindu nationalist party and its allies headed for a landslide win over the secular Congress party that has ruled India for all but 13 years of its history as an independent nation.
Congress's election frontman was Rahul Gandhi, the latest in a bloodline which has already provided three of India's prime ministers.
But while Rahul's childhood was spent playing in the peaceful back garden of his grandmother Indira Gandhi's official residence, the young Modi would often help his father serve tea on a suburban train station platform - when not volunteering for a hardline Hindu youth movement.
While the urbane Rahul was educated at Oxford and Harvard universities, the abrasive Modi was on a spiritual voyage of discovery in the Himalayas after walking away from a child marriage arranged by his parents.
"We had never imagined that he would lead the entire country one day. He left the house and the family one fine day and years and years later, look where he is now," said his sister, who lives in the town of Unjha.
"When I see him on TV or newspapers it feels unreal. It's an inexplicable happiness."
Others who remember the young Modi, however, say his fierce ambition and work ethic shone through at an early age.
Determined youngster
"As a kid, he was very determined. He was the kind who would set his mind on something and would pursue it until he succeeded," said Sudhir Joshi, who went to kindergarten with Modi and lived with him for a time.
"When we lived together, I remember that he always used to do his own work - no matter how tiring or difficult," said Joshi, who is now a doctor in Modi's childhood hometown of Vadnagar in Gujarat state.
"He would wake up early in the morning, go to the nearby lake, wash his own clothes, then go to school, help his father with the tea stall during recess and then get back to studies.
"He's always been very hard-working, no doubt about that."
Modi has made great play of his humble background, particularly its contrast with Gandhi's early years as part of India's most famous dynasty.
As his party's victory became clear on Friday, Modi paid a brief visit to his elderly mother Hiraba, who lives in Gujarat's state capital Gandhinagar.
After he touched his mother's feet, she blessed him by placing her hand on his head.
The prospect of a Modi premiership has been greeted with dismay by many Muslims, who cannot forgive him for the 2002 riots in Gujarat which claimed around 1,000 lives, soon after he became the state's chief minister. Most of the victims were Muslim.
However Jasud Khan Pathan, who runs a general store in Vadnagar, said he did not regard his former schoolmate as prejudiced against Muslims.
"I have always prayed for him, prayed for him to become PM," Pathan, who is a practising Muslim, told AFP.
"I feel proud. My friend is prime minister. Doesn't that feel good to say? I couldn't be happier."
"All this talk of him being communal or that Muslims are afraid is complete nonsense.
"Modi and I grew up together for 11 years and not once did we fight, not once did I feel that he mistreated me or had any ill will against me."