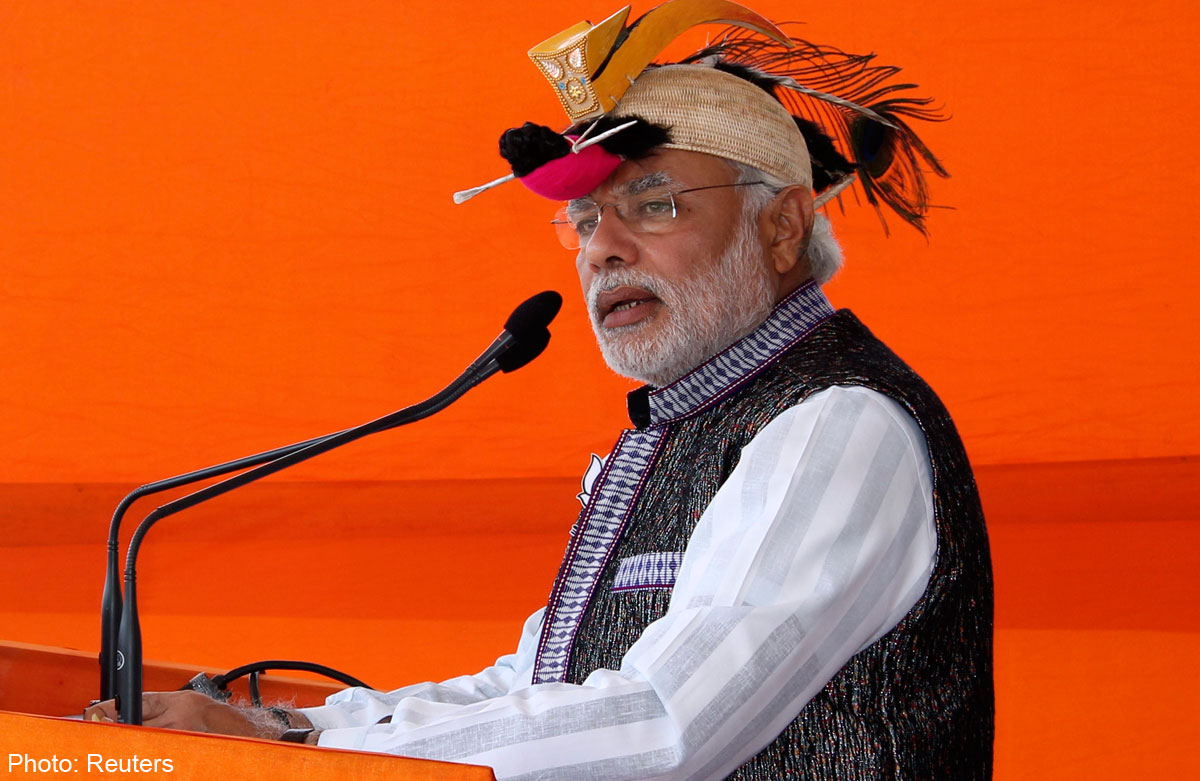 India's opposition leader Narendra Modi may be the favourite to lead the country as prime minister after the upcoming general election, but he is also the reason for the strife within his Bharatiya Janata Party (BJP).
Senior BJP leader Jaswant Singh, a former foreign minister, was expelled from the party on Sunday after he refused to heed party orders not to contest in Barmer, the constituency of his choice, as an independent candidate.
In a statement, he alluded to Mr Modi's clout in the Hindu nationalist party.
"A party that puts the whims of individuals before the greater good of people has certainly lost its vision," he said, adding that the "BJP of today" was no longer the party forged by former prime minister Atal Behari Vajpayee and former deputy prime minister L.K. Advani.
The nomination of Mr Modi, chief minister of Gujarat, as BJP's prime ministerial candidate has split the party, with the old guard on one side and Mr Modi on the other.
In June last year, Mr Advani handed in his resignation from the party, only to withdraw it less than 24 hours later following pleas from other leaders.
Shortly after, the Janata Dal (United) broke a 17-year alliance with the BJP in the state of Bihar, also over Mr Modi's elevation.
The past few months have seen Mr Modi, credited with turning Gujarat into an economic powerhouse, tighten his grip on the party as he emerged as the front runner in the elections.
He energised an otherwise flagging party and has the full support of the Rashtriya Swayamsevak Sangh, the party's ideological backbone, which has its own network of supporters.
The BJP also got a new ally in Bihar, the Lok Janshakti Party.
Political analysts said that Mr Modi now has full control of the party, much to the consternation of the old guard.
"At central level, Mr Modi has full command. He is aware that nothing can influence the elections at this time and he is completely concentrated on public opinion and his campaign," said Uttar Pradesh-based political analyst Sudhir Panwar.a
In recent weeks, senior BJP leader Murli Manohar Joshi was moved out of the Hindu holy city of Varanasi in Uttar Pradesh to make way for Mr Modi, while Mr Advani was forced to run in Vadodara in Mr Modi's stronghold state.
Other old-timers have been similarly sidelined.
Mr Modi has already set up a team for his campaign in Uttar Pradesh, with his key aide Amit Shah in full control, while in Delhi, senior leaders such as Mr Arun Jaitley have emerged as key decision-makers.
The BJP has said there is a generational change taking place in the party but that senior leaders are still important.
"It's more of a continuum. There is still a lot of advice and guidance given by party elders even as the younger generation is coming in," said BJP spokesman Nirmala Sitaraman.
However, rifts have emerged between leaders at state and national levels.
At the weekend, the BJP annulled the membership of former Janata Dal (United) politician Shabbir Ali, from Bihar, following objections from some party members including senior BJP leader Mukhtar Abbas Naqvi, who accused Mr Ali of having terror links.
Mr Ali has denied the allegations.
Similarly, Mr Pramod Muthalik, chief of the right-wing Hindu group Sri Rama Sene whose members beat up women in a Mangalore bar in 2009, was brought in by the state leadership and then ousted within hours by the central leadership following an uproar within the party.
"We don't want any controversy at this stage (to take focus away from the campaign). That's why they were let go," a senior party leader said.
Through it all, Mr Modi refused to comment on what happened.

Get a copy of The Straits Times or go to straitstimes.com for more stories.