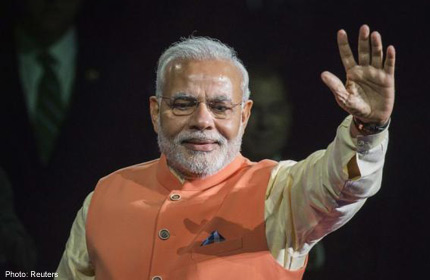 NEW DELHI - Indian Prime Minister Narendra Modi says he is committed to bringing back funds illegally deposited in banks outside the country to avoid tax, widely referred to as "black money".
In his second radio address to the nation since coming to power in May, Mr Modi said the money stashed abroad illegally belonged to the country's poor.
"The issue is an article of faith for me," he said in a speech that was aired live by public and private radio channels yesterday.
Illegal deposits abroad cost India billions of dollars in lost revenue, and Mr Modi had earlier promised that his government would change laws or enact new measures to bring back such funds.
On taking office, he appointed a panel to investigate the matter.
He said he did not know how much black money was deposited in banks overseas, but Washington-based think-tank Global Financial Integrity has estimated that India suffered US$344 billion (S$442.5 billion) in illicit fund outflows between 2002 and 2011.
The government has already submitted a list of people with illegal foreign bank accounts to the Supreme Court of India, which is monitoring the case.
"From what I (understand) and based on the information I have, I am telling you that we are in the right direction," he said in his address, which lasted for about 20 minutes.
Mr Modi said he would take up the case of drug addiction in his next address.