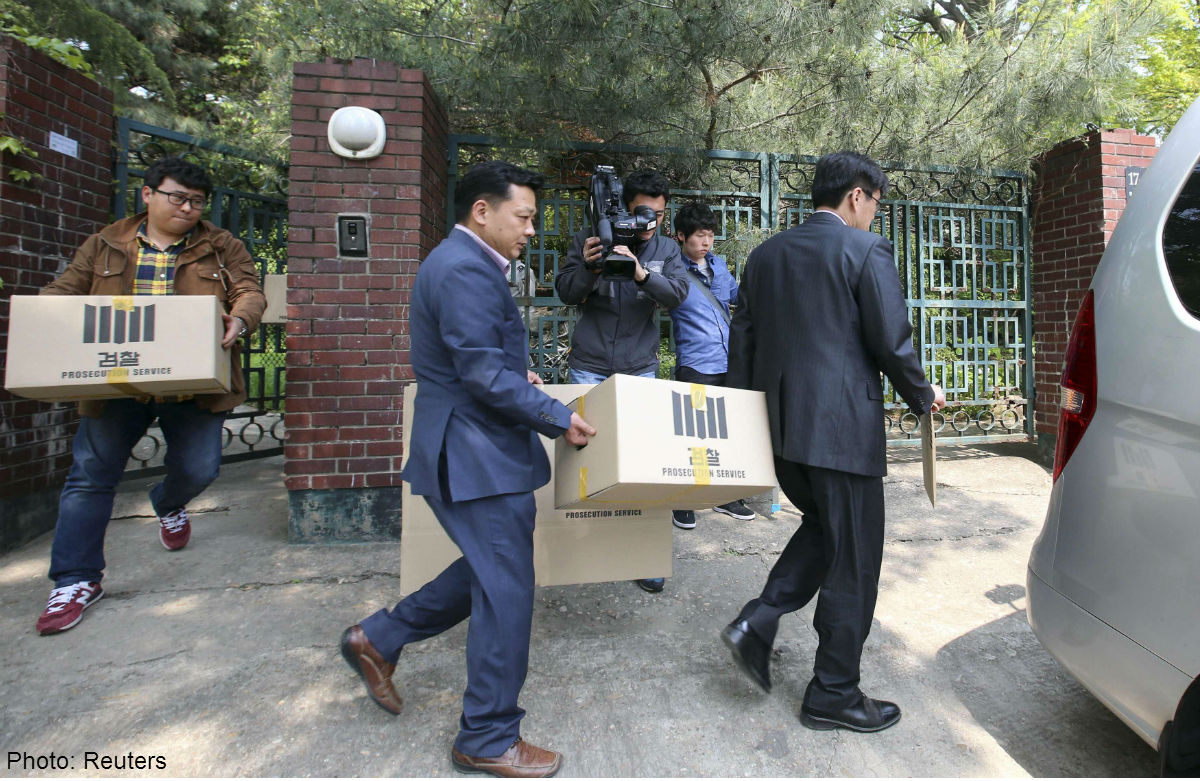 Prosecutors raided Wednesday the home of the family that owns Chonghaejin Marine Co., the operator of the sunken ferry Sewol, as well as the firm's offices and those of its affiliates, as part of a widening probe into the cause of the disaster.
Investigators from the Incheon District Prosecutors' Office visited the company's headquarters in the western port city as well as some 20 offices of its affiliates and a religious group in Seoul believed to be connected to the owner family.
Regulators also launched a full-fledged inquiry into the financial statements of Chonghaejin and its 12 sister companies over possible accounting fraud.
According to data compiled by the Financial Supervisory Service, Chonghaejin Marine and its affiliates or subsidiaries have expanded their investment in properties nationwide over the past decade, with collective real-estate assets reaching 184 billion won (S$223 million).
"Inspectors would focus on cross-shareholding and feasibly irregular funding among the affiliated firms," an FSS official said. "Any dubious misstatement on accounting books during their real estate investment (in an alleged bid to dodge taxes) could be shared with the prosecution or the National Tax Service."
He added that auditors (accounting firms) of the firms could also be held accountable for possible irregular bookkeeping practices.
Among the 12 sister firms are Chonhaiji, Semo, Dapanda and Moonjin Media. Their properties across the country came to 1.09 million square meters and the real estate sector takes up more than 30 per cent of the Chonghaejin Marine group's total assets.
Chonhaiji topped the list with its holding of properties worth 83 billion won in Goseong, South Gyeongsang Province, followed by Semo with 29.3 billion won-worth realty in Bupyeong, Incheon.
Dapanda and Moonjin Media have mostly invested in the wealthy Gangnam district in southern Seoul, in areas such as Yeoksam-dong and Seocho-dong.
The chief executives of Dapanda and Moonjin Media are two sons of Yoo Byeong-eon, a former chief of the now-defunct Semo Marine Co. Semo Marine is a former entity of Chonghaejin Marine Co. The sons of the de facto group owner are Dae-gyun - the oldest - and Hyeok-gi.
Trigon Korea owns real estate totaling 7.3 billion won in Yongsan, Seoul and Ahae has invested in provincial areas including Seogwipo of Jeju, Wanju of North Jeolla Province and Chilgok of North Gyeongsang Province.
Parent company Chonghaejin Marine owns properties worth a total 700 million won in areas including Ongjin, Incheon.
Regulatory inspectors at the FSS are also looking into the allegations that the Chonghaejin Marine group owns more subsidiaries via behind-the-scenes shareholding while the number of its registered affiliates (or subsidiaries) stays at 12.
Aside from their domestic properties, the collective assets of their overseas operations posted 166.5 billion won at the end of 2013. The Chonghaejin units were found to have invested in markets such as the US and France.
Chonghaejin Marine was set up in 1999 to replace Semo Marine, which went bankrupt in 1997 in the wake of a series of scandals. Yoo's two sons secured ownership of Chonghaejin through a sort of cross-shareholding.