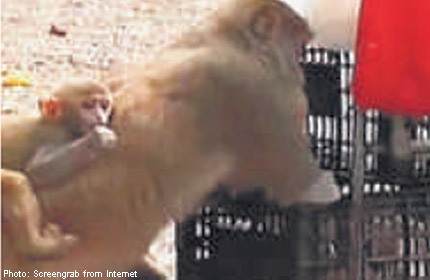 CHINA - It was an attack no parent could have imagined.
A mother was changing her eight-month-old baby's nappy when a monkey attacked, ripping off one of the baby's testicles.
An elderly man then reportedly picked up the testicle which the monkey dropped, but the animal snatched it from him before scampering away and eating it.
The horrifying attack took place at the Guiyang Qianling Wildlife Park in Guiyang, the capital of Guizhou province, in south-west China.
The baby is now recovering in hospital, the Mirror reported.
Chinese media reports said the baby's injury is not life-threatening.
Monkey numbers at the zoo are said to have risen in the past few years from around 70 to 500.
The animals are fed three times a day.
But members of the public are understood to like to feed the monkeys too despite the presence of signs warning against this.
The reports also claim that monthly incidents involving the monkeys at Guiyang, of varying degrees of severity, are now running in the hundreds.
Get The New Paper for more stories.