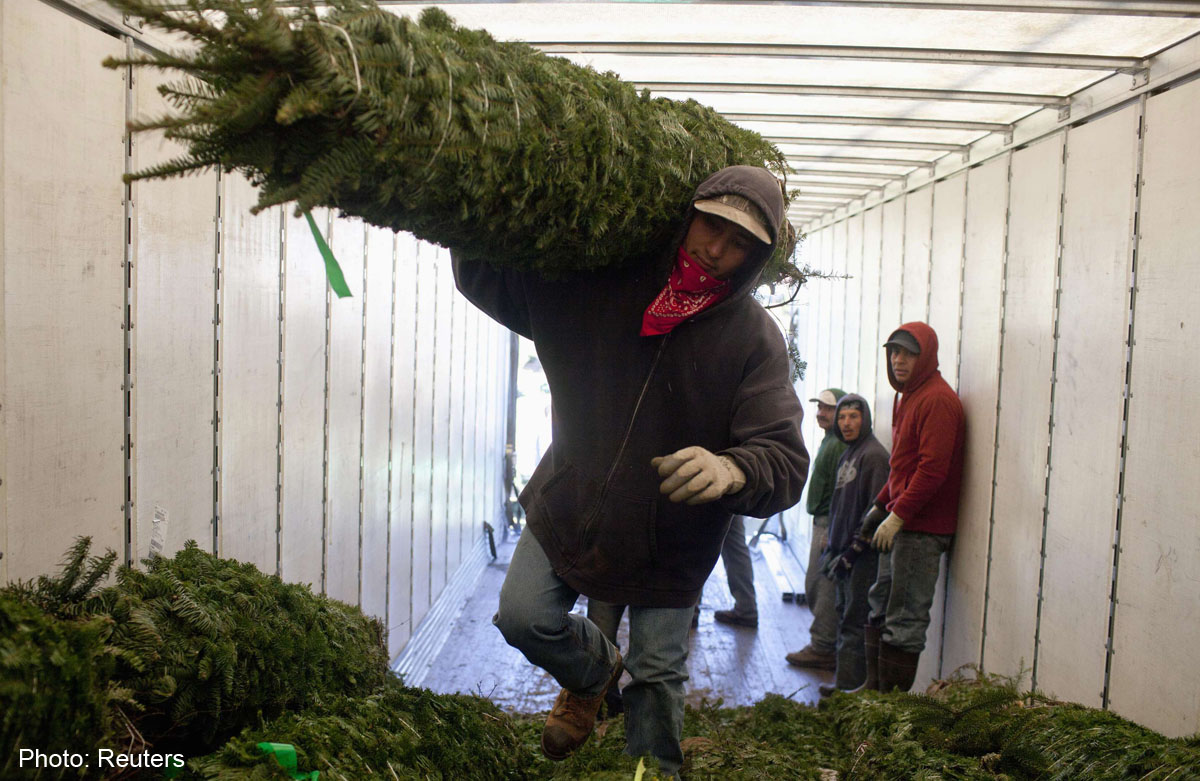 SINGAPORE - Singapore, in particular, imported about 13,900 trees from Sweden and the United States this year, compared with about 11,500 trees four years ago, according to the Agri-Food and Veterinary Authority of Singapore.
Growers in the US, in turn, report that Asia's demand for these trees has grown at least 10 per cent in the past decade.
Mr Bryan Ostlund of the Pacific Northwest Christmas Tree Association told The Straits Times that the larger Asian markets include South Korea, the Philippines and Thailand.
Mr Greg Rondeau, sales manager of Holiday Tree Farms, which exports to Hong Kong and the Philippines, said: "We think Asians appreciate the traditional value that a real Christmas tree represents."
Growers and trade groups said it is young adults who are opting for the real deal, because of the trees' authenticity value and because of their concern for the environment.
As these young adults "start their own households, start their own families and start their own Christmas traditions each year, they will be demanding real Christmas trees", said Mr Rick Dungey of the National Christmas Tree Association in Chesterfield, Missouri.
A 2009 study by a Canadian sustainable development consulting firm, Ellipsos, found that consumers would have to use their artificial trees - which lie in landfills after they are discarded - for 20 years before they become more environmentally friendly than natural trees.
But considering the real trees have to be shipped all the way to Asia, news reports said, a plastic tree that is reused for three to five years might have lower carbon emissions than a real one.
Mr Dungey believes there would be even more demand worldwide if there were more ways to buy a real tree, "get it home, get it set up and get it recycled after Christmas".
Although the trees seem to instantly appear in Singapore nurseries in the run-up to Christmas, much work goes into growing and ultimately delivering a tree.
There are more than 35 types of coniferous trees grown for the cut Christmas tree market and, depending on the species, a 1.5m-tall tree takes about four to seven years to grow, said Mr Dungey.
When the trees are ready to be harvested, they are felled and often lifted by helicopter out of the plantations.
Ms Carey Anderson, vice-president and owner of McKenzie Farms in Estacada, Oregon, said helicopters are used so the trees are not dragged through the dirt.
"We don't have a road system to get to the trees as we try to plant as many trees as possible," added Ms Anderson, who has 606ha of land - about 750 football fields - in production.
The trees then make a three- to-four-week sea voyage from the US to Asia.
Mr Rondeau said they are shipped in a refrigerated container, cooled to 1.6 deg C. "The trees arrive as fresh as on the day we ship them."
This article was first published on December 24, 2014. Get a copy of The Straits Times or go to straitstimes.com for more stories.