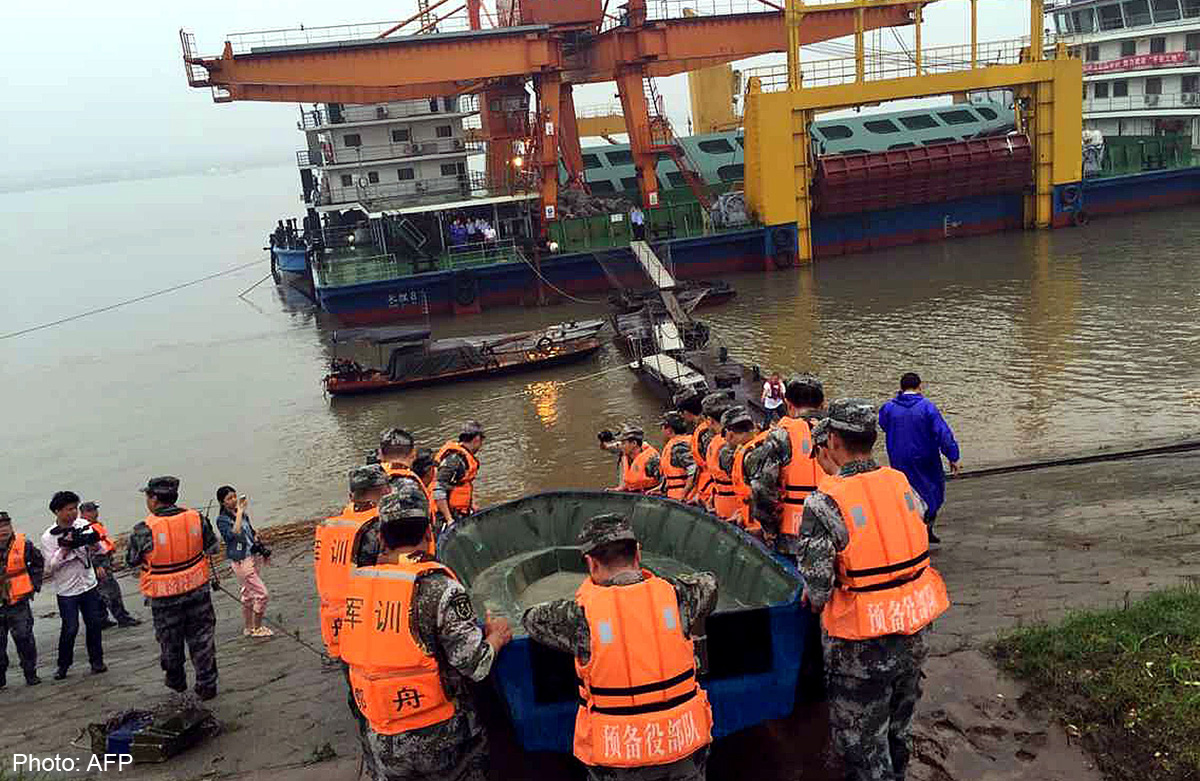 BEIJING - The swift flowing and murky brown waters of China's Yangtze River are proving a huge challenge for rescue divers searching room by room in a capsized cruise ship for hundreds of passengers who remain missing.
The "Eastern Star" cruise ship, which had more than 456 people on board, overturned Monday night in a storm on the Yangtze, leaving just a section of its hull protruding from the water.
Transport ministry spokesman Xu Chengguang said that besides time pressures, rescuers were also facing challenges posed by inclement weather.
"Due to factors including the recent wide-ranging rainfall, it was exceptionally hard for the divers every time they submerged," he said at a press conference late Wednesday. "Every dive was a grope in the dark." Divers were going from berth to berth in the overturned vessel, he said, tying a red rope or making other marks in every compartment they visited to show that it had been searched.
Speaking specifically of operations on Wednesday, however, he said that no survivors were found.
"We feel very grieved for this." Only 14 survivors have been found in total and China's state broadcaster CCTV reported that 65 bodies have been recovered, meaning hundreds more remained missing in Jianli county, in the central province of Hubei.
The accident occurred in the middle reaches of the Yangtze, a wide and rapidly flowing waterway which, at 6,300 kilometres (3,900 miles), is Asia's longest river.
I could hardly see my fingers
Guan Dong, one of the divers who earlier this week brought two survivors out of water, said the river's fast currents were daunting.
"When I got close to the door of a compartment, the current speed... was so fast that I could not crawl into it," he said at the press conference.
Authorities have said swift currents were a major hurdle in the rescue efforts, with their speed reaching 1.8 metres per second, the Global Times reported Thursday.
The government has ordered the Three Gorges Dam on the upper stream of the river to more than halve its water flow to aid the rescue work, said the newspaper.
Guan also said visibility was a problem.
"I had a diving torch in my hand but I could hardly see my fingers," he said.
"I could only see them when I put them 20-30 centimetres in front of the lens (of my diving mask)," he added.
"The visibility in the compartment was even worse," he said, adding the passage was narrow and he kept bumping into the walls on both sides of him.
"Plus there were many things floating in the water such as quilts and washing basins. Too many unpredictable things." He found a woman in her 60s in an air pocket.
"She was holding on to a pipe in the compartment with her left hand and using a torch in her right hand," he said.
"She burst into tears immediately when she saw me." Guan said the current, which "lashed on the side of the compartment door", was so strong that they had to ask rescue workers above the water to drag them out.