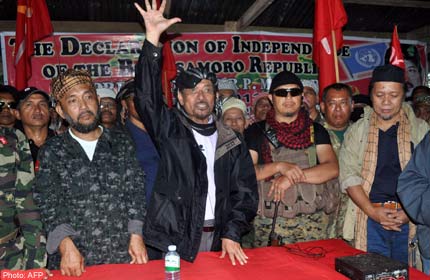 ZAMBOANGA, Philippines - Philippine troops were locked in a standoff with hundreds of Muslim gunmen who killed six people and took at least 20 hostages in the south on Monday in a bid to derail peace talks.
Armoured troops surrounded the southern port city of Zamboanga after between 200 and 300 Moro National Liberation Front (MNLF) gunmen entered six coastal villages on its outskirts before dawn, the military said.
"We want an independent Mindanao," one of the gunmen, Asamin Hussin, told local ABS-CBN television, referring to the southern third of the mainly Catholic nation.
The attack came as the government and the Moro Islamic Liberation Front (MILF), which split from MNLF in 1978, prepared to resume peace talks aimed at ending a 42-year-old rebellion that has claimed 150,000 lives.
The city of nearly one million people woke to loud pre-dawn explosions as security forces exchanged fire with the gunmen, who were still holding their ground as night fell.
Heavily armed soldiers and police streamed into the streets firing machine guns at the rebels, sending terrified residents running from their homes clutching small children and scant belongings, ABS-CBN footage showed.
"They were trying to march on the city hall and we cannot allow that," military spokesman Lieutenant-Colonel Ramon Zagala said of the gunmen, adding that two had been arrested.
Zamboanga mayor Maria Isabelle Climaco-Salazar said two security forces and four civilians had been killed, 24 people were wounded, and 1,500 others fled their homes.
At least 20 people had been taken hostage and were being used as "human shields", Zagala said.
President Benigno Aquino denounced the deadly attack and sent his top security advisers to the former Spanish colonial port to handle the crisis, his spokesman Edwin Lacierda said.
"The authorities are responding to the situation in a manner that will reduce the risk to innocent civilians and restore peace and order to Zamboanga City at the soonest possible time," Lacierda said.
The long-running Muslim insurgency in the Philippines has led to a proliferation of armed groups that have left parts of Mindanao in a constant state of lawlessness.
MNLF chairman Nur Misuari has criticised a preliminary peace deal signed last year by the government and the MILF, saying it marginalised his group and a peace treaty it signed in 1996.
Rommel Banlaoi, executive director of the Manila-based security think-tank Philippine Institute for Peace, Violence, and Terrorism Research, said the action was likely designed to sabotage the peace talks.
"Misuari's motive is to convey a message... (that) the signing of the peace agreement between the government and the MILF will no longer guarantee the end of war," Banlaoi said.
The gunmen identified have been linked to Habier Malik, Misuari's top lieutenant, said Philippine military spokesman Brigadier-General Domingo Tutaan.
The gunmen have not made any demands apart from their wish to raise their flag at Zamboanga city hall, he added.
Jose Lorena, a senior Aquino adviser on the peace talks, dismissed Misuari's concerns Monday, telling AFP that the group had been fed "misinformation".
"It is an inclusive process, not just MNLF or MILF. Whether we like it or not, there is only only one people and one area," Lorena added.
Monday's attack marked the second time that Misuari had publicly repudiated the 1996 peace deal.
Last month, declaring independence in Mindanao, he called on his forces to "surround and secure all military, police and all other installations".
In 2001 his men took dozens of hostages and left many more dead in Zamboanga and in nearby Jolo island, his home base.
The MNLF later freed all the hostages after several days, in exchange for free passage out of the city as Misuari fled to Malaysia, where he was arrested and deported.
He was held in a police camp near Manila until 2008, when the government dropped all charges against him.
Military officials say Misuari no longer commands all of the MNLF, which has splintered into a number of groups.
"We do not support this. This is about power. This independence thing is maybe secondary," Abdul Sahrin, secretary-general of a rival MNLF faction, told ABS-CBN in an interview.
However, analyst Banlaoi said: "The fear now is Misuari could create one united front along with other threat (armed) groups against the Philippines."
Mindanao is also a hotbed of Islamic militants behind deadly bombings and kidnappings of westerners, as well as a MILF faction called the Bangsamoro Islamic Freedom Fighters which opposes peace talks.