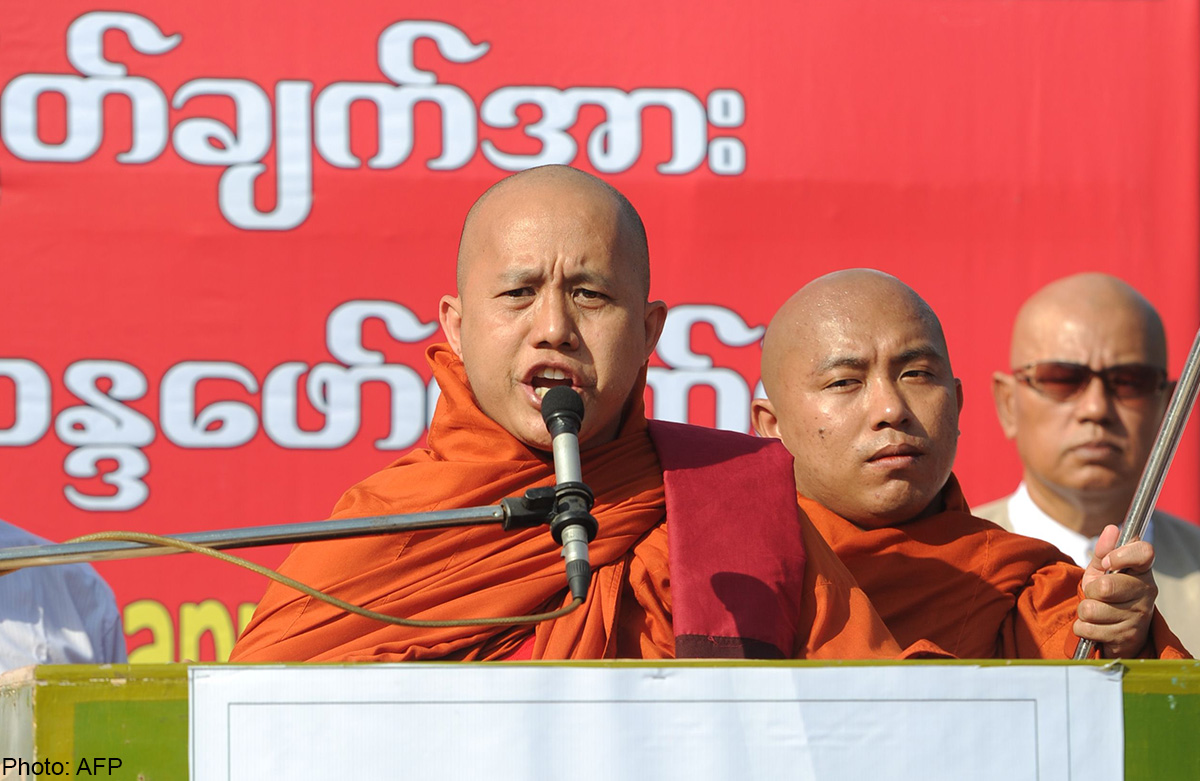 YANGON - Myanmar Thursday said it would look into incendiary comments by the country's most notorious hardline monk who branded a UN envoy a "whore" after strong condemnation from the United Nation's, but indicated it was unlikely to act against the cleric.
Influential cleric Wirathu rained insults on United Nations Special Rapporteur on Myanmar Yanghee Lee in a firebrand speech to cheering supporters, calling her a "whore in our country" for criticising controversial draft bills considered discriminatory to women and minorities.
The UN's human rights chief said the comments, which come amid rising Buddhist nationalism in diverse but conflict-prone Myanmar, were "intolerable", in a strongly-worded statement to the former junta-run nation.
"The sexist, insulting language used against the UN's independent human rights expert on Myanmar... is utterly unacceptable," UN human rights chief Zeid Ra'ad Al Hussein said in a statement issued Wednesday.
He called on religious and political leaders in the country "to unequivocally condemn all forms of incitement to hatred, including this abhorrent public personal attack against a UN-appointed expert".
Myanmar president's office spokesman Zaw Htay said the religious affairs ministry had been asked to look into the "rude and harsh" comments, but he indicated the government was unlikely to take action against the monk.
"We have not received any official complaint yet. And since it is a monk issue, we can't deal it with directly," he told AFP.
The Buddhist clergy have traditionally been viewed with reverence in Myanmar. The monks were at the forefront of democracy protests in 2007, known as the Saffron Revolution, that were crushed in a bloody crackdown by the former junta.
But the country, which began emerging from outright military rule in 2011, has seen a surge in religious tensions in recent years, with spates of violence targeting Muslim minorities that have raised doubts over its much vaunted reforms after decades of harsh military rule.
Unapologetic
Wirathu, who has become the country's most recognised Buddhist hardliner, was unapologetic about his remarks when contacted by AFP this week, despite a flurry of criticism over his language on social media.
"If I could find a harsher word, I would have used it. It is nothing compared to what she did to our country," he told AFP on Tuesday.
The monk's speech came after Lee said controversial draft legislation - including curbs on interfaith marriage, religious conversion and birth rates - would be a further sign that Myanmar was "backtracking" in its democratic reforms if passed by parliament.
Activists say the laws are particularly discriminatory against women and religious minorities in the Buddhist majority country.
High-level government support for the bills has raised fears over growing politicisation of religion in the nation as it heads towards crunch elections later this year that are seen as a key test of its emergence from outright military rule.
On Friday, top American diplomat Tom Malinowski warned that Myanmar was warned the use of faith for political ends was "playing with fire".
Religious violence has spread across Myanmar since 2012, when unrest between Rohingya Muslims and Buddhists ignited Rakhine state.
The Buddhist-majority country has large minority religious groups, particularly Muslims and Christians.
Lee, who was also accused by protesting monks of bias towards the Rohingya, warned on Friday that acute tensions between Muslims and Buddhists in Rakhine could have "far-reaching implications".
In his statement Zeid said it was Lee's job to address "key human rights issues and the situation of minorities in the country, particularly the Rohingya Muslim community".
"Instead of attacking Ms. Lee personally, I invite community, religious and political leaders in Myanmar to tackle the substance of her concerns," Zeid said.