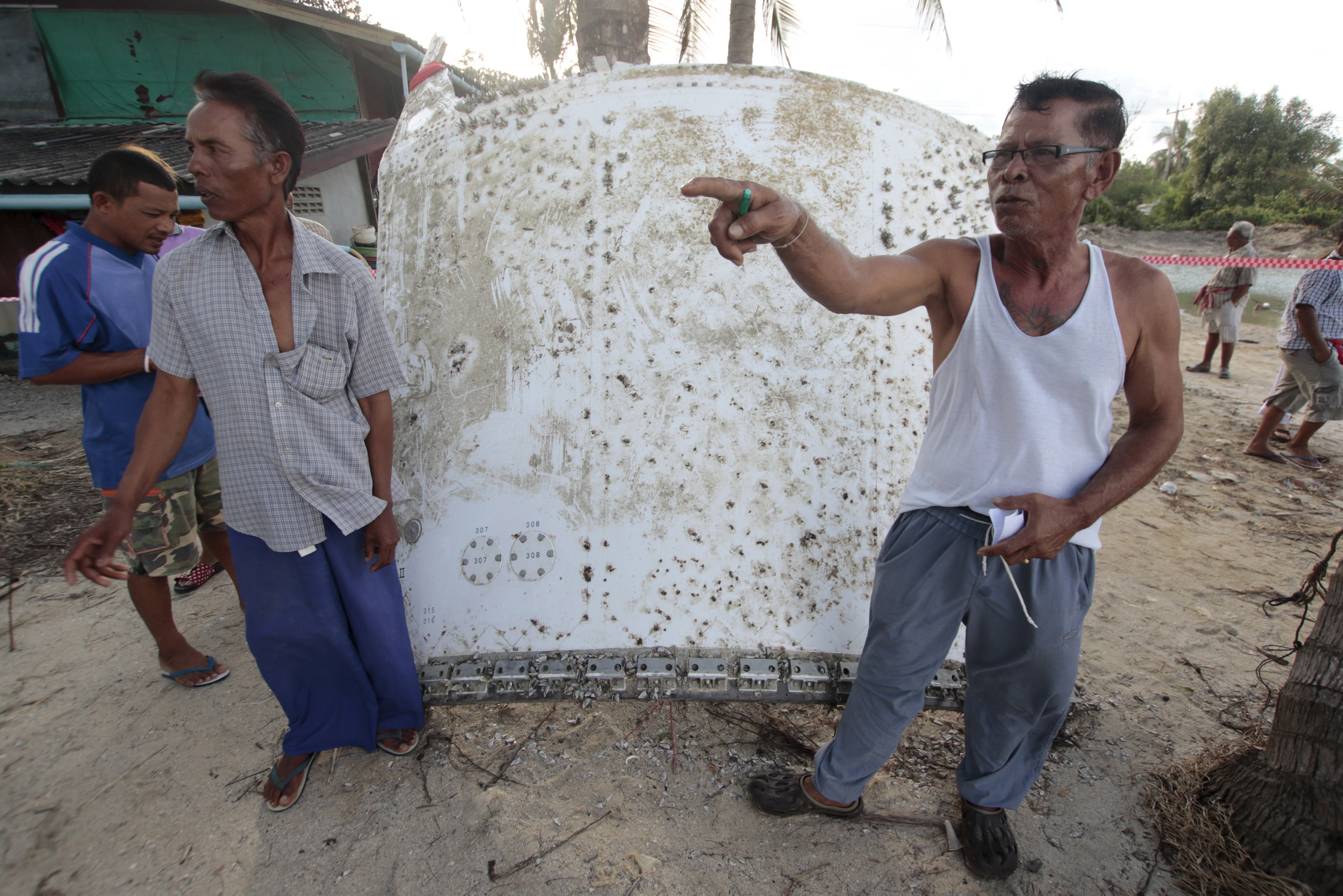 The Air Force yesterday transported debris found washed ashore in Nakhon Si Thammarat to Bangkok to determine if it was part of the missing Malaysia Airlines flight MH370. The two-metre wide, three-metre long, 102 kilogram metal piece was found by a villager in Pak Phanang district on Saturday.
Air Force spokesman Air Vice Marshal Pongsak Semachi said the debris would be kept at the Air Force base in Don Mueang pending examination by experts.
MH370 disappeared on March 8, 2014, with 239 people on board while en route from Kuala Lumpur to Beijing.
Meanwhile, Japan's Mitsubishi Heavy Industries said that widely circulated images featuring serial numbers of the debris indicated it may be from one of their rockets. "Although we cannot yet be absolutely certain, we think it is likely that it's part of either an HIIA or HIIB rocket," spokeswoman Sayo Suwashita told Agence France Presse.Pongsak said that officers from the Air Force Safety Office who examined the wreckage at the original location said they could not yet identify that it belonged to an aircraft," he said.
Pramote Ruengdit, kamnan of Tambon Tapaya, asked investigators to reveal to him and the villagers the result of the examination. "If the debris really belongs to the missing Malaysian flight, the villagers will hold a religious ceremony for the passengers of the flight," a source quoted Pramote as saying.
The Air Force commander-in-chief ordered investigators to record as much detail as possible including how the debris may have ended up in Nakhon Si Thammarat, the spokesman said, adding that personnel were also ordered to transport it to Bangkok carefully so that it remained in the same condition.
The investigation is not expected to take more than a month.
"So far, it could not be concluded that it is a piece of an aircraft because it could be part of satellite or something else," Pongsak said.
Normally, the Civil Aviation Department would oversee an investigation into something like this but it is being restructured and the Air Force has the capability to do so.
Pongsak said that an investigation team from Malaysia had visited the site in Nakhon Si Thammarat and examined the object.
If the Air Forces rules that it is part of MH370, concerned agencies will be invited to confirm the finding.
Malaysia's The Star online reported that four Malaysian officials, believed to be from the Department of Civil Aviation, examined the wreckage yesterday for about an hour.