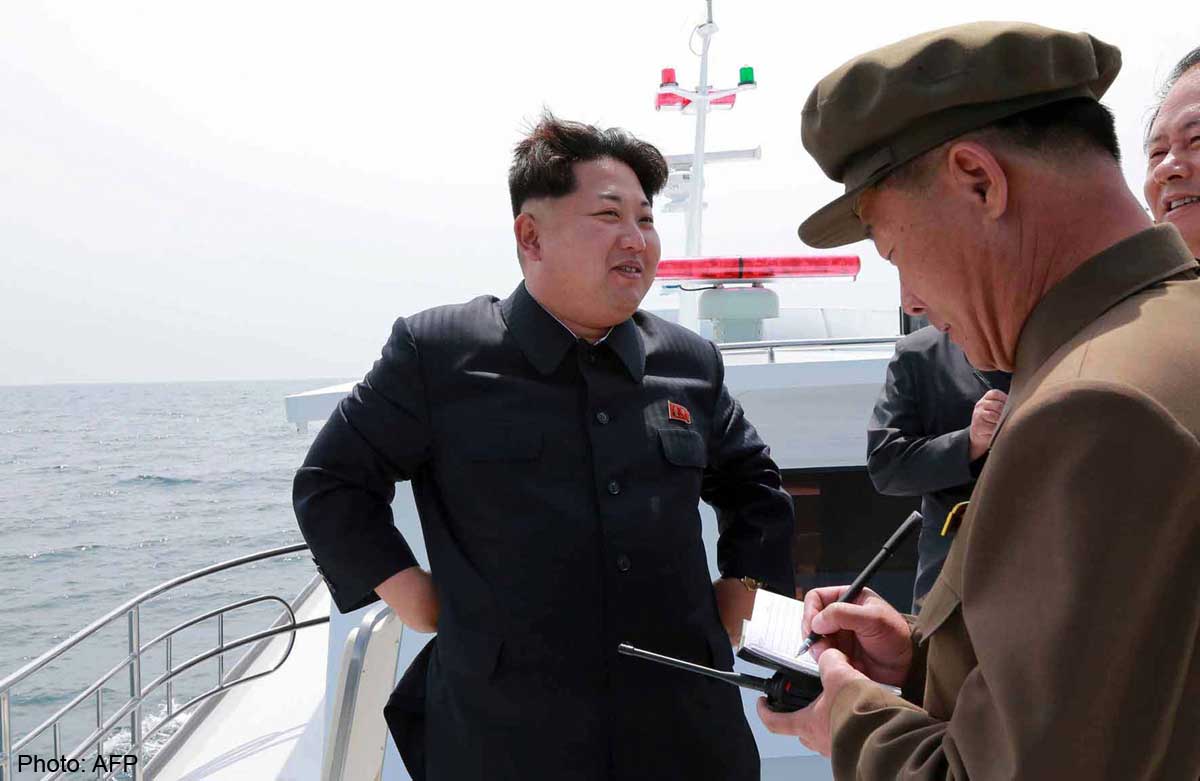 Powered by a recent underwater test, North Korea will be able to deploy a submarine equipped with a ballistic missile as early as in two years that could pose a grave threat to South Korea, Seoul's military officials said Monday.
The communist country succeeded in ejecting a dummy projectile from a newly developed 2,000-ton submarine through last week's experiment at a shipyard in the eastern coastal city of Sinpo, a crucial early stage in developing submarine-launched ballistic missiles, the officials said. They declined to confirm the range of the KN-11 missile but it is believed to have flown about 150 meters.
"North Korea is expected to be capable of deploying the submarine fitted with one missile in two to three years," a senior military official told reporters, requesting anonymity citing sensitive intelligence.
"Given its need to obtain the technology for making and miniaturizing a warhead, as well as the missile's atmospheric reentry, it will take four to five years to fully achieve the SLBM capability," another official added.
Pyongyang is believed to have conducted a series of ejection tests as part of its efforts to secure the triad of delivery tools of a nuclear arsenal, consisting of strategic bombers, intercontinental ballistic missiles and SLBMs.
Concerns are growing because the latest experiment could help secure a survivable second-strike capability, beef up the country's nuclear deterrence and thus push its threat to a new high. Missile launches from submerged vessels are more challenging to detect than land-based ones. Overseeing the event, the young leader Kim Jong-un touted it as a "world-level strategic weapon" and "eye-opening success," the official Korean Central News Agency said Saturday. The outlet released a few images of the launch in which a projectile soared from the sea into the air, sparking a streak of fire, which the military officials assessed seem genuine.
South Korea and the US have been closely monitoring the North's SLBM-related movement in recent years. Yet the unveiling of the test is apparently designed to divert international attention from Kim's revoked plan to attend the May 9 ceremony in Russia for the 70th anniversary of the defeat of Nazi Germany, the officials say.
"North Korea has likely sought to ratchet up pressure on the South and the US by showing that it is trying to attain the SLBM capability, as the world was zooming in on the reasons for his cancelled trip," the official said.
The Defence Ministry here expressed "grave concern," while downplaying the view that Pyongyang's SLBM development may neuter Seoul's Kill Chain and Korea Air and Missile Defence preemptive strike systems to be established by the early 2020s.
The US State Department has also blasted the launch as a "clear violation" of multiple UN Security Council resolutions.
"We urge North Korea to immediately cease its SLBM development that hampers the stability on the Korean Peninsula and Northeast Asia," ministry spokesman Kim Min-seok said at a news briefing.
"There is no such thing as perfect, but we're able to counter its threat with what we have now, including our submarines, various missiles and other intelligence, surveillance and reconnaissance assets on top of the Kill Chain and KAMD systems."
The government and the ruling Saenuri Party convened an emergency meeting to review the cross-border situation and the allies' military readiness posture. The National Assembly's defence committee also held a plenary session later in the day to be briefed by Defence Minister Han Min-koo, Adm. Choi Yun-hee, chairman of the Joint Chiefs of Staff, and other top military commanders.
During the earlier session, Han pledged a robust deterrence against and "ruthless" response to any unpredicted provocation.
"We do have countermeasures including the South Korea-US joint assets and are devising a plan to expand tools for future effective responses," Han said.
Seoul officials are also looking into possible diplomatic action such as raising the issue at a UN panel on May 28 designed to regularly review the implementation of sanctions against North Korea.
On Tuesday, Choi is scheduled to hold consultations with Gen. Curtis Scaparrotti, commander of US Forces Korea, following their talks on Friday over Pyongyang's threats of strikes against South Korean Navy vessels that it claimed were violating its waters in the West Sea.
"The sides plan to confer on various military responses including increased surveillance of North Korea's submarine activities using joint reconnaissance assets," the JCS said in a statement.