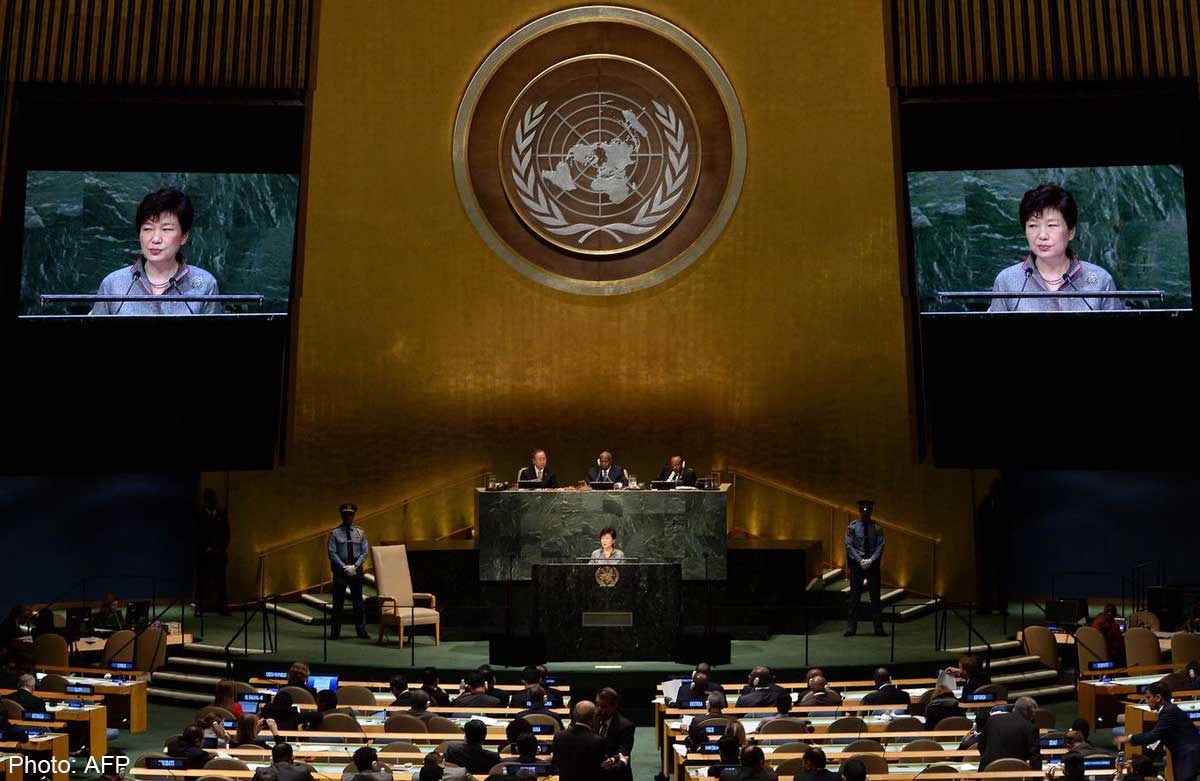 SEOUL - North Korea called South Korean President Park Geun-Hye a "political prostitute" Friday as it denounced her call at the UN General Assembly for Pyongyang to improve its human rights record and abandon nuclear weapons.
In a statement carried by the official KCNA news agency, the Committee for the Peaceful Reunification of Korea (CPRK) said Park's speech in New York on Wednesday amounted to the malign rantings of a "psychopath" and "confrontation maniac."
It was a "blatant challenge to the dignity and social system of (North Korea) and an extremely dangerous provocation driving bedevilled North-South relations towards total catastrophe," the statement said.
In her address Park had urged the international community to help tear down the "wall of division" separating the Korean peninsula.
She pledged to engage with the North and provide economic support if Pyongyang gives up its nuclear weapons drive, and also pressed the North on its dire human rights record.
The CPRK statement said the president's remarks displayed her ignorance of the "sacred mission" of the North's nuclear weapons programme, and added that her comments on human rights were "bereft of elementary common sense."
In a comprehensive report published in February, a UN commission of inquiry into the North's rights detailed a wide range of systemic abuses including murder, enslavement and torture.
The commission said many of the violations constituted crimes against humanity and suggested they could be placed before the International Criminal Court.
Denouncing Park's speech as an effort to escalate confrontation, the CPRK statement concluded with a personal attack that repeated a number of sexist epithets the North has thrown at the South Korean president before.
"The world people are spitting at her, disillusioned with this political prostitute," it said.
"She malignantly slandered her fellow countrymen in the North even at the UN, venomously swishing her skirt," it added.