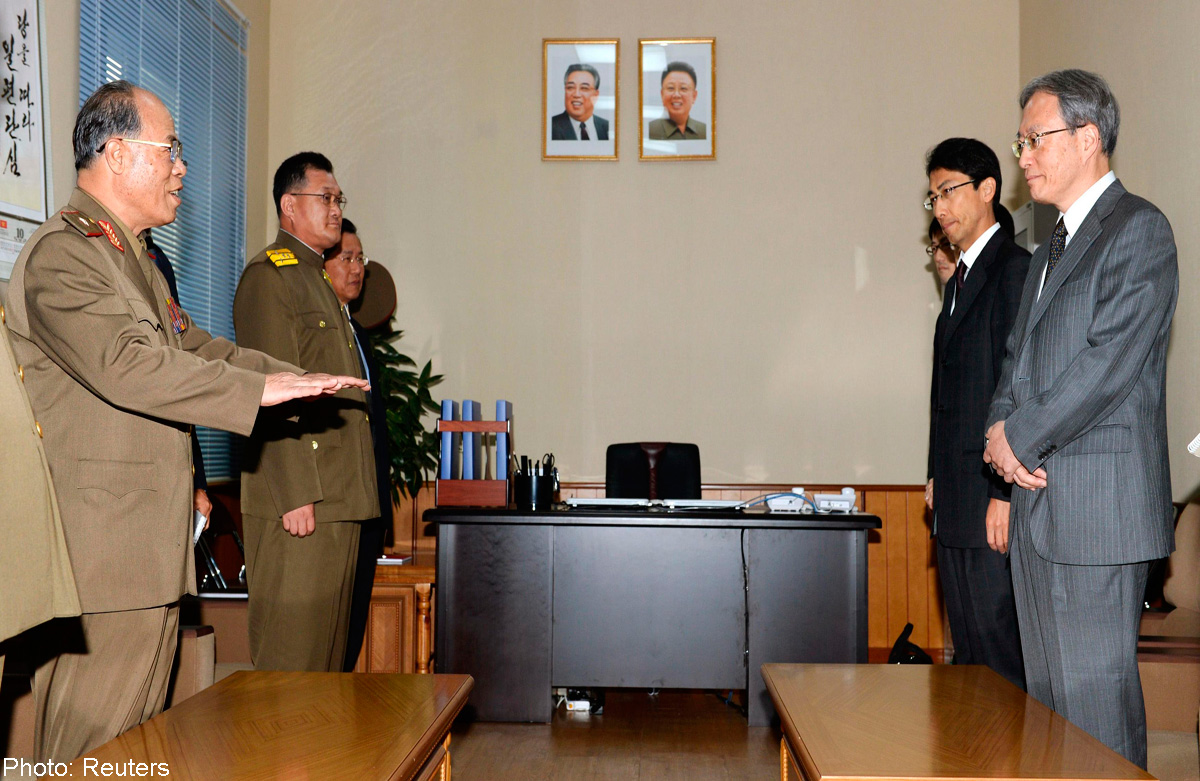 PYONGYANG - A Japanese government delegation Tuesday told an investigative committee set up by North Korea that the issue of the North Korean abductions of Japanese nationals is of the "absolute most importance" to Japan.
The Japanese side also demanded North Korea deliver the first report on its reinvestigation as quickly as possible.
On Tuesday morning, the delegation met here with the chairman and other senior officials of the Special Investigation Committee that was set up by North Korea to reinvestigate the fates of Japanese abductees.
The delegation is headed by Junichi Ihara, director general of the Foreign Ministry's Asian and Oceanian Affairs Bureau. North Korean officials who attended Tuesday's meeting included So Tae Ha, chairman of the committee, two vice chairmen and others who head the committee's four subpanels.
The subpanels are looking into each of the four issues: Japanese abductees, missing Japanese nationals, remains of Japanese nationals and remaining Japanese and Japanese spouses.
The subpanel on Japanese abductees is headed by Kang Song Nam, department director of the State Security Ministry with Pak Yong Sik, department director of the People's Security Ministry, leading the subpanel on missing Japanese nationals. Kim Hyon Chol, department director of the Land and Environment Protection Ministry, is in charge of the remains of Japanese nationals and Ri Ho Rim, secretary general of the North Korean Red Cross Society, is in charge of remaining Japanese and Japanese spouses. All four attended the meeting.
Tuesday's meeting was held at So's office in Pyongyang, and it was the first time that So, who also serves as vice minister of the State Security Ministry - a North Korean secret police organ - attended a meeting with Japanese officials.
At the beginning of the meeting, So, dressed in a uniform, said: "We understand there are different opinions in Japan over your visit to North Korea.
"Amid such circumstances, you visited Pyongyang, and we think it was the right choice as it represents the Japanese government's will to fulfil an agreement in Stockholm [in May] in accordance with the Japan-North Korea Pyongyang Declaration."
So then introduced senior officials of the committee, which was established in July.
Ihara said: "Four months have passed since the Special Investigation Committee was launched to conduct a comprehensive reinvestigation into all abducted Japanese nationals, and the investigation was started in July. In connection with the investigation, the abduction issue is of the absolute most importance to Japan. It is important as it concerns our country's sovereignty as well as people's lives and safety."
The meeting started at about 9:30 a.m. and lasted about two hours and 20 minutes before entering a break. Another meeting will be held on Wednesday. The delegation is scheduled to return to Japan on Thursday and report on the talks to Prime Minister Shinzo Abe.