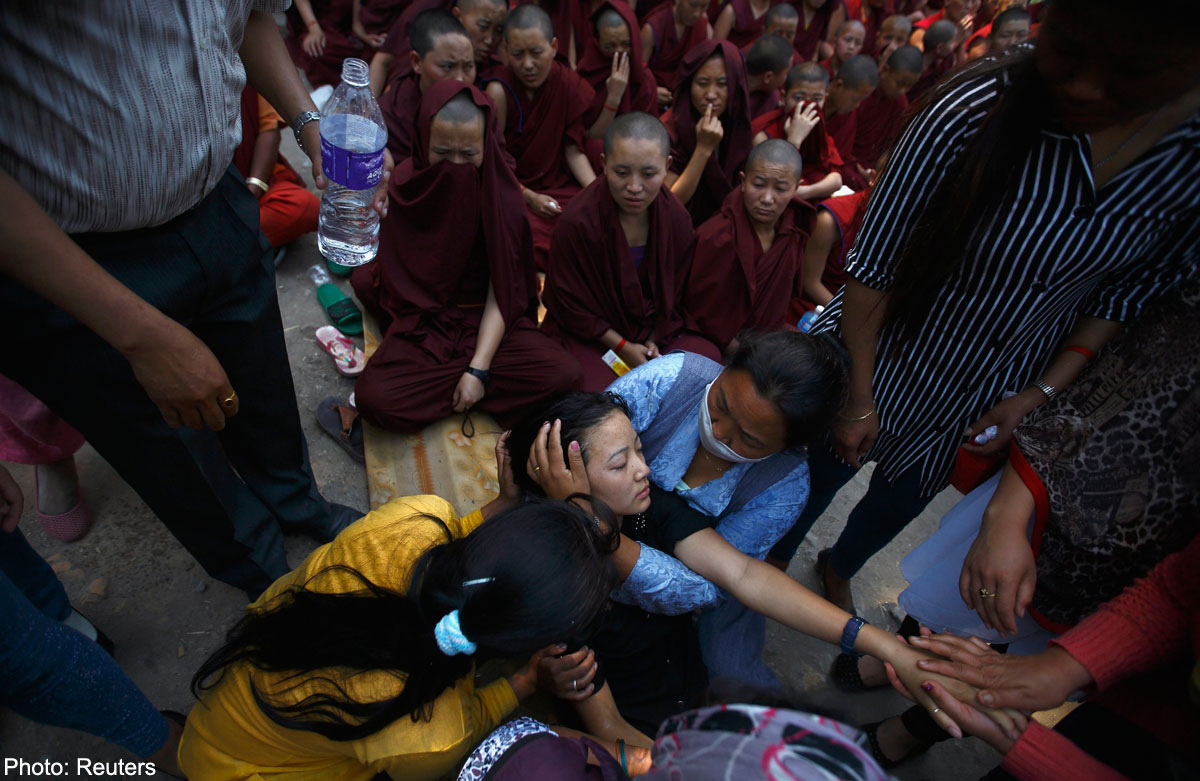 KATHMANDU - Nepal's government decided on Wednesday to send a delegation of officials to the base camp of Mount Everest to cool anger among Sherpas over its response to last week's deadly ice avalanche in which at least 13 guides were killed.
Two Western expedition organisers said tension was running high at the camp among the roughly 400 Sherpas there, with many demanding that all climbs to the 8,850-metre (29,035-foot) summit be abandoned for the rest of the season and others keen to continue. "The mood is obviously grief-stricken as the Sherpa community is very close-knit, and that is now somewhat turning to anger," said Phil Crampton of New York-based hiking group Altitude Junkies, who flew from base camp to meet Nepali officials in Kathmandu.
Facing a barrage of demands from Sherpas, the government announced on Tuesday that it would raise the minimum insurance cover for Everest guides by 50 per cent. It also said it would set up a relief fund for the welfare of bereaved families and pay for the education of their children.
In crisis talks with Crampton and others on Wednesday, it promised to send a delegation of senior government and mountaineering industry officials to base camp to explain to the Sherpas that their concerns are being taken seriously. Officials said they would probably fly there on Thursday. "The Sherpas are in a very traumatic situation," Sushil Ghimire, secretary of the Tourism Ministry, told Reuters after the meeting. "There was a rumour that they would abandon all expeditions but it's not true. It is settled already." In addition to the 13 Sherpas killed on the Khumbu Icefall, one of the most dangerous parts of the climb to Everest, three are missing and at least three more are being treated for serious injuries.
The men were fixing ropes and cracking snow and ice to carve out a route for foreign climbers through the icefall, not far above the base camp for most climbs on the Nepali side of the mountain, when they were caught in the avalanche.
The accident has rekindled debate on the disproportionate risks that Sherpas take helping foreign mountaineers scale Everest, and it has provoked criticism that the government takes hefty fees for climbing permits but does little for the guides themselves.
FEAR OF VIOLENCE
The government initially announced an immediate payment of US$400 (S$500) to the victims' families to cover funeral costs.
But Sherpas with 31 expeditions at base camp demanded US$10,000 in compensation for the families of victims and a doubling of insurance cover for climbs.
Guiding foreign climbers is the main livelihood for Sherpas, helping them make up to US$7,000 - and some even more - each year in a country with an average annual income of just over US$700.
However, until now there has been no provision for government compensation for Sherpas hired by international expeditions, and in the past these groups have offered financial assistance on their own in the case of accidents.
Russel Brice, another expedition leader who flew by helicopter from base camp for the meeting, said he was concerned that the tension could erupt in violence between those Sherpas who want to abandon the season and those who want to go on. "We are afraid they will clash," he said. "We sent our Sherpas home to talk to their families, and we are afraid to bring them back to base camp." The mountaineering season lasts until the end of May, when rainy season cloud pushes up from the south bringing snow to high altitudes and making climbing virtually impossible.
Everest is on the border between Nepal and the Chinese region of Tibet and can be climbed from both sides.