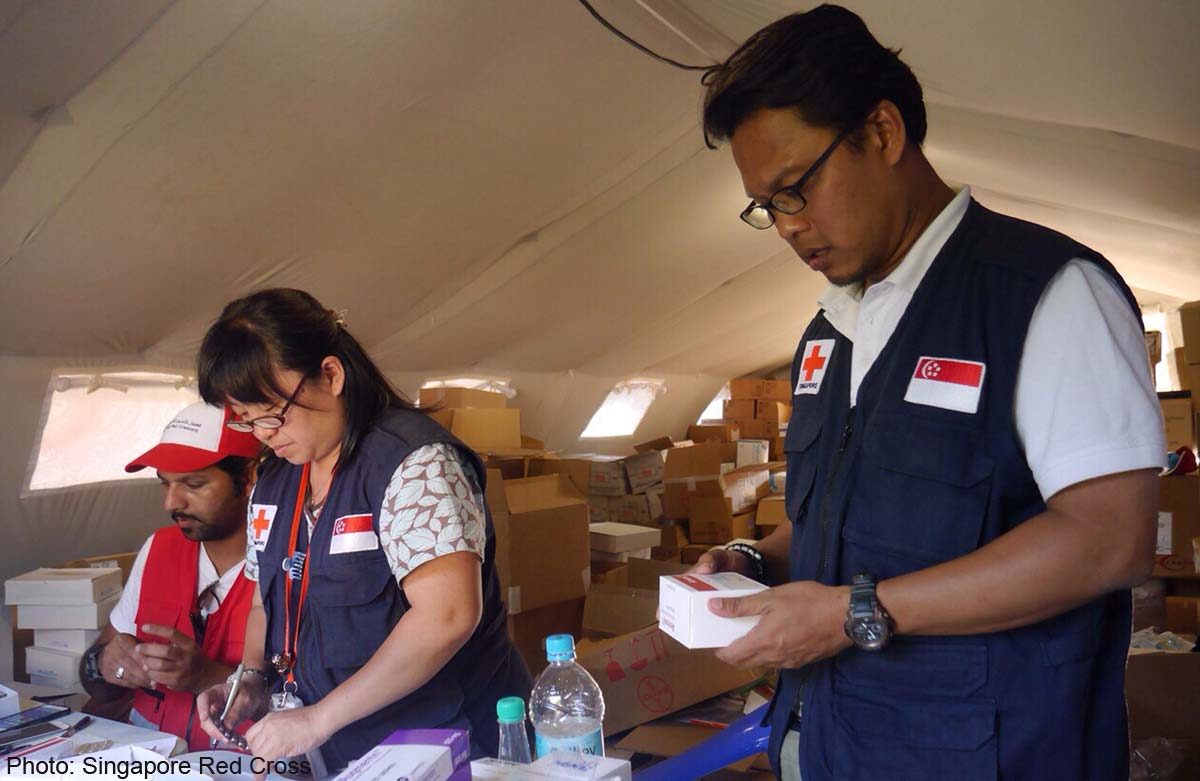 In just seven hours into her 12-hour shift, nurse Joelle Yap had tended to 190 patients.
From a three-month-old baby to a 101-year-old man, Miss Yap has seen it all in the past three days.
The 42-year-old adjunct nursing lecturer at Nanyang Polytechnic is a member of Singapore Red Cross' (SRC) medical team in Nepal.
She has 20 years of humanitarian experience, having travelled to countries like East Timor, Thailand and India for relief work.
She told The New Paper over the phone, during a break after seven hours of work, that the pace of her job in Nepal is challenging. She averages about 1 patient every 2 minutes.
"I'm the only female medical personnel from SRC here, so I have to handle a lot of procedures like electrocardiograms or dressing changes for female patients," she said.
Every day, Miss Yap sees long lines of villagers, some of whom have travelled for hours just to get to SRC's "clinic" in Nuwakot district, around 80km north-west of Kathmandu.
The "clinic" is nothing more than temporary tents in a field, where from 7am to 7pm, Miss Yap, three doctors and a paramedic treats patients.
She told TNP: "It's a non-stop stream of people.
"Sometimes, we give up our breaks because we don't want to turn anybody away."
MEDICAL ATTENTION
Even villagers who emerged unscathed from the April 25 earthquake have flocked to SRC's clinic for medical attention.
Miss Yap said: "It's rare to have doctors in the village, so a lot of them came here when they heard we were giving free check-ups.
"Many are suffering from chronic diseases like diabetes or hypertension."
For Miss Yap, who also runs the clinic's pharmacy, the biggest hurdle is the language barrier.
"When I dispense medicine, I have to give instructions about the dosage and it usually takes only five minutes. Here, I have to rely on the translator and it takes twice as long," she said.
But the gratitude of her Nepali patients transcends language.
Even though the medical check-ups are free, some have turned to non-monetary means to express their appreciation.
"A lady brought papayas from her home to thank us. They are very grateful for what we do here."
Miss Yap will be returning to Singapore in the next couple of days but it is not rest time for her yet. She is leaving for Japan on Sunday to run rehabilitative activities for the 2011 earthquake survivors in Iwate Prefecture, where 200,000 people still live in temporary shelters.
But the busy schedule is nothing to Miss Yap.
"I do what I do because it really makes a difference to these people."

This article was first published on May 7, 2015.
Get The New Paper for more stories.