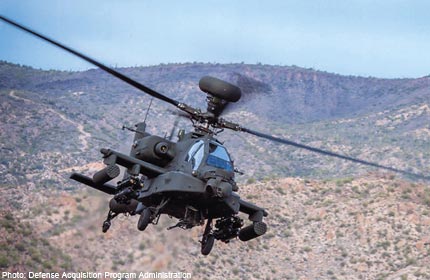 TAIPEI - Taiwan's Defence Minister yesterday confirmed that the R.O.C. armed forces have received their first batch of Apache attack helicopters from the US.
"The six Apache helicopters arrived in southern Kaohsiung Harbor today," Defence Minister Yen Ming (嚴明) said during a question-and-answer session in the Legislative Yuan yesterday.
The six AH-64Es are the first batch of 30 of the advanced attack helicopters purchased by Taiwan from the U.S, the military said.
The US$2-billion deal for 30 Apache helicopters was announced by former US President George W. Bush in 2008, with aircraft manufacturer Boeing taking orders in October 2000.
Taiwan is the world's first country other than the US to deploy this type of attack helicopter, according to the military.
Asked to comment on Taiwan's next arms procurement goal, Minister Yen said that buying submarines from the US is the country's next priority.
In 2001, the Bush administration offered to provide eight diesel-electric submarines to Taiwan, but so far, no significant progress towards the sale has been made.
Army sources told local media yesterday that the helicopters were shipped to Kaohsiung Harbor. They are currently been assembled by army personnel and will be undergoing ground tests at the harbour.
Once they have completed all required tests, the helicopters will be flown to an Army Aviation Special Forces base in southern Tainan, the Army said.
A second batch of helicopters is scheduled to arrive in December and will be officially commissioned next year, according to local media reports.
The Ministry of National Defence previously sent 61 pilots to the US to undergo training in flying Apache helicopters. All have completed the training and returned home, reports said.
Meanwhile, Navy Chief of Staff Kao Tien-chung (高天忠) yesterday said that the Navy could replace its aging Sea Chaparral missiles currently deployed on its Lafayette-class frigates with more advanced, indigenously-produced Tien-Chien (Sky Sword) II air-to-air missiles starting in 2017.
According to Kuomintang lawmaker Lin Yu-fang (林郁方), Taiwan's navy bought a batch of Chaparral self-propelled surface-to-air missile systems in 1972.
The missiles are too old and out-of-date and should be replaced as soon as possible, Lin said.