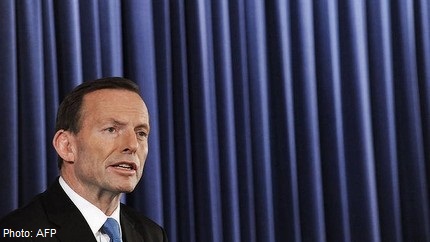 JAKARTA - Australia's new Prime Minister Tony Abbott began a visit to Indonesia Monday for talks on his tough refugee policies that have sparked anger in Jakarta, as his government faced criticism over a boat sinking that left dozens dead or missing.
Abbott laid a wreath at Kalibata Heroes Cemetery in south Jakarta, where many who died fighting in the Indonesian war of independence against colonialists are buried, and was due to hold talks with President Susilo Bambang Yudhoyono later.
His choice of Indonesia as his first overseas trip as premier is in line with a pledge to bolster ties with Asia but it comes amid tensions after his hardline boatpeople policies were criticised by officials in Jakarta.
In the campaign for September's elections, he pushed a "stop the boats" policy and has put into place a military-led operation known as Sovereign Borders, which involves turning boats around when it is safe to do so.
As he set off for Jakarta from Australia on Monday, Abbott sought to shift the focus of the visit away from asylum seekers.
"We will be covering a range of matters because this is an important relationship and it's important to get it right at the start of this new government," he said.
He is hoping to boost trade with Southeast Asia's biggest economy, and is accompanied by Trade Minister Andrew Robb and 20 business leaders.
But the asylum-seeker issue remained in sharp focus as he headed to Jakarta, with Indonesian officials reporting that the death toll from the sinking of an Australia-bound refugee boat on Friday had risen to 36.
Warsono, police chief in the area of Java island near where the boat went down, who goes by one name, told AFP that search teams had found another 15 bodies washed up along the coast in the past two days.
Canberra has been forced to defend its actions after survivors said their calls for help to Australia went unheeded following the accident, which was the first fatal asylum boat sinking since Abbott came to power earlier in September.
Survivors of the accident, which also left many missing, told journalists that they sent their GPS coordinates to Australian rescuers to assist them - but no one came to their aid.
Australian Finance Minister Mathias Cormann stressed on Sunday that the area where the accident occurred was "under Indonesian jurisdiction" and insisted Australia provided "all appropriate assistance".
Hundreds have died in fatal sinkings in recent years, as huge numbers continue to board rickety, wooden boats in Indonesia to try and make the treacherous sea crossing to Australia.
The issue is hugely sensitive in Australia, where public anger is growing at the continued influx of boatpeople, and it was a key battleground at the elections.
But while Abbott's policies helped propel him to power, they have already strained the traditionally strong relationship between Indonesia and Australia, with Jakarta saying the measures could infringe Indonesian sovereignty.
During a meeting with his Australian counterpart Julie Bishop in New York last week, Indonesian Foreign Minister Marty Natalegawa said the measure could put cooperation on asylum-seekers at risk.
Indonesian lawmakers and the navy have also criticised the policy. On Monday a senior official became the latest to speak out against it.
"I think that just pursuing policies in a unilateral manner will not really help," Dewi Fortuna Anwar, the deputy of political affairs for Vice President Boediono, told AFP.
She said the Australian plan to tow boats back to Indonesian waters "was not really going to solve the problem, because one can imagine that they (asylum seekers) would try again at the soonest possible opportunity".
However, ahead of the visit Abbott dismissed the idea his policies could jeapordise the relationship with Indonesia, and insisted his government was "determined to ensure that Australia's foreign policy is focused on our region".
He decided to visit Indonesia first instead of more traditional Australian allies, such as the United States or Britain.
Abbott, who is accompanied by Bishop on the trip, will also address a breakfast meeting of business leaders during the visit.