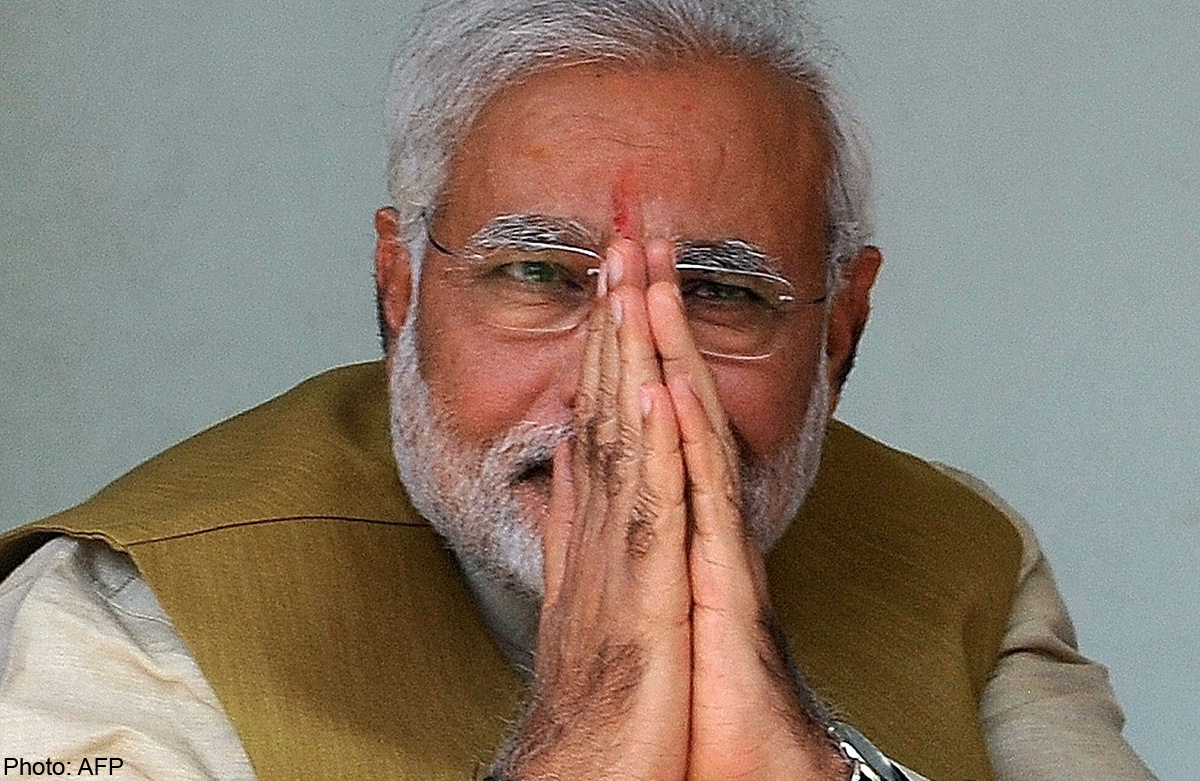 NEW DELHI - India's triumphant Hindu nationalists declared "the start of a new era" in the world's biggest democracy Friday as the ruling Congress conceded defeat in elections that exposed anger about sickly economic growth and rampant corruption.
Preliminary results at the climax of the marathon six-week election showed the Bharatiya Janata Party (BJP) and its hardline leader Narendra Modi on track for the first parliamentary majority by a single party in 30 years.
Most of the country's 1.2 billion people - more than half of whom are under 25 - weren't even born the last time a party had such a dominant position.
Modi, the 63-year-old son of a low-caste tea seller tainted by anti-Muslim violence in his home state of Gujarat in 2002, wrote on Twitter that "India has won. Good days are coming."
The stunning results exceeded all forecasts. Firecrackers exploded at BJP offices around the country and sweets were handed out in celebrations that began only a few hours after the first figures filtered out.
The triumph redraws India's political map, vaulting the BJP from a party with support mostly in the northern Hindi-speaking belt to a pan-national force with a huge mandate for change.
The immediate change they will need to deliver is an improvement in the economy, growing at its slowest rate in a decade, but its commitment to its Hindu nationalist agenda will be closely watched by India's 150 million Muslims.
"This is the beginning of change, a people's revolution and the start of a new era," senior BJP leader Prakash Javadekar told AFP at party headquarters in New Delhi.
Preliminary figures from the Election Commission showed the BJP winning more than the 272 seats required for a majority on its own in the 543-seat parliament, with victories by its allies taking it easily in excess of 320.
The Congress party, the national secular force that has run India for all but 13 years since independence, was set to crash to its worst ever result after a decade in power.
"We accept defeat. We are ready to sit in the opposition," senior Congress leader and spokesman Rajeev Shukla told reporters at party headquarters in New Delhi as preliminary results showed it winning only 47 seats.
"Modi promised the moon and stars to the people. People bought that dream," he added.
Stock markets, which have risen 5.0 per cent in the past week, surged again. The benchmark Sensex index showed a gain of 4.0 per cent on Friday at a record high.
Investors and the wider public have rediscovered heady - many say unrealistic - optimism about the world's second-most populous nation after years of frustration about weak political leadership, rising food prices and corruption.
"There's a very tough task ahead that will take time to resolve, the economic problems are quite acute. There's no magic wand," D.K. Joshi, chief economist of credit rating agency Crisil, told AFP.
India is in the grip of stagflation - growth has crashed to 4.9 per cent from nine per cent two years ago and consumer inflation is at wage-eroding 8.6 per cent.


Huge setback for Gandhi
The disastrous showing for Congress is a humiliating blow to the scion of the Gandhi dynasty, 43-year-old Rahul, whose first performance as chief national campaigner will lead to acrimonious fallout.
The country's most illustrious political dynasty has provided three prime ministers but preliminary results showed Rahul with only a wafer-thin lead in his constituency of Amethi, a Gandhi family bastion for decades.
A group of Congress supporters shouted slogans in support of Rahul's more popular sister Priyanka outside party headquarters on Friday.
"The politics of inheritance, the politics of dynasty, the politics of entitlement is being punished," BJP spokesman Ravi Shankar Prasad said.
Modi has reinvented himself from a controversial regional leader accused of turning a blind eye to religious riots in 2002 to an aspiring prime minister intent on helping India fulfil its potential.
After a presidential-style campaign built around him and his record during 13 years running Gujarat, expectations are sky-high of what Modi will deliver in a chaotic and still poor country that is home to a sixth of humanity.
Modi's promises to revive the flagging economy have won him corporate cheerleaders, while his rags-to-riches story and reputation as a clean and efficient administrator satisfy many Indians' desire for strong leadership.
Attacks from his opponents - one called him a "devil" and the "Butcher of Gujarat" - as well as warnings from secular-minded critics and religious minorities appear to have failed to dent his rise.
Western boycott
While 81-year-old outgoing Prime Minister Manmohan Singh was hailed by US President Barack Obama as a "wise and decent man", Modi would be an awkward prospect for Washington and other Western powers.
The bachelor, elected three times as chief minister in his home state, was boycotted by the US and European powers for a decade over the 2002 riots in Gujarat that left around 1,000 people, mostly Muslims, dead.
He denies that he turned a blind eye to the bloodshed and his focus on the campaign trail has been jobs.
But the BJP manifesto includes a pledge to build a temple to honour the Hindu god Ram at the site of a former mosque in northern India, a religious flashpoint that sparked deadly rioting in 1992.
"He has to succeed on the economy and that's the thing on which he will be judged," said Christophe Jaffrelot, an academic on India from Sciences Po university in Paris and King's College London.