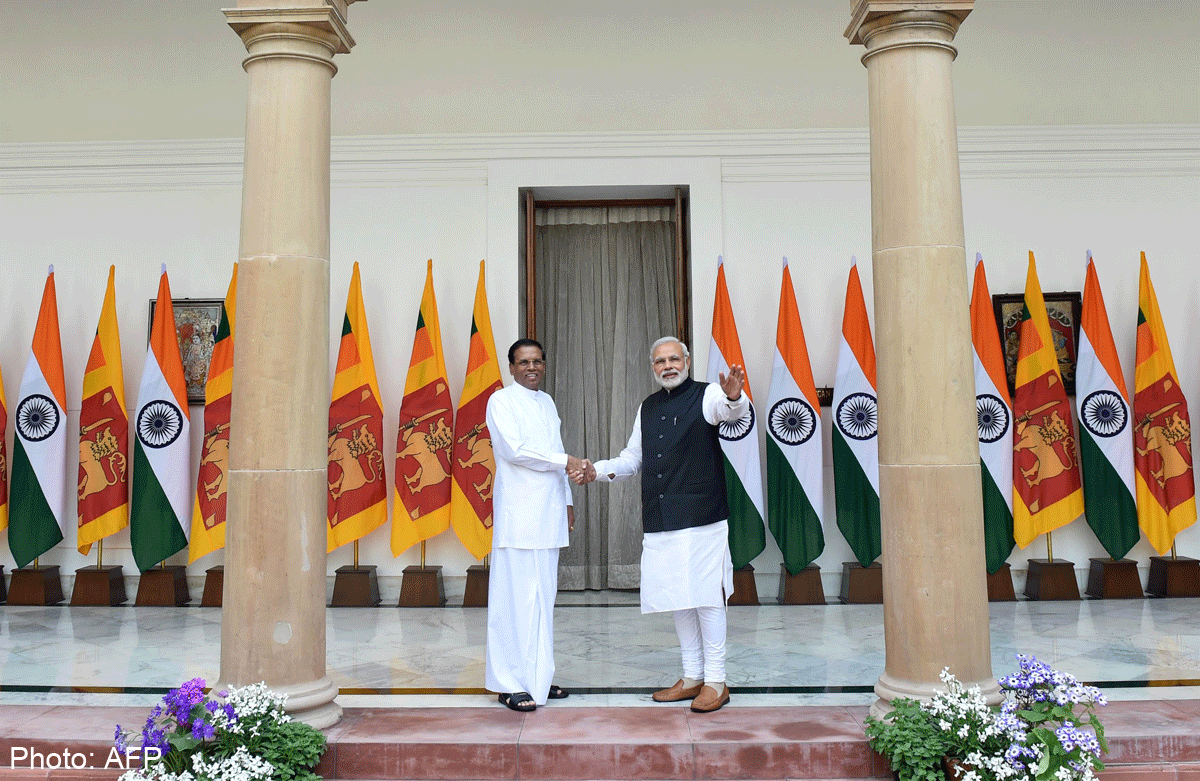 India and Sri Lanka yesterday opened a new chapter in often strained relations by agreeing to boost defence ties and signing a civil nuclear agreement during a visit by Sri Lankan President Maithripala Sirisena.
Mr Sirisena is on his first overseas trip since he won elections last month that swept Mr Mahinda Rajapaksa's government from office. The four-day visit is part of efforts to rebalance Sri Lanka's regional ties.
The Sri Lankan leader has indicated he wants to move away from the Rajapaksa government's heavy focus on China, while improving strained ties with India, which has been wary of the growing Chinese influence in an area it considers its sphere of influence. Last October, India lodged a protest after a Chinese nuclear submarine docked at Colombo.
In a sign of warming ties, Indian Prime Minister Narendra Modi announced he would visit Sri Lanka next month.
During talks, the two sides covered areas ranging from maritime security to trade.
The nuclear agreement has been under negotiation since 2012. India will help Sri Lanka develop its civil nuclear energy sector with transfer and exchange of nuclear expertise as well as provide safety training.
"The bilateral agreement on civil nuclear cooperation is yet another demonstration of our mutual trust. This is the first such agreement Sri Lanka has signed. It opens new avenues for cooperation," said Mr Modi at a joint press briefing with the Sri Lankan leader following talks.
Mr Modi also announced a decision to expand defence and security cooperation with Sri Lanka, in a development analysts saw as a decision by Colombo to possibly reduce its dependence on Beijing, which has been a source of defence equipment.
"Yes, in terms of defence, organisation training and supply of equipment, the effort will be to reduce Chinese presence. But we don't know the details of what has been agreed to," said South Asia expert S.D. Muni.
India and Sri Lanka traditionally have close links but ties came under strain in the final years of the Rajapaksa government.
New Delhi had felt Mr Rajapaksa did not do enough to help displaced Tamils after the end of the civil war in 2009 or to devolve powers to the Tamil regions.
The brutal force used in the final days of the civil war was keenly felt in the southern Indian state of Tamil Nadu, home to 60 million Tamils, resulting in India's limited engagement with Sri Lanka.
China, on the other hand showed no hesitation, supplying arms during the civil war in Sri Lanka and building ports, power plants and other infrastructure after the conflict.
During his election campaign, Mr Sirisena had criticised Mr Rajapaksa for handing over projects to China, saying it was not viable. But since coming to power, he has decided to go ahead with a US$1.5 billion (S$2 billion) Chinese-funded port city project to avoid "misunderstandings" with Beijing.
Analysts said that while the current visit showed both sides wanted to give priority to ties, Beijing's presence in Sri Lanka would grow.
"This is a new beginning. With the change of government in Sri Lanka, both sides are keen on restoring the kind of good relations that existed earlier and both sides are making an effort to take matters forward," said former Indian foreign secretary Salman Haidar.
"But the Chinese presence will only expand in Sri Lanka. China is an actor and it has a very strong economic presence and this will continue."

This article was first published on Feb 17, 2015.
Get a copy of The Straits Times or go to straitstimes.com for more stories.