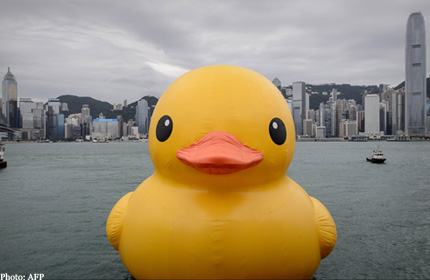 TAIWAN - Several New Taipei City councilors of the Democratic Progressive Party petitioned for the Rubber Duck art installation to return home to New Taipei City yesterday during a city council session.
With a banner of the Rubber Duck in tears saying that it wants to go home, councilors Lin Xiu-hui, He Shu-feng and Li Xu-dian claimed that since the Rubber Duck was manufactured and assembled in New Taipei City, the city has a responsibility to display the work of art in the city of its birth.
Mayor Chu Li-luan replied that the city requested the sculpture six months ago, but it is the artist, Florentjin Hofman's, personal wish that his work only be displayed in harbour cities.
According to the mayor, an exhibition of such scale requires considerations including practicality, sustainability and cost-effectiveness. "It is just as Taipei 101 is a suitable location for a display of skyscraper fireworks," said the mayor, "but not so for New Taipei City."
As for the representatives' petition, Chu stated that the piece has been on display in multiple cities and has been assembled and manufactured accordingly. However, though he has faith in the abilities of New Taipei City factories to perform the same tasks, the Rubber Duck is neither a product of Taiwan nor was it manufactured by the city.
The mayor went on to elaborate that there are more than enough events and tourism spots which promote the city's image including annual events such as the Pingxi Sky Lantern Festival, Gongliao Rock Festival and the Merry Christmas City. Famous tourism destinations such as Shuijinjui, Yehliu and Tamsui Old Street have even included fishing and agricultural products to promote local New Taipei City products.