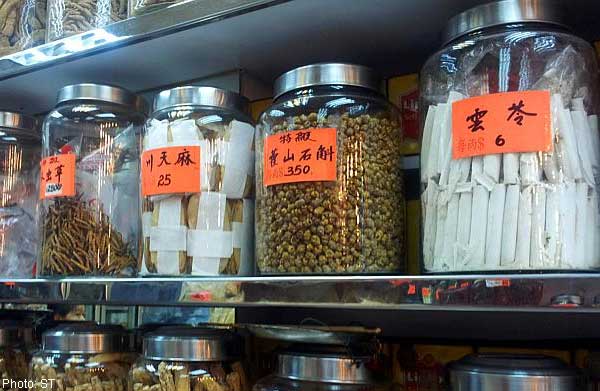 GUANGDONG -Bank manager Xie Qing, 49, is a great believer in the cures of traditional Chinese medicine (TCM), be it wolfberries to strengthen her vision or lingzhi mushrooms to fight against viral infections.
But the Shenzhen resident is wary of the quality of the herbs sold in stores and prescribed by clinics. "Expensive herbs like cordyceps should be quite rare but you can buy them everywhere now," she says. "I do not know which to choose given the scandals about low-quality TCM."
It is such headaches that an upcoming TCM park in Hengqin, Guangdong province, hopes to treat, by setting higher standards for Chinese herbs and minerals.
A collaboration between the Macau and Guangdong governments, the 500,000 sq m park is envisaged to establish stricter quality controls and an incubation centre for research and development into new products. Building according to a 10 billion yuan (S$2 billion) masterplan by Singapore's Ascendas is under way and it aims to open in 2020 with 300 firms.
Says Mr Albert Chui, its business development manager: "The problem with TCM products from China is the 'trust issue'. We hope to help address that."
TCM, which claims a lineage of 5,000 years, remains popular in China including special administrative regions Hong Kong and Macau, and other Chinese-majority societies like Singapore and Taiwan, even as it gains a following in other parts of the world.
It is a burgeoning industry: A new World Health Organisation (WHO) study found that TCM has gained afootholefoothold in more than 100 countries, with some 100,000 clinics, 300,000 practitioners and 1,000 training institutions.
Within China itself, those seeking TCM treatment account for a fifth of all medical visits. The country is also a major exporter of TCM products, accounting for over 90 per cent of raw materials.
But the industry has been plagued with safety issues, ranging from tainted products to those that have been downright faked.
Last year, checks by environmental group Greenpeace on 65 herbs from Chinesea and Hong Kong stores found 26 containing pesticides classified as "extremely or highly hazardous" by WHO. Separately, a batch of medicine sold by popular chain Beijing Tong Ren Tang was recalled by Hong Kong authorities last May for containing excessive amounts of mercury.
There have also been poisoning cases on the mainland from ingestion of counterfeit medicine.
All this means that buyers are often left wondering about the safety of TCM products.
TCM store Wing Fook Lung in Hong Kong's Sheung Wan, for instance, has had to prove to customers that its products are safe.
Owner Lok Chun Hin recalled a 2011 scandal in China where Chinese yam was dyed white with sulphur. "I had to soak several pieces of my Chinese yam in water for hours to show it was sulphur-free before I could sell it."
The issue, said Professor Albert Leung, director of the School of Chinese Medicine at the Chinese University of Hong Kong, is the implementation of safety standards within mainland China.
On paper, the standards that the China Food and Drug Administration (CFDA) sets are actually high, said Mr Chui. "The problem is with the people executing them."
This is where the Hengqin park aims to come in. A lab run by Macau University and Macau University of Science and Technology has been designated as China's first state key laboratory in TCM. It will design the park's quality control standards and hire those conducting the checks.
"Macau personnel will ensure that no one cuts corners, as what happens in China," said Mr Chui.
Companies will need to use suppliers with good track records. After sending their products to CFDA for mandatory tests, firms have to send them for stricter checks at the park. Products can then be sold with a quality seal.
The park will also allow companies to collaborate with the universities on new products. Mr Chui cited a Guangzhou firmThe park will thus also benefit small and medium-sized firms.
The park's impact seems limited - at least for now, given the size of the industry. There are some 2,500 TCM manufacturers in mainland China alone, according to the CFDA website. It is also unclear to what extent there will be buy-in among companies. Costs will go up by 10 per cent, admitted Mr Chui.
A spokesman for Hu Qing Yu Tang Drugstore in Hangzhou, Zhejiang, is concerned about costs. But with room for more to be done to build up his company's image, he said it is keen on participating in the Hengqin project.
Prof Leung said the park's efforts are a small but significant step to clean up the industry. "My sense is that Macau is investing in TCM quite aggressively. If they do it, they will be better than the local governments."
The project has attracted high-level interest. WHO's director-general Margaret Chan visited the site in November, as have delegations from India, South Africa and Brazil.
xueying@sph.com.sg
This article was published on May 5 in The Straits Times.


Get a copy of The Straits Times or go to straitstimes.com for more stories.