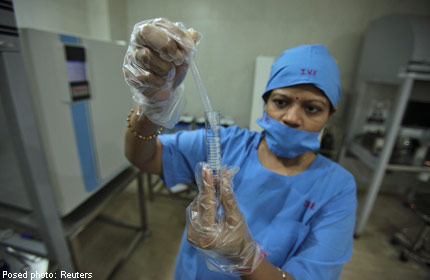 CHINA - Scientists in Shenzhen said they have applied a new genome sequencing method to detect genetic defects among in vitro fertilized embryos, which can lead to a higher chance of having healthy babies for couples who suffer infertility.
The first baby screened with the new method - who was born in Hunan province on Aug 24, 2012, weighing 2.4 kg - is now at normal development, BGI Shenzhen announced at a news conference on Monday.
Scientists removed seven to 12 cells from morphologically normal human embryos five days after fertilization in vitro for preimplantation sequencing. Then they used the latest DNA technologies to detect abnormalities, which will determine the genetically intact embryos.
"The preimplantation sequencing may have a crucial role in improving the efficiency and safety of human assisted reproduction," said Du Yutao, vice-president of BGI Health Group.
Gabor Vajta, a professor from the University of Copenhagen, said the discovery can bring the success rate of pregnancies from 50-55 per cent to around 60-70 per cent.
Nearly 5 million babies have been born using in vitro fertilization since the birth of world's first test-tube baby in 1978.
In recent years, new-generation sequencing has been widely used in stem cell transplant and metastatic tumour cells, mainly associated with the improvements of human health, according to BGI.
"The new-generation sequencing method shows significant accuracy enhancement over other existing screening techniques in identifying abnormalities in embryos, which allows doctors to only implant a healthy lab-fertilized egg in the womb," said Lu Guangxiu, president of Reproductive and Genetic Hospital of Citic-Xiangya, which cooperated with BGI.
According to BGI, Citic-Xiangya transferred sequenced embryos for 33 couples and has achieved 22 pregnancies since 2010. The success rate stood at 66.7 per cent. So far, 17 healthy babies have been born.