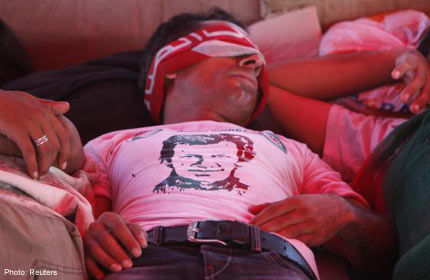 ISLAMABAD - Pakistan's interior minister said Friday the intransigence of anti-government protest movements had left no alternative but mediation by the army to end a two-week political crisis that has shaken the nuclear-armed nation.
The country's powerful army chief General Raheel Sharif was named mediator on Thursday in the standoff between the government and protesters led by populist cleric Tahir-ul-Qadri and cricketer-turned-politician Imran Khan.
The move has raised fears of increased military dominance over the civilian government in a country ruled for more than half its life by the army.
Thousands of demonstrators led by Khan and Qadri are camped outside the parliament building in Islamabad demanding the prime minister step down.
More than a week of government efforts to negotiate an end to the standoff made little headway, with Khan adamant the Prime Minister Nawaz Sharif must resign.
Late on Thursday, Qadri and Khan announced General Sharif would mediate and later the army chief met them both, according to a military spokesman.
Interior Minister Chaudhry Ali Nisar Khan told parliament the protesters' unwillingness to trust anyone "Again and again they said they only trust the army and will only have talks through the army," he said.
"When a group or two parties has no faith in the judiciary, the opposition, lawyers or civil society and has no confidence in anybody, what option remains for the government?"
Military influence
Khan alleges the 2013 general election that swept Sharif to power in a landslide was rigged, though international observers said the vote was largely free and fair.
Qadri has demanded wholesale changes to Pakistan's political system and called for an interim "unity government" while they are implemented.
The leaders have drawn thousands to the streets in Islamabad but their call has not mobilised mass support in a country of 180 million people.
But the standoff has weakened Sharif and led a number of observers to say the military would use the crisis to reclaim a hold over its traditional spheres of influence in Pakistani politics - defence and foreign policy.
The army is widely viewed as hostile toward Sharif's efforts to normalise ties with India - the perceived threat from Pakistan's giant neighbour is a big part of the justification for the military's large budget and prominent role.
Sharif is also thought to have angered the military by pursuing treason charges against former chief General Pervez Musharraf.
There is speculation that the military will use the current crisis to get Sharif to let Musharraf - who deposed him in a coup in 1999 - leave the country.
A military-negotiated end to the crisis would also lend credence to the view, held by many analysts, that the army and its intelligence agencies have been providing material aid to the opposition groups Analyst Imtiaz Gul said that Sharif was likely to survive the crisis, but would need to make major concessions to the army in exchange for its support.