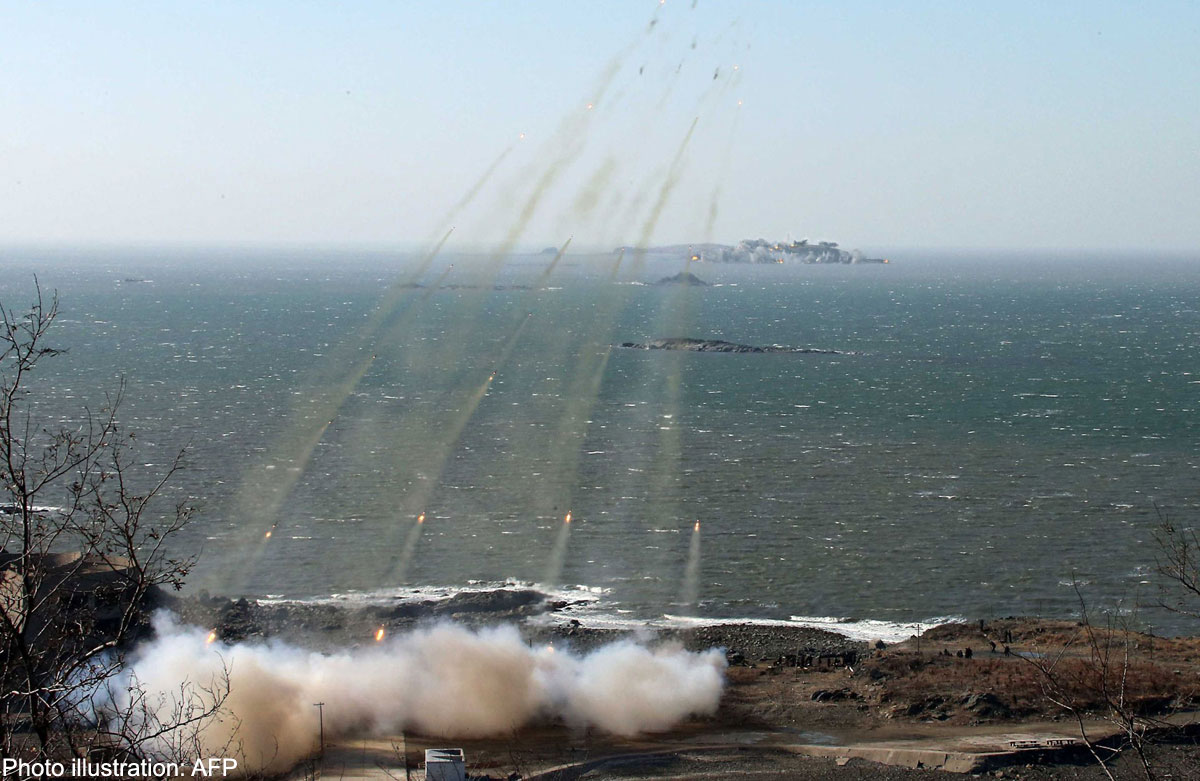 NORTH KOREA - North Korea fired some 50 coastal artillery shells near the Northern Limit Line, a de facto inter-Korean sea border, during live-fire drills on Tuesday, further ratcheting up tension at a time when South Korea is grieving over a deadly ferry disaster two weeks ago.
None of the shells fell south of the NLL, Seoul's Joint Chiefs of Staff said.
The 10-minute drills began at 2 p.m., some five hours after the North's southwestern frontline command sent a fax notification to the South's Second Fleet of its plan to stage the drills around its border islands of Wollaedo and Jangjaedo.
"In the North's notification, it claimed the drills were part of its regular exercises. But they could be intended to raise tension near the NLL or probe the South Korean military to find out our responses," a senior JCS official told reporters, declining to be named.
"But the exact cause still remains uncertain and we need to analyse it."
After receiving the notification, the South Korean military directed fishing crews and residents on the country's frontline islands to evacuate to safe zones, and strengthened its readiness posture.
The military deployed four fighter jets and several warships including a guided missile destroyer to prepare against any provocations that would encroach upon South Korean territory.
President Park Geun-hye ordered the military to respond "in line with principles" when any shells fell into South Korean waters in a show of her resolve to sternly deal with North Korean provocations.
Kim Jang-soo, head of the presidential office of national security, kept the crisis management centre up and running, and closely monitored the North Korean military, presidential spokesperson Min Kyung-wool told reporters.
The drills are the latest in a recent series of saber-rattling moves by Pyongyang including a live-ammunition exercise late last month in which it fired some 100 artillery shells south of the NLL.
Observers said that the communist state appeared to stage the drills to express its displeasure over repeated calls from the leaders of South Korea and the US to renounce its nuclear ambitions and stop provocative moves.
The allies have toughened their criticism of the North following its threats to conduct a "new form" of nuclear test, which may help it further sophisticate its military nuclear capability.
During his visit to Seoul last week, US President Barack Obama warned that the US would not hesitate to use its military might to defend its allies, in an apparent move to prevent the North from launching further provocations.
The North has regularly conducted maritime drills in the West Sea, refusing to recognise the NLL as a legitimate sea border. It has argued that the NLL should be redrawn further south as it was demarcated unilaterally by the US-led UN Command after the end of the 1950-53 Korean War.
(sshluck@heraldcorp.com)